Quick identification of products needs barcodes. You can find barcodes on products as it will be easier for the cashier to create a bill using barcodes. You can also find barcodes on some invoices, which assist in accounting. Barcodes have information encoded in them. Each barcode is unique, and a laser can scan it to read data.
1. IBarcoder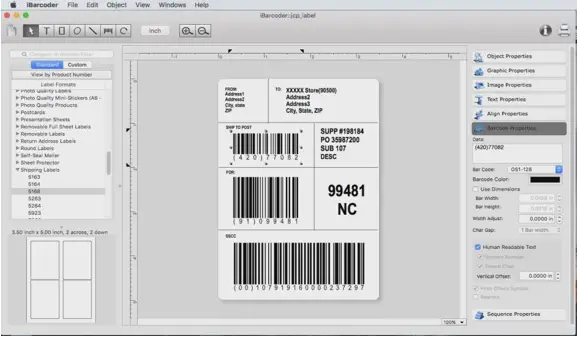 Create barcodes of many types and colors using iBarcode. You can create 2D and 3D barcodes. Many tools are available for barcode creation. Standard label formats are available to provide you accessibility. Exporting data from an Excel sheet is also easy using this software. You can use various types of printers for printing this barcode. Sequential barcodes allow you to define a sequence. Print labels using this software, or you can export the barcode as an image. You can even generate QR codes or make ISBN for books. The preview feature is available to preview your barcodes. You can also create graphics for your barcode.
2. Label Flow

You can print barcodes from a variety of label formats already available in Flow Label. You can print 1D and 2D barcodes. Get data from any existing system and use it in this software. You can also directly print labels from any application already present. Print quickly and simply as you only need to mention the number of prints. You do not need to import or export the barcodes as you can directly connect it with a third-party application. Scanning a barcode is also possible. Tracking of serial numbers and document is possible through Label Flow.
3. Easy Label

Make every step of a label easily through Easy Label. It contains an RFID wizard and barcode wizard to meet all your requirements in making a barcode. It can run on the windows terminal platform. You can use it has an XML generator and XML monitor. You can perform remote programming by exchanging encrypted files. You can also use IP printing to print from anywhere. Its enhanced GUI allows you to use it without learning about it. It includes new alignment and justification options. A training companion named Easy tutor is available for you to learn all features if required.
4. iWinSoft Barcode Maker

Software made for Apple users is iWinSoft Barcode Maker. It has built-in templates to create barcodes. A Sequential number is also available in the dialogue box to show the barcode's sequence that you can print. Create serial number barcodes using this feature. You can make barcodes in two modes, that is custom and standard modes. It also supports many barcode symbols, which make printing easier. Customize your barcode dimensions. You can easily use this software without having to learn about it. Position objects using rulers on the label. It Prints barcode in any Windows compatible printer. Its automatic calibration allows automatic digit calculation—multiple print barcodes.
5. Aeromium Barcode generator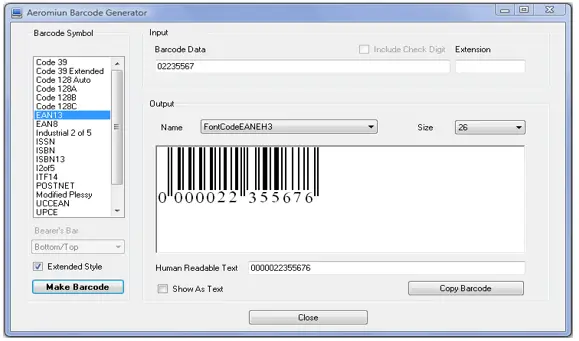 Create barcodes using different fonts in this software. Use these barcodes in report generation too. This software allows you to verify data and generate check digits. Create Labels with running serial numbers quickly. Gather product information from the spreadsheet and use it to make your barcodes. Customize your barcodes in different ways. Preview mode allows you to preview the barcode. You can create 1D and 2D barcodes to meet the specifications. Scan and edit the images using the options available. This software supports various formats of images, and the output is always the right quality image. It is suitable for experienced users.
6. Agamik Barcoding

Get the barcodes you need when you need them through Agamik Bar-coding. Display data in the form of a barcode with the fonts available. This software supports Macintosh and Windows fonts. You can choose to use the default templates or make barcodes of your size, color, and appearance. Various types of barcodes, like coupons, packaging, and Postal barcodes, can be designed. Make shipping labels too using this. Multiple fields are already available in the form of a drop-down menu, and you can simply use them to make your barcodes.
7. Zint Barcode Generator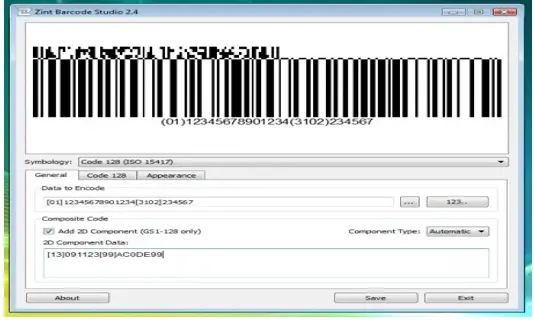 It is free software, which supports over 50 symbols. The file size to download this software is small. Make many types of codes that support many countries using this. Use the manual provided for reference. Zint is a barcode generator for standard and 2D type barcodes in various formats. You can support all Unicode characters using Automated ECI switching. Save barcodes in any form. This application is best for beginners too use.
8. 2P Barcode Creator

Use this software for manufacturing products and inventory control—printing high-quality barcodes with thermal printers or even ordinary desktop printers. The data source can be in various formats. Design the best barcodes up to your preference. Refer to the user manual available in the form of documentation, and use this software. It supports the Windows operating system. Label templates are available for use. Track a serial number in this software and maintain the security of barcodes. You can also include comment and line fields with the barcodes. Apply various backgrounds to the barcode layout as well. It can generate a group of image files at a time.
9. Online Barcode Generator by Tec-it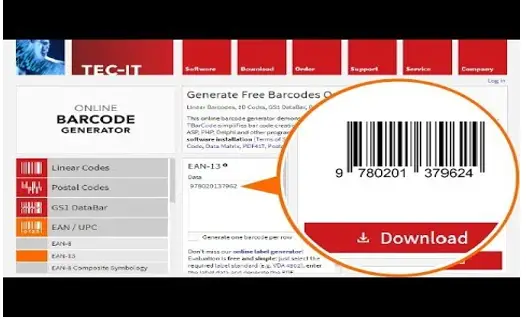 It is one of the best online barcode generators, and you do not require any software installations. You can use it free of cost—customize the barcodes of your choice. Create various types of high-quality barcodes using this. Create single and serial barcodes. Select the type of barcode you want in the options given and build your customized barcode. Download the image of the barcode and save it. You can even generate QR codes using this software. This online barcode generator supports various barcode formats, which will be useful for you.
10. Morovia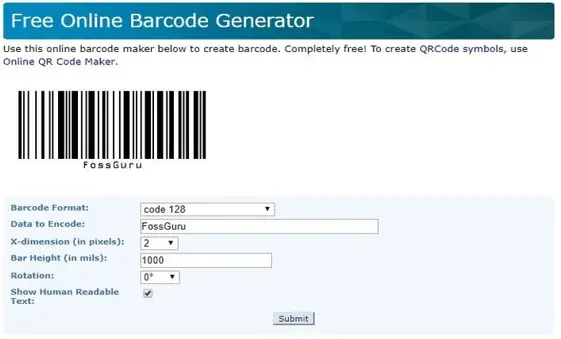 This online barcode generator, as well as the QR generator, is elementary to create a barcode. This highly customized barcode generator supports various formats of barcodes. Use it for both personal and commercial use. It is a fast way to create barcodes immediately. Select any one of the options in the drop-down menu and submit to form a barcode quickly. Save your barcodes for future use.