Most companies give their employees a laptop or most employees have their workstation to carry their workaround. Every coin has two sides. Similarly, employees having their equipment with internet connectivity can make or break the company.
According to Salary.com, here are some of the websites that employees tend to browse while working, which leads them to waste time.
When surveys were being conducted to find out reasons for wasting time, here's what they found –
Employees are underpaid
Work is not challenging enough
Long work hours
No incentive for good work
Unsatisfied
Bored
One of the solutions for this could be blocking personal sites, although does that always work? The answer is, no. This naïve thinking of the company executives could lead to employees using their devices to access these websites, that would be less secure and completely monitored.
Some other solutions could be,
Set productivity goals
Schedule tasks in groups
Show the employee how their work affects the company
The employee monitoring software can benefit your company regarding productivity and security, among many things. With features like website tracking, content filtering, and screen captures, the company can ensure the team is working efficiently instead of viewing content that is inappropriate or unrelated to work. You can run the software in stealth mode or transparent mode wherein the employee is not aware that they are monitored.
Let us look into some of the best employee monitoring software-
1. Hubstaff 
Hubstaff is one of the best choices for executives who are managing a remote workforce. It focuses on productivity and commonly used in industries like cleaning, construction, real estate, healthcare, etc.
Features –
Time-tracking
Online time-sheets
Geofencing
Productivity measurement
Detailed reports
Track URL and app activity
Compatibility-
Windows OS
Mac OS
Ubuntu
Google Chrome
iOS app
Android app
Cons –
No advanced tracking
No IP address restrictions
Basic reporting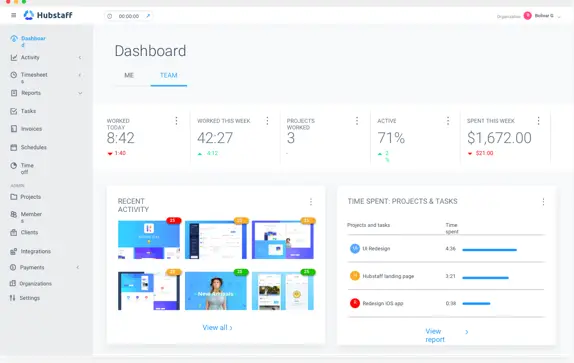 2. Veriato
It reduces the chances of data breaching by providing an integrated AI platform. Big data and AI are used to analyze patterns behavior different from baseline. It also offers a cloud-based employee monitoring program.
Features –
Employee investigate software to track non-disclosure violations
AI-driven threat detection
Website interaction
File movement
Printer tracking
Network access
Compatibility –
Cons –
Does not support iOS
Lacks publicly available pricing
Software is difficult to understand
3. Work-examiner
It performs monitoring for on-site staff as well as a remote workforce. Controlio, a third-party, issues this cloud-based software. This program will tell exactly how long the employee has been away if he is not using the computer.
Features-
Website tracking
Real-time and recorded screen capture
Web filtering
Email monitoring and data leak prevention
Keylogging
Instant message monitoring
Compatibility-
Cons –
No location tracker
Local installation
Limited alerts and keyword tracking
4. DeskTime Pro 
It is affordable, user-friendly software for time and project tracking. It is a productivity-based application monitoring software. It has plenty of customization abilities.
Features –
App and URL tracking
Productivity metrics
Project and task management
Custom reports
Google and Outlook calendar integration
Compatibility –
Cloud
Windows
Android
iPhone and iPad
Cons –
No keystroke logging
No automated alerts
No document and file tracking
5. ActivTrak
ActivTrak specializes in measuring employee productivity. You will get a report of the hardest-working staff as well as the unproductive ones. It will also show you if the employee is at risk of becoming disengaged.
Features –
Real-time monitoring
Screenshot flagging
Risk scoring
Screen playback options
USB tracking
Activity alarms
Compatibility –
Cons –
Does not log keystrokes
No OCR (optical character recognition) keyword search within screenshots
Does not have a blurred screenshot option.

6. TimeDoctor
All big companies like Allstate, Survey Monkey, etc. use this software. The employees will get notified when they are unproductive or using websites that are not related to work.
Features –
It makes payments and invoices within the console
Webcam shots
Break tracking
Off-track reminders
Time-track for clients and projects
Chat monitoring
Compatibility –
Cons –
Old user-interface
It requires a desktop app or Chrome extension to use the stopwatch feature
7. Teramind
It is the top choice for employee monitoring in huge enterprises. Businesses trust it for employee monitoring, insider threat detection, data loss prevention.
Features –
Intuitive admin dashboard
Automated policy rules
Live OCR onscreen recording
Offers cloud and hosted deployment
Audit and compliance
Compatibility –
Cons –
Depth of monitoring features can be daunting

8. Staffcop
It is one of the most powerful employee monitoring software solutions, with a wide range of data gathering and reporting tools.
Features –
Audio and video recording
Automated policies and triggers
User vocabularies
Reporting and data visualization
Productivity tracking
Compatibility –
Cons –
Difficulty in on-premises server setup
No cloud admin interface
Requires virtual machine provisioning
9. Kickidler
It gives information on employee activity like which website and app they are visiting. It records the live screen of the employee. It tracks the number of breaks an employee takes.
Features –
No data leakage or deletion
User-interface is appealing
Productivity fluctuation report
Remote access
Compatibility-
Cons-
No monitor email communication
Cannot monitor the printing from the computer
Cannot integrate the software with any cloud platform
10. Employee Desktop Live Viewer
It is a light-weight powerful monitoring tool that presents live streaming of screen recording. It works like a surveillance camera. It is fixed over the employee's screen. It monitors remote workstations.
Features –
Online and offline recording of screens
Recording screen via global IP address
Shut down or install employee system as required
Send instant messages to the computer while monitoring
Monitoring of work-from-home employees
Compatibility –
Cons –
No option for storing recorded videos on the cloud
Free trial version for 15 days only