Today, we live in a technological era, where advancement of the society is very crucial at every step. Starting from the Stone Age to the present modern society, humans have added such wonderful monuments, recreated existing sceneries, to the beauty of nature.
As we say, that we should always capture the beautiful moments of life within our mind, but as it is not possible to memorize each moment of life, so a technological equipment was created to capture it.
Camera is a very powerful but simple technical thing to enhance the beauty by storing it for further moments.
So here we are, presenting the best and cheapest Cameras for the beginning process.
1. Nikon D3500

The Nikon D3500 isa successful and popular DSLR,which isthe best budget camera for multi-purpose use. The prices went low in recent years. New feature include a 24 megapixel camera over previous version and an even better batterylife of 1,550 frames per second, next to the D3500's very capable 1,200 shots per charge.
Merits are-
1. Continuous shooting 5fps.
2. Extended battery life.
3. Massive lens selection.
4. Beginner level.
Demerits are-
1. In this, 4k video is not available.
2. This camera is not touch screen.
The Price is 28,500 rs.
2.PANASONIC LUMIX FZ70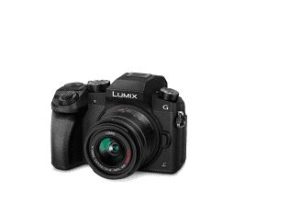 The Panasonic Lumix DMC-FZ70 has camera lens of 16.1 megapixels with 60x optical zoom. The FZ70's zoom lens has a maximum aperture range of F2.8-5.9, and the camera introduces a new 1/2.3-inch CMOS sensor capable of 1080 HD 60i video. There is an additional feature of wind-shield in this camera which stops the background noise of wind.
Merits are-
1. Great resolution of 4680*3456
2. Light weight
3. 1/2000 max shutter speed
Demerits are-
1.No external storage
2. No GPS
The Price is 9,250 rs.
3.SONY RX 100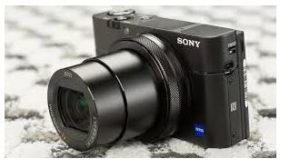 This is the seventh version of this camera,but it is the best when compared with price, very valuable. It also consists of electronic view,which provides the best quality of image. It has 10fps continuous shooting feature. It provides a fascinating 20.2 million effective pixels. It also consists of very effective image shot stability.
Merits are-
1. HD video capability
2.Steady image
3. WI-FI connectivity.
Demerits are-
1. No slow motion
2. No professional edit
THE PRICE IS- 22.990 rs.
4. Canon EOS 1300D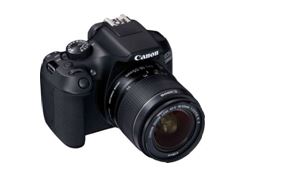 Merits are-
1 Wi-Fi and NFC supported, nine point AF with one center cross type AF point, 18-megapixel APS-C
2.Effective Pixels: 18 MP
3.Wi-Fi Available
4.1080p recording at 30p
Demerits are-
1. Not stable under low light
The Price is- 24,550 rs.
5. Olympus OM-D E-M10 Mark II
This comes 5th in our place because of the price as well as the features in it. It is a 16-megapixel camera with magnificent pictures and a wonderful zoom quality. It has micro four third sensors. Now talking about shooting speed, this camera has speed of 8.6 fps. HD recording is also available.
Merits are-
1. Compact dimensions
2. Fast autofocus
3. High-speed shooting
4. Wi-Fi provides the camera control
Demerits are-
1. It's impossible to connect an external microphone
2. The sensor is slightly out-of-date
The Price is- 29 000 rs.
6. Panasonic Lumix FZ1000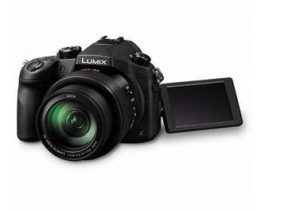 This is another contender at 6th place for the best camera for beginners.The rate is a little high. This is especially basedon the possibility of video shooting. The maximum video resolution is 3840×2160. A rotating screen provides the convenience of shooting in different positions. This model can be called the best budget camera in its class. Also, the lens is non-removable. An additional feature of external microphone is available which gives more beauty along with other features.Features like the NFC,WI-FI connectivity gives extra power to the camera.
Merits are-
1. 16x optical zoom
2. Impressive image stabilization, especially with such a zoom.
3. Built-in flash
4. Excellent set of digital filters
Demerits are-
1. Non-touch-sensitive screen
2. No built-in neutral density filters
3. Video shooting in Full HD comes with a bit rate of up to 28 Mb/s.
The Price is- 45,000 rs.
7. Canon PowerShot SX530 HS Bundle
This best affordable camera has a 16-megapixel CMOS sensor and is perfect for beginning photographers.
Merits are-
1. Ultra-zoom.
2. Camera stabilizer and various modes
Demerits are-
1. Poor video quality
2. Low battery life
The Price is -24,000 rs.
8. POLAROID CUBE SPORT
This camera is best for the budget. However, it is not multi-functional.
Merits are-
1. 16 MP Resolution
2. 1080p HD Video
Demerits are-
1. Low battery
The Price is 5,000 rs.
9. Canon EOS 1500D
Merits are-
1. WI-FI
2. Long-range
Demerits are-
1. NFC and Wi-Fi connectivity
2. Nine auto focus points
The Price is 24,370 rs.
10. Nikon D5200
The quality of images it clicks with its 24.1-megapixel sensor is great for the price it comes at, and the EXPEED 3 processing engine does a good job of enhancing images.
Merits are-
1. Articulating screen
2. Good interface
Demerits are-
1. Lacks touchscreen
2. Few direct controls
The Price is 32,000 rs.
The above listed are some best cameras for the best use.
Thank you.