From year to year, cameras on smartphones are getting better. Shooting in 4K with image stabilization, loop apps, and other features are already available not only on the most expensive devices. But it is not enough to have a good camera — it is important to be able to use it. Let's look at useful tips on how to shoot videos from your smartphone better. Some of them may seem banal, but observing them will significantly improve your skill.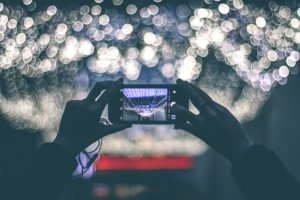 1. Always clean the lens
This may seem obvious and ridiculous advice, but it just can't be forgotten. The video may be blurred due to dust or fingerprints. Just make a habit of always wiping the lens before shooting. This is probably the easiest thing to do to avoid spoiling your video footage. You can wipe it with a special cloth, which is usually used to clean the lenses of glasses, or just with the edge of the shirt.
2. Do not cover the microphone with your hand
Don't forget where the microphone is located on your smartphone. Make sure that you don't cover it with your hand when shooting a video. The sound is no less important than the image. Most built-in microphones on modern smartphones are not of good quality. Therefore, it is recommended to get a lavalier mic if you want to increase the level of shooting. This advice is very useful for novice video bloggers who like to communicate with the audience through video broadcasts.
3. Use both hands
Holding a smartphone with two hands is always better than one. This way the video is more stable and smooth. Jumping frames and sharp changes of angles significantly spoil the viewing experience. This advice is very useful for owners of smartphones with cameras without stabilization. In such cases, it is recommended to get a tripod.
The flagship models are equipped with good stabilization systems, but you still need to hold them firmly in your hands and try to minimize unnecessary movements.
4. Hold your smartphone horizontally
Never shoot a vertical video. Even if vertical frames on the smartphone screen may initially look better, then on a computer or TV you will get an image at best on the third part of the screen with large black borders on the sides. Also, keep an eye on the horizon level and don't fill it up: try to find a horizontal line in the frame and navigate by it.
5. Avoid high differences in contrast
Be careful when there are areas with bright light and dark areas in the frame at the same time. Your smartphone will try to balance these areas. As a result, the bright areas will be highlighted, and the dark ones will turn into a solid black color. It is interesting that in such conditions, photos can be cool, but not videos. Try to position yourself so that the contrast differences are not as high.
6. Try to approach shooting with a full battery life
Shooting video, especially 4K video, is a power-consuming process for your smartphone. Before you start shooting, make sure you have enough battery power to keep your device from accidentally turning off at the most inappropriate moment.
There are a few things you can do to save battery power during shooting: switch your smartphone to Flight mode, turn off the automatic flash, and use a third party light. Disabling the network will not only increase autonomy but also protect you from accidental calls and notifications. If there is no third party light source, try shooting a video at another time of day, if possible.
7. Do not use digital zoom
Smartphones don't have movable lenses like professional cameras. So the zoom function simply cuts the frame at the specified location. In this case, the result is obtained with increased noise and significantly lower quality in General. If you want to zoom in on an item, just get closer to it. Of course, to shoot high-quality video from a smartphone, you will have to walk a lot, but you will not have creepy pixel frames.
8. Shoot in 4K, if possible
If your phone can shoot in 4K mode, always try to use this mode. HDR support is the best option when shooting. Always turn it on to get more contrast and richer colors.
If neither the first nor the second technology is available on your smartphone, just try to shoot at the highest resolution supported.
9. Set the exposure manually
If the lighting conditions are not ideal and the camera application has a manual mode, a self-exposure setting will give better results than shooting in automatic mode. Experiment with the settings, learn the theory, and your skill will rise in several steps at once.
The main problem with automatic settings is that they change during shooting. This often leads to a complete change in the white balance and other important parameters. In manual settings, of course, there are no such problems.
10. Edit video
Shooting skills are an important aspect of quality video, but not the only one. It is important to correctly mount the footage in a full-fledged video. There are interesting mobile applications for fast video editing, but still, it is better to do it on your computer. Because there are a bigger screen and higher performance.
In short, easy editing can be done on a smartphone, but more professional – necessarily on a PC.
11. Use additional accessories
If you are seriously interested in making your smartphone videos look cool, don't hesitate to spend a little money on some accessories designed to make shooting easier and better. The market is full of products for smartphone cameras: from clip-on lenses to dedicated microphones, stabilizers, and tripods.