As the daily work of everyone keeps increasing appreciably, the more information gets processed. And there arises a need to store these data. How much can these tiny pen drives can store at one instant? 64GB, perhaps that is approximately 45 movies in high definition quality. But the quest of man for a bigger storage provision is ever live. Thus the hard drives ventured inside the market which had unimaginable capacities, when they stepped in. Below are ten such drives, which fetched a place and reputation for their existence in the highly competitive technological world.
1) Apricorn's Aegis Padlock- 4TB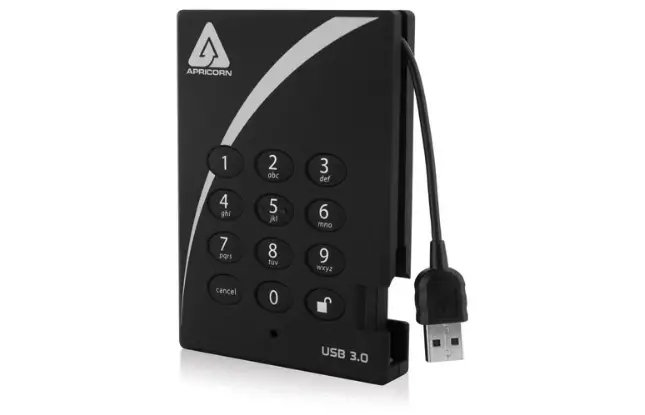 One of the latest, eye-catching hard drives in the market currently, the Aegis Padlock comes up with an attractive encryption mechanism. It features a dial pad which can ensure security to the authorized user. It can accept a maximum of a 5-digit code, which, although might sound like a limitation, when compared with the other drives, is still a substantial security enhancement. It has a metallic casing and is sturdy in looks. The keypad feature brings in a user-friendly interaction. With the factors of protection and storage capacity, this hard drive beats all the others in the league.

2) LaCie Fuel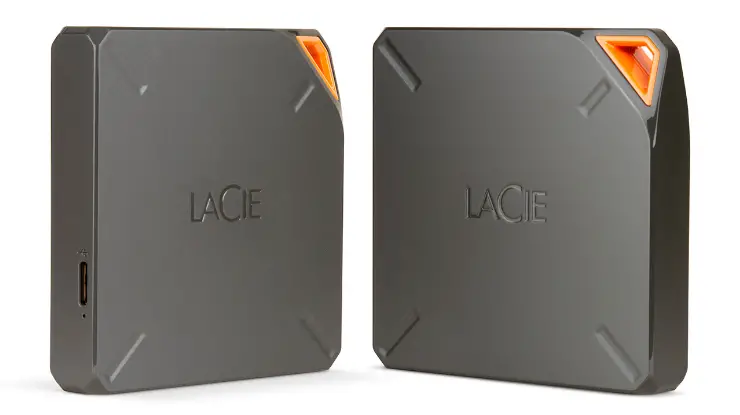 The LaCie Fuel is one of the innovative hard drives in the digital market. It offers the standout feature of the wireless storage and is compatible with all range of devices. If one does not have any constraints of carrying it out, then everyone is certainly bound to have 1 TB storage in all gadgets one uses. And wouldn't that sound to be incredible? And that's what makes this drive distinctive from all the other drives in the similar price zone. Although, the limitation of the fact that it supports only a USB 3.0 interface is bound to bring in more haters to it, it is one of the most desired drives in its categories.
3) Seagate Backup Plus desktop drive- 5TB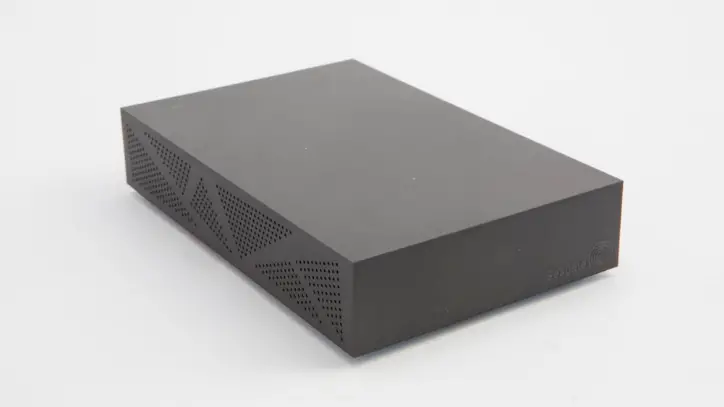 One of the earliest firms is Seagate, who entered into the world of hard disk production. And they still maintain their reputation till now by their quality. The 5TB drive is one of the most spacious drives ever available in the market. And such a vast capacity, in just 220 USD!! Sounds superb, right? That's what the motto of Seagate is, greater quality at incredible prices. This model suffers a mighty blow in its adapter section, but before such storage features, these factors become highly negligible!!

4) Seagate Backup Plus desktop drive- 4TB
This one is yet another marvel from Seagate. The 4TB version was on the charts in leading position, until the 5TB version came into limelight. This form provides an added feature of the external cloud provision, which provides the user an additional cloud storage capacity in addition to the scope of the hard disk.
Although, the hard drive is devoid of rubber casing and this sounds to be a disadvantage, the pros lift it in the ranking charts and giving out a qualitative backup tool to the users.

5) Buffalo MiniStation Extreme NFC 1TB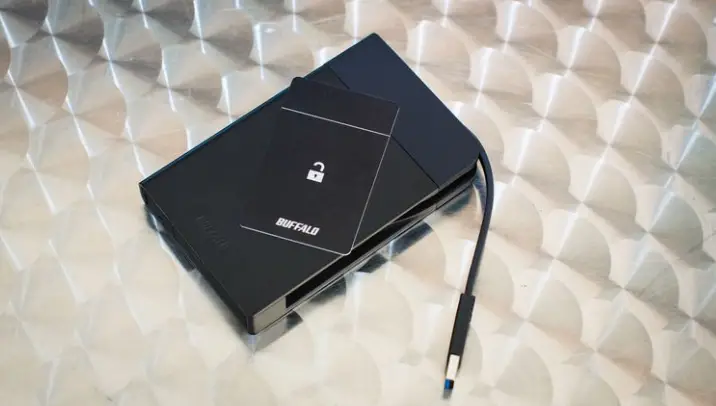 The Buffalo MiniStation Extreme NFC 1TB has one of the most exceptional nomenclatures of all disks. The "NFC" factor is what separates this drive from the others in the similar arena. Near Field Communication is one of the first steps taken towards the development of wireless connectivity.
The contents of the hard disk can be accessed from any Wi-Fi connecting medium around the drive within a range of 10m at ease. It is compatible with all OS platforms. The only hindrance factor is that the NFC card is susceptible to get lost and in turn, it would reduce the drive's functionality.
6) CalDigit T4 RAID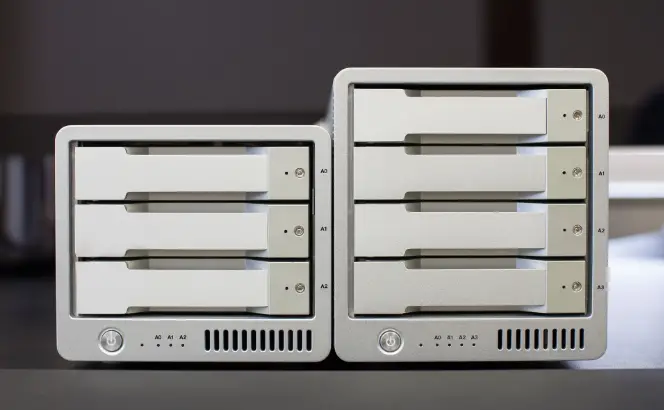 The CalDigit T4 RAID is one of the most intricate hard drives that are existent in today's world. It has no cables, no ports!! But it supports a RAID level 5 of security, which provides a high degree of reliability of data. It has produced a high throughput rate ata level of 500MBps and comes with a five-year warranty of data. As stated earlier, the lack of cables and ports are a mighty blow, the speed, and storage of 8TB blinds anyone who comes across this product!
7) LaCie Rugged Raid-4TB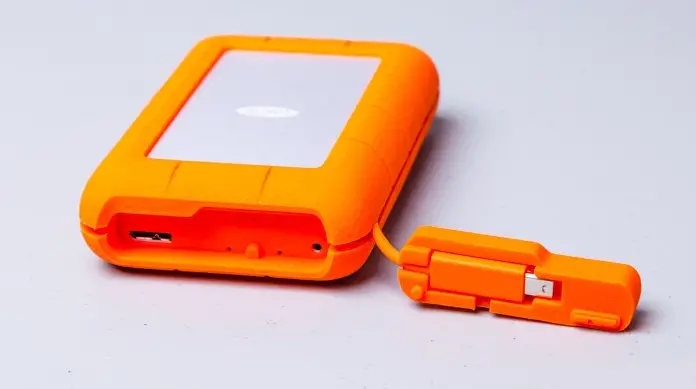 LaCie Rugged Raid is a highly attractive hard drive, with the rubber casing giving the name of "rugged." It employs all sorts of connectivity right from the USB ports to the Thunderbolt cables. It comes with a spacious 4TB variant and is dust and water resistant. It is bulky, which stands out as a disadvantage. But the overall performance of the disk, makes it stand out as one of the best disks of its time.

8) Promise Pegasus R2+
The 6TB hard drive giant, stands as magnificent as a Pegasus, living up to its name. It supports a two-level RAID concept. It ensures connectivity via all medium and comes in with an internal power supply. One can substitute it as a third drive spot. It comes in with a highly specialized water and dust resistant mechanisms. It gives a very high throughput feature when it operates over the Thunderbolt cables, but its functionality reduces when USB 3.0 is employed.
9) SanDisk Wireless Media Drive
This is one of the most potent disks in the cheapest drive category. It supports a connectable storage platform making it interactive with all the devices around. It gives out a very limitedstorage capacity of 32GB. Sounds silly in today's world, as even pen drives accommodate that space, but at a time when 32GB was considered to be an enormous storage, this was a path breaker. Although the users had to manage the files manually, this is one of the most typical hard drives of all times.
10) Western Digital My Passport Ultra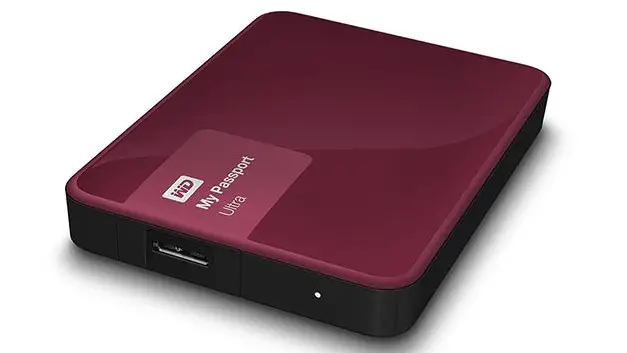 This was also one of the earliest hard drives ever introduced into the digital market. It was the first hard disk that stepped in with an encryption mechanism. It came in with a plastic casing, as at that point of time, one did not foresee the incoming of the metal covering concept. It attracted everyone with its vibrant variants and managed to pull a lot of customers to get it in their purse by their features at their times.
These drives have revolutionized the technological world with their entry and topped the charts and became an integral part of every person's baggage. If you don't possess any one of these, just grab one!!!