Hard Disk Properties in Windows 7
Microsoft operating systems allow its users to manage both hardware and software using the built-in features in the Operating system. Further to this, Microsoft has been improving its tools and features to help the users in a user friendly and efficient way while making use of resources in appropriate manner.
Microsoft Windows 7 is the latest operating system launched by Microsoft and it has brought the users with convenience in managing the system. Windows 7 Hard Disk Properties allow the user to manage the hard drive and apply required settings.
Drive Properties
Hard drive properties in "Windows 7" has eight main tabs to manage or customize the drive. Each tab is further elaborated as follows.
General
The first tab in the drive properties is named as "General" and the users get the details regarding file system, free space, used space, disk cleanup, file indexing, drive label and capacity. The users can compress the data to save disk space by checking the option as shown in the screenshot below.
Disk Cleanup
The recycle bin keeps the data of each drive and the disk cleanup utility allows users to delete that data permanently. This data includes some system log files that are temporarily logged and deleted files. These files can be deleted and users can use this disk space. Users can also view these files before deleting them through "View Files" as highlighted below.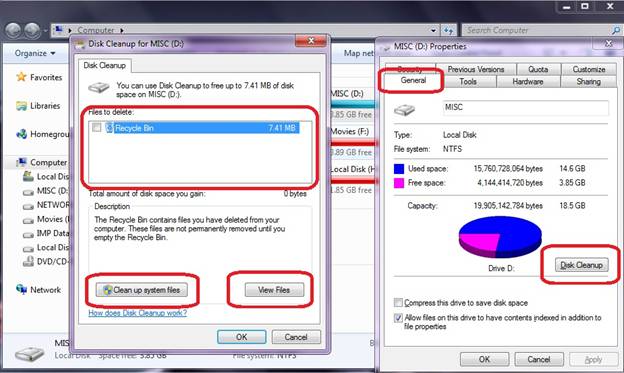 Tools
Users are provided with disk tools for checking, defragment and back up related options. These options are further explained below.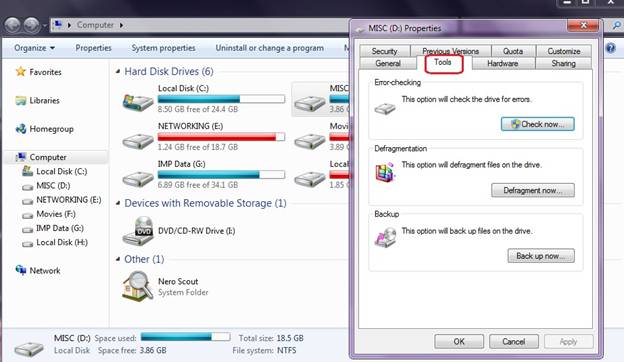 Checking
Disk is checked for bad sectors and system errors through check disk utility and can be accessed through tools tab in drive properties.
Defragment
Users can analyze and schedule disk for defragmentation as highlighted in the screenshot below.
Back up
Users can create a system image so that they can restore the system to previous state in case there is a system failure. This tab allows users to create system image, rescue disk and set up backup.
Hardware
This is the third tab in Tools pop up window and it allows users to view or update disk drivers.
Sharing
Users can set up sharing related options through this option. It allows users to set permissions and share the selected drive. The screenshot for the advanced sharing option and sharing tab is shown below.
Advanced Sharing
Advanced Sharing has further two important options that are elaborated as follows.
Permissions
Users can add users and set permissions for each user or group through this option. The user may allow full control, change options and read only rights.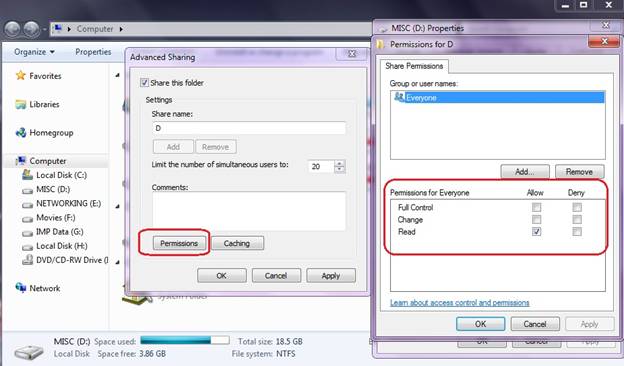 Caching
Caching option allows users to choose the cache mode. Users can be given either a full cache option for offline usage of shared programs and files or they can set a specific option. The screenshot below depicts these details.
Security
Sharing option allows permission settings for users in the network where as security option allows the user permissions for its own user accounts and not for the network accounts.
Edit Security Settings
User can apply the security settings from the available options as depicted in the picture below.
Previous Versions
Users can select and restore system through this option.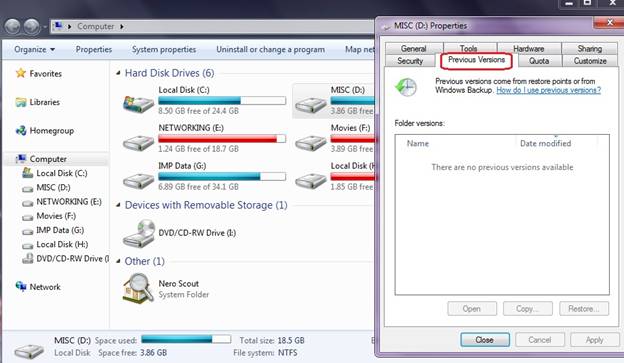 Quota
This option allows the administrator to set hard disk space limits for a specific user.
Quota Settings
Users can set the quota settings through this option of Quota utility in tools tab of hard drive properties.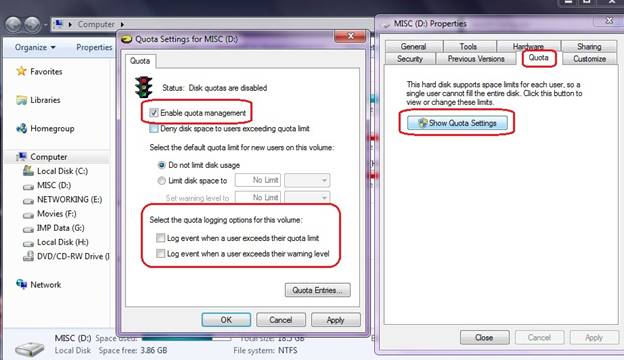 Drive Customization
It allows customizing drive and folders that there are picture files, document files, video files or mixture of these because windows 7 allow some extra features according to type.