The list of printers is endless these days. Different types of printers are present in the market these days, and thus, it becomes a difficult job for the buyer to select the perfect printer for business. There are many important aspects that you should consider before getting a Printer. Given below are ten such factors that will make your job easy.
1) The Cost of hardware
Printers are available in many reasonable prices these days. For those who want to work from home, a 3 in 1 printer is a suitable option, and it can also save lots of money as it can print, photocopy as well as scan. For business purposes, laser and inkjet printers are a better option.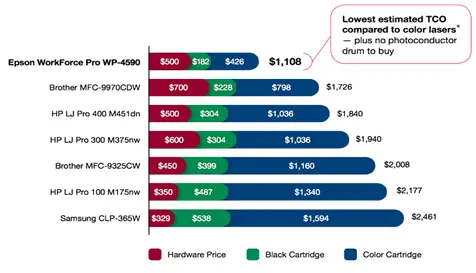 2) Laser or inkjet
You can use both laser and inkjet printers for occupational purposes. But laser printers are a better option than inkjet printers as they can print at a faster rate. The only back-drop in laser printers is that they cannot photocopy and scan and also the price of laser printers 3 to 4 times the price of inkjet printers.
3) Print speed
The other main issue is the speed of the printer. In today's world with everything going at such a faster rate, you're going to need a printer with a fast printing speed. In such case, check for reviews on the internet of the printer you need to buy so that you do not make any mistake by acquiring a slower printer.
4) Print quality
This is important aspect that you should check. Everything depends on the print quality of the printer, and the printing quality is itself dependent on the cartridge and toner of the printer.
5) Reliability
It is a big issue if the ink cartridge starts giving you problem. The printer that you should select must be reliable and have a proper warranty so that in the case of any situation, the company is available to help you in each and every way possible.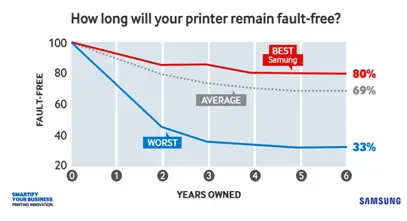 6) Your needs
Another factor that you should think about is your needs. You should know how much printing you are going to do on a daily basis, your budget, and the features that you need. It is a necessary aspect as you are one who needs the printer and the final decision is going to yours.
7) Connectivity
Connectivity is a major point because you don't want a device that does not connect with the existing network that you are already having. So, you need a printer that can easily connect to any network.
8) Ease of use
If you are professional, then, you don't require a device that is way more complicated for anyone to understand. So, you should look for a printer that needs minimum training and is easy to use.
9) Cost per page
Cost per page is the aspect that helps you determine how much your printer is going to cost you on a per page basis. It is a component that is quite important for the business people as it includes the amount of toner that you have to use for a single printing of the document or a photo.
10) High-volume or low-volume
High-volume printers are basically photo printers. High-volume printers are actually expensive than the low-volume ones, but in the longer time, they save you a lot of money because of their per-page cost.