Do you want to have one of the best USB flash drives on hand that will allow you to quickly transfer large files from one computer to another, as well as data to and from printers, routers, and even television sets? Then you are at the right place.
Not all of your devices may be able to handle the fastest protocol, but future devices will. Some USB drives also include built-in encryption, which provides an extra layer of security if the drives are misplaced or stolen.
Because of new protocols and lower storage costs, it can hold much more data and has much faster read and write speeds than it did just a few years ago. For a small amount of cash, you can keep all of your personal files right on your keychain.
(1) SanDisk Extreme CZ80
Everyone wants faster file transfers, but who wants to pay for it? However, you don't have to spend a lot of money to get a significant boost in power, as the 32GB SanDisk Extreme CZ80 demonstrates. It provides the most bang for your buck of any of the drives.
The most impressive aspect of this drive is that, despite its low price, its speeds are not in the budget category. It has an average read speed of 229 MB/s and a write speed of 178 MB/s in the large file test. Though it did not achieve the advertised speeds (245 MB/s read; 190 MB/s write), it came very close and even surpassed those numbers in the CrystalDiskMark (CDM) test.
(2) Samsung Fit Plus (MUF-128AB)
The device's small size makes it convenient to transport. It comes in a range of capacities ranging from 32GB to 256GB and supports USB 3.1 connectivity with data transfer speeds of up to 300 MBps. This is much faster than other USB memory-stick options.
The Samsung Fit Plus is shock-, water-, temperature-, magnet-, and X-ray-proof to protect your data, so you can bring it almost anywhere without fear of damaging your content. This memory stick is backwards compatible with USB 2.0, so it will work in almost any device you own.
(3) Patriot Supersonic Rage 2
It has more storage—and therefore costs more—but it packs a lot of speed and space into a small package. In fact, it's probably the smallest way to store this much data.
The read speed of the Rage 2 is 400 MB/s and the write speed is 300 MB/s. It's slim and flat, and thanks to its sliding cap, it takes up even less space when plugged in.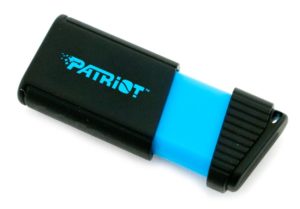 (4) Adata Superior Series 102
It's a 16GB worthy contender if you're looking for a good, low-cost option. It's wrapped in a tough shell, costs less than lunch, and blows regular old USB 2.0 drives out of the water.
It has a reading and writing speed of 100 MB/s and 50 MB/s, respectively. Overall, it provided adequate and consistent speeds at a much lower cost than expected.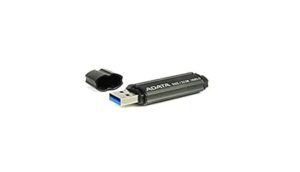 (5) SanDisk Cruzer CZ36
The Cruzer CZ36 has a black finish and a red slider that allows you to extend or retract the USB connector, allowing you to keep your connector safe without fear of damage.
The drive itself has USB 2.0 connectivity, which is somewhat outdated but it is one of the best flash drives for the money.
Overall, it is an excellent choice for transferring everything from music and photos to videos and business files.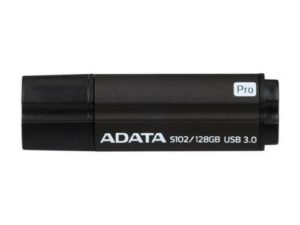 (6) SanDisk Ultra Fit CZ43
It is a small drive, but it works wonders in terms of speed and convenience. It has a memory storage capacity of 128 GB with a USB 3.0 high-speed performance in a small, ultra-low-profile flash drive. Notebooks, game consoles, in-car audio, and other devices can be stored indefinitely. Photos, videos, and other large files can be transferred up to 15 times faster than with standard USB 2.0 drives.
(7) Kingston DataTraveler G4
A USB flash drive with 32 GB of storage and USB 3.0 compatibility. It has a connector cap that protects the drive from damage when not in use, and it is a device that will store your content, easily and quickly also transfer it, without putting your data at risk. Aside from that, it has a loop at the end so you can attach it without fear of losing it.
(8) Corsair Flash Survivor Stealth
One of the best drives with maximum 256 GB of storage which means you can store as much content as you want to without worrying about damaging, because it has shock-damping collar around the ends to keep your data safe and comes with 5 years of warranty. The device has a beautiful design, a cylindrical type and aircraft-grade aluminum housing to limit the risk of damage if you drop it. In addition, the drive is cross-platform and does not require drivers.
(9) Samsung 32GB Bar MUF-32BE3/AM
Samsung is an all-rounder brand that excels in all areas. This USB drive is water resistant, shock resistant, magnet proof, and X-ray proof, so damage has no chance. The drive has fast data transfer because it has USB 3.1 support as well as USB 2.0 compatibility, allowing it to work with any device. You will receive a stylish drive with storage capacity of up to 256 GB.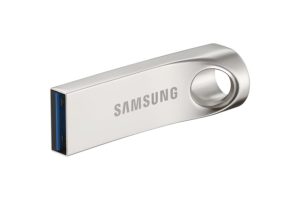 (10) SanDisk Extreme Pro 3.1 (128 GB)
In the fast-paced world today speed is all and we rarely have the patience to wait for massive files to be sent. To solve the problem we are here with the solution. The SanDisk Extreme Pro 3.1 (128 GB) is a very fast drive in terms of transferring data.
An affordable drive and the casing is solid with a retractable head. The Capacity of the drive is 256GB and 128GB, with read Speed up to 420MB/s and write Speed up to 380MB/s respectively.