Use Email Extraction software to extract emails from different online and offline sources and extract emails from email accounts and websites. Save time in collecting emails. Copy and paste text to extract emails easily. This software performs operations automatically and helps you to generate leads. Solve challenges that marketers face with the help of such software. Extract emails from the sites you visit with the help of browser extensions.
1. AtomPark Software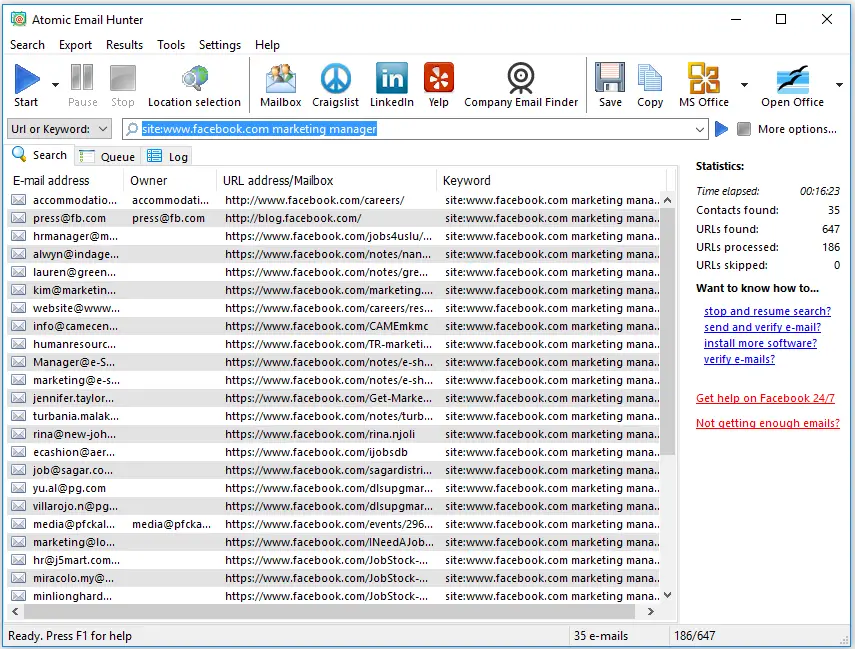 This software is an email extractor with advanced email extraction capabilities. Use the Twitter plugin to extract emails from twitter websites and Facebook plugin to extract emails from the Facebook website. Collect contacts and personalize your emails—extract emails from Gmail, Yahoo, and Outlook. Search on a website for email extractions and even get contact addresses from email accounts using the Mailbox plugin. Identify the country of the owner to whom the email belongs. Retrieve addresses from webpages that require you to log in. Use this platform in Windows Operating System.
2. Email Extractor Chrome Extension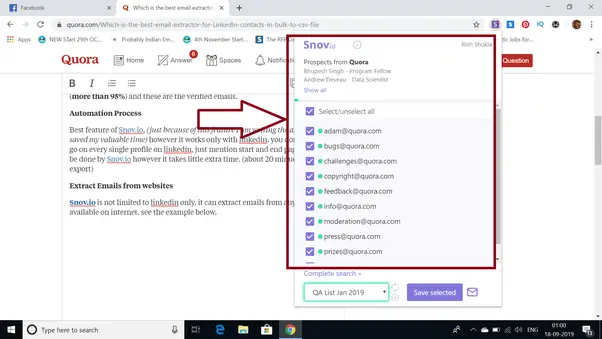 Email Extractor Chrome is a powerful extension to extract emails. Visit websites automatically and autosave email ids, copy and paste particular email ids and export them into a text file using the export option. Discover email ids ending with a specific domain using this email. Extract cloaked emails and filter duplicate email id. Local storage is available in this software. This software adds a delay when visiting the website so that you can collect email ids when the page is loading. This tool also launches a robot to visit webpages and extract all emails from it.
3. Cute Web Email Extractor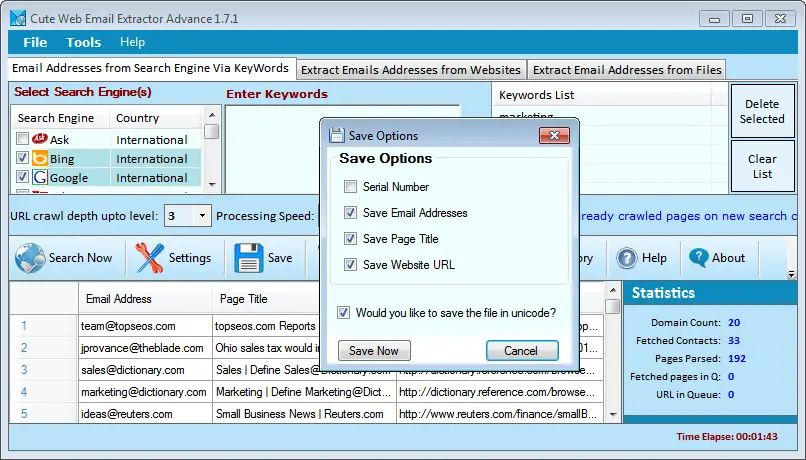 Cute Web Email Extractor is quick and affordable. This powerful utility extracts email addresses from search engines and local files. Create a customer contact list for your business using this tool. Autosave and recovery options are available in this tool. This tool can also detect network failure. Get this tool at the cost of $59.99 per year. Mailing list management and site promotion are possible using this software. This tool is controllable and customizable. Optimize your search results using search optimization option. Page-level and URL level search filters are available to improve searching.
4. Email Extractor 14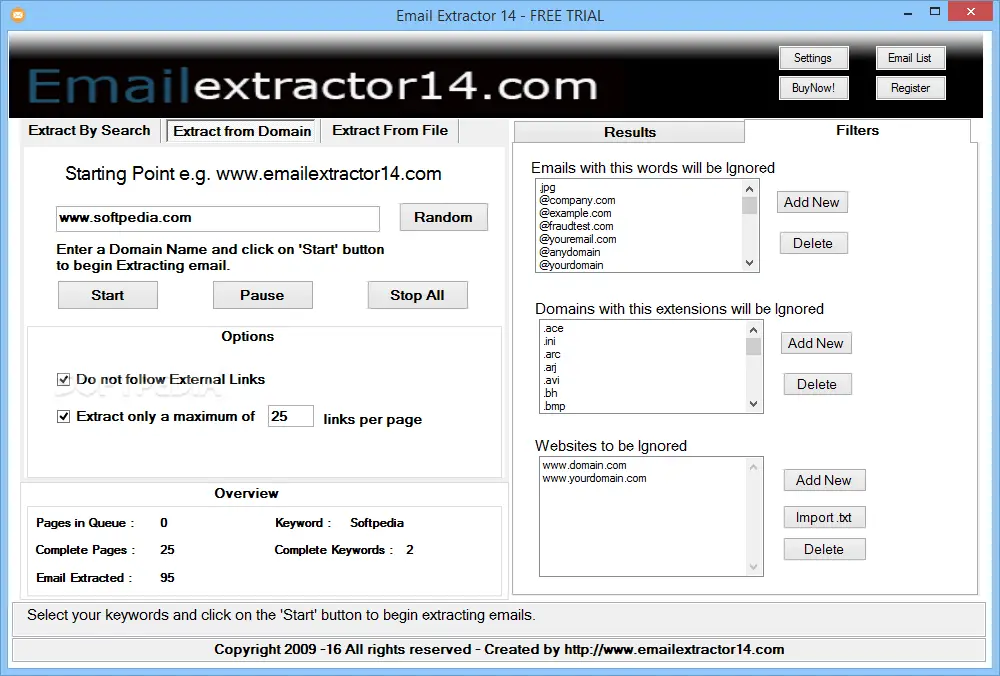 Extract thousands of emails using Email Extractor 14 within a few seconds. You can extract emails from search engines using keywords. You can extract emails from local files on your computer. Various websites like Twitter will have emails, and you can extract them too. Get this tool with an unlimited trial version and limited features or else buy the premium version. You can get free software updates also. Extract emails by domain name and make searching easy. Get only valid email addresses extracted. Small and large firms can use this software. The interface of this software is simple too.
5. Email Extractor Pro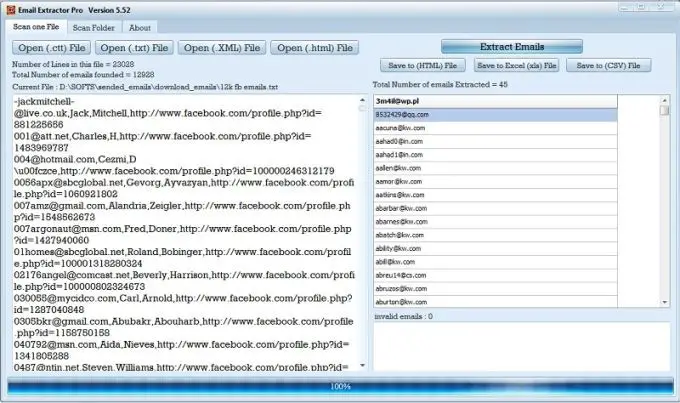 Extract email messages you have saved in your hard drive using Email Extractor Pro. Save these emails in various formats like text, XML, or HTML. Export those files into an Excel spreadsheet. This software has high speed, and it scans large and small files. This software is simple and effective in extracting emails. Get organized results by using this software. Experience the trail version to see how this tool works. However, the saving option is not available in the free trial. Use this software in Outlook and Mac Mail.
6. Email Checker

Email Checker is a simple tool that checks if an email exists. It is an online platform that anyone can use and does not require installation. Access it from any operating system like Windows, Mac operating system, or Linux. This tool is free to use. Enter the email address and click the check button to check if such an email exists. Verify if the email id is valid. This software checks for the email address format first. Then it checks if the domain name is correct. It also extracts MX records from domain records to connect to the email server.
7. Yellow Lead Extractor

The Yellow lead extractor is a powerful tool that helps to scan popular yellow page directories. It captures business name, address, and other details like email too. Enter the category and location of your business to extract emails. Press the get data button to save data extracted into an Excel file. This software can locate businesses from many countries. Download this tool easily from its website. Extract emails from contact details easily using this tool. The price of this tool is affordable at $89. Freelancers and small businesses can use this tool.
8. Top Lead Extractor

Top Lead Extractor is an email extractor software that supports target searching. Select all kinds of information like email address and messenger ids using this tool. This tool has many customizable options that allow you to customize your search. Get search results according to your target. This software has multithreading power to process quickly. It helps you to get a list of emails from potential clients. Internet failure detector is available to pause and resume the extraction process when Internet failure occurs automatically. Unicode support is available in this software.
9. Email Grabber

Email Grabber extracts email addresses from websites using keywords. This software is easy to install and occupies less space in the hard disk. Install the Java Runtime Environment to run this software. If you install this software without Java, it will direct you to the Java website first. You do not require any experience to use this extractor due to its simple interface. Email Grabber displays all emails found in the drop-down list. Save time using this software as it processes many URLs at the same time.
10. Gmail Email Extractor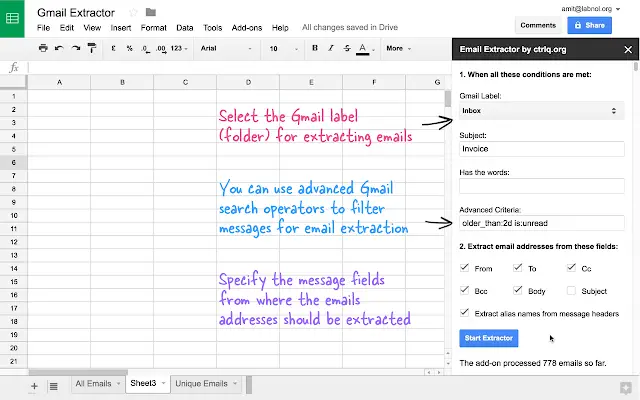 Gmail Email Extractor is a useful tool that fetches email ids from the Gmail account. All options are available in this tool to get email ids from Gmail. You can even fetch email ids from CC, BCC, To, and From fields. Save the list of email ids extracted. It makes email id harvesting effortless to do. You even have an option to get email ids from inbox and spam folders in Gmail. A 15-day trial is available with this software. Remove duplicate emails using this software.