A bulk email is a marketing message sent to customers, subscribers, potential customers at once by a company. Email marketing is a very effective and affordable way to sell goods and services to clients on a large scale. With the advent of the digital era, it is important to send bulk emails to consumers and prospective customers about product promotions, advertisements, and offers/discounts. The most commonly used formats of the bulk email include newsletters, promotional emails, acquisition emails, and retention emails. Bulk email software can be used for a number of tasks such as double opt-in, sending important communication from doctors and insurance agents to clients, sending newsletters, event updates, and the like.
We have compiled a list of best bulk email programs that can help you easily send bulk emails.
1. Pabbly Email Marketing
Autoresponders, automatic follow-up, subscription forms, advanced email tracing, are some of the advanced features offered by Pabbly Email Marketing software. The reason it is considered one of the best software solutions in the market is as it has some features that no other solution offers, like an in-built delivery engine. It is a powerful tool for sending bulk-emails. SMTP routing is another feature offered by this software that is very helpful. It lets you send an email to multiple SMTPs, which results in reduced spamming, lowered bounce rate.
2. SendPulse
It works with email, SMS, Viber, Facebook, etc. If you are a professional coder, the HTML editor will be an interesting choice for you. The interface of this software is very easy as it has a drag-and-drop feature. Image, text, videos, make the email templates even more attractive and responsive. Building a trigger email flow is another feature, also called as Automation 360, based user actions and inactions. This software has changed the way of digital marketing, personalize emails, hold A/B tests, sending automated campaigns, monitor the results, and segment subscribers.
3. Bulk Mailer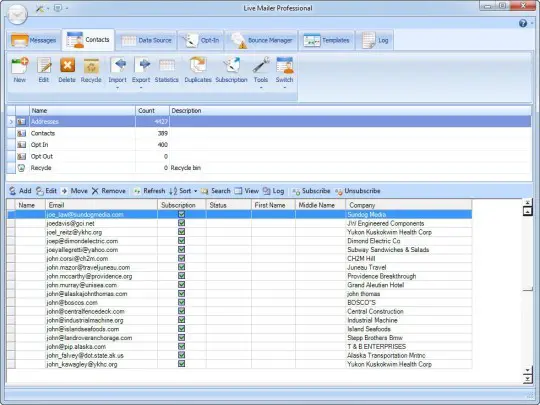 In this software, you can enter many email addresses and it also gives you a flexible sending engine. You can create personalized HTML messages, which is a unique feature. Mail merge, personalization, bounce manager, scheduler, custom opt-in forms are some more features offered by this software, proving that it is multi-functional. Flash, image, attachment capabilities give a richer touch to this software, giving a pleasant experience to the user. ASCII text files are required when you work on Access, Excel, DBF, Word files.
4. Thundermailer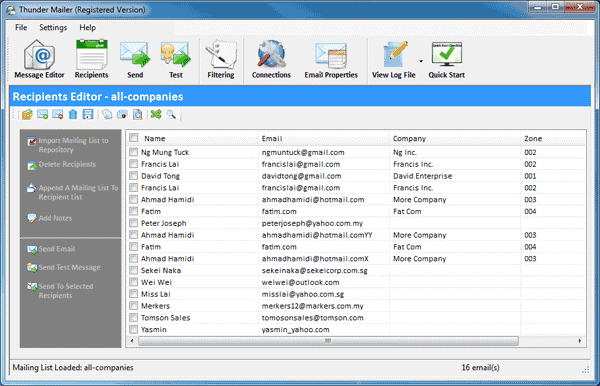 Thundermailer can manage the subscribers list easily as well as sends an email to all subscribers in bulk. It will handle your email campaigns, help you remain in contact with your clients and other concerned parties, to save cost. Your company, or as an individual, you can create different kinds of emails like promotional emails, notifications, greetings, newsletters, invitations. It has an intuitive, user-friendly interface. Beginners will find it easy to get used to this software.
5. Mailchimp
Everyone has heard about this software as it is the most popular one out there in the market. It has some unique features, helping to grow your business, like AI-powered tools, to maintain a good relationship with the customers. It is an email marketing tool that is widely used since 2001. You can send targeted campaigns, marketing emails, automated messages. Campaigning performance for your company can be improved with campaigning report and statistics.
6. MailList Controller Free
You can make a single list of up to 100 recipients in the free version, and up to 1,000 recipients in the paid version. You can also import the members' list or add them manually. It is software that is very easy to use and learn. It does not have a steep learning curve. It is beginner-friendly. The SMTP server will help you create your first mailing list and you can add more mailing lists to it. All the basic features in a bulk mailing software are included in this one.
7. Send Blaster
You can create newsletters, get a cloud email tracking service to manage your desktop. It is one of the best bulk email software solutions with features available to manage your email marketing campaigns. The free version is undoubted, well-equipped with the best features, the paid version is even better with just payment of one time for the lifetime license. It will serve you with the best bulk email feature along with an app too.
8. e-Campaign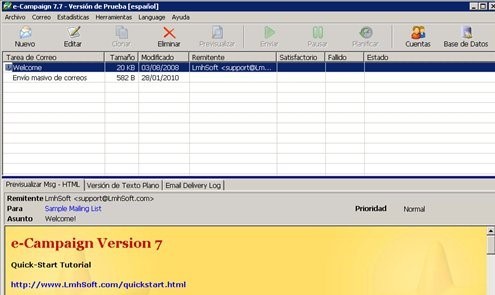 You can create a series of a message to be sent with mailing in plain or HTML text. You can design and send emails to an unlimited number of recipients. You can know who has opened your messages and who has unsubscribed to your emails by the reporting feature and tracking capabilities. This is a great choice of software for anyone, be it a beginner or even a professional for their company's bulk email services.
9. Group mail free edition
Your digital marketing via email will be taken care of with this software, easily. You can create some amazing, attractive personalized email, and manage them, send them to your mailing list to increase your subscribers and bring in more potential customers. You can use your internal database or external database from your address book. The paid version will also give you a scheduler feature, which is an important feature to manage your bulk emails.
10. Big Mass Mailer
Do you want to keep your customers engaged and aware of your company? Do you want to gain more customers? This software will send emails to everyone on the list and also imports the mailing list. The ones which do not have MX player will not be checked for sending email exchange records to avoid the distraction of delivery failure notification. You can configure SMTP settings and load emails to be sent. It is a very simple tool to use, which makes it a perfect choice for many.