Call tracking software helps you to record information about incoming calls and conversations. It allows agencies and marketing departments to measure the ROI of their campaigns. It collects data from inbound calls and collects data like geographical location, the number that as called. It gives you call-back function, the time distribution of incoming calls, call summaries, missed calls, details of repeat, and unique callers. There are dynamic number tracking, which is similar to Google analytics, but it has additional software that allows the websites to swap numbers given to use when the website loads. Like dynamic tracking, there is another option known as static number tracking, which enables the user to assign a specific phone number to online, which is useful for marketing purposes.
1. CALLRAIL
Track and record phone calls, and analyze them using CallRail. Find out the websites and search keywords that people search for track calls using this software. Get your CallRail data directly in Ad management platforms like Google Ads. Optimize your PPC call tracking to measure the quality of your conversations. Identify marketing channels that make your phone ring. Many offline marketing ways are possible to bring leads to your phone. It includes offline marketing through the newspaper, brochures, or TV, and it is accessible for any size of business. Show the number you are tracking to the right audience. Use a multi-touch CPL report to tie inbound call data to advertisement data. Increase your sales and improve service n a confidential manner.
2. INVOCA
Invoca uses AI-powered conversational analytics to provide a solution for marketers. Get automated results from your integrated data. Connect inbound calls digitally and allow marketers to gain visibility on campaigns and keywords that are popular. Get accurate data that is relevant to your business through this software. Predictive models in this software analyze your spoken conversations to classify your call into appointments and purchases. Personalize your caller experience with Invoca. Route calls based on geo-location and product interest to increase conversion rates. Make smarter campaign optimization decisions to get revenue-generating calls. Invoca allows you to integrate with every marketing platform virtually.
3. CALLTRACKINGMETRICS
CallTrackingMetrics is a cloud-based call-tracking platform, and it acts as a contact center. It delivers service from anywhere around the world. Track your campaigns to see which one drives you more calls. Manage all your communication channels in one platform. This software is highly customizable with built-in automation that reduces your efforts. Manage interactions with customers quickly, and Integrate this software with other platforms. Use the staff available to get great support. Use this software for your marketing and make reporting easy. Provide personalized services by automating actions based on the words spoken by your customer, route communications to any team member to increase agent productivity in call tracking. Build solutions with our open API and tools.
4. DIALOGTECH
Assign unique phone numbers that you can track to each of your marketing sources using Dialogtech. Use these phone numbers to get data from the calls to understand how many calls your resources are grabbing. Capture insights about the quality and urgency of each call by using AI in your call tracking solution. Use dynamic number insertion to track who visits your website. Quantify the results of digital advertising campaigns using call tracking. Integrate your call tracking data with other solutions like Salesforce. Any industry that relies on incoming calls to acquire customers like the retail and home services industry can use this software.
5. RINGDNA
Get everything your team needs for sales using RingDNA. Send emails easily through automation. CRM data capture will get all the information for you. Use AI-powered performance insights to increase your revenue, and make your sales productivity. Use a revenue acceleration platform to increase your sales: track outbound and inbound calls. Discover the marketing effort that drives revenue by tracking your incoming calls. Run sales operations successfully and manage them. This software automates the reach of sales through lead prioritization. High-velocity dialing is available for calls.
6. MARCHEX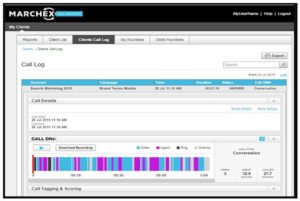 Marketing and sales teams surely need Marchex. Grab the opportunities you missed before you lose them. Text messaging allows this software to be more engaging. Use call analytics to know what happened after the customer clicked your website phone number. Online to offline conversions have data gaps that call tracking fills. Get pictures of how customers interact with your brand. Use this information to increase your revenue. Call tracking allows marketers to analyze keywords that customer searches. Dynamic number replacement is possible by using JavaScript code on your website. Make real-time bid adjustments by feeding data into your platform after getting feedback from customers.
7. RESPONSETAP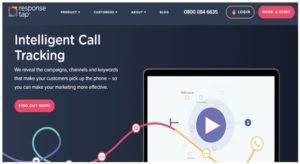 Response Tap reveals the campaigns that make your customer pick up the phone. Get premium features at standard prices using this software. Smart Match technology allows you to discover the marketing source that gives you the highest profit by simply uploading CSV. Get lifetime access to your call data. Make comparisons of your performance. Set up this software easily and integrate it with other tools to make quick decisions. Import your dashboard and goals into Google Analytics. Get accurate data and easy access to call recordings. Provide your agents with suggestions about what to talk, capture sales value, and call outcomes to increase calls and value.
8. RINGBA
Change the way business connects with consumers using Ringba. Use World-class engineering and cloud-based infrastructure for secure and reliable results. Ringba is partner-centric as you do not have to make contracts with them but use when needed. It contains an open framework completely. Achieve maximum yield using automated call routing. Analyze your data through reports. Instant telecommunication network access is available. Export your data instantly by filtering and sorting it. Personalize user experience by optimizing your campaigns. Improve your business using Artificial Intelligence in this software. Automated compliance is available to monitor your calls. Use an Interactive Voice Response builder to automate service workflows.
9. PHONEWAGON
Drive more calls using PhoneWagon. The dashboard of this software is easy to use, even by non-marketing people. It shows the increase in return spent on advertisements. It gives insight to actual cost per lead. Use tools to respond to high-paying customers quickly. Eliminate missed calls and have a better conversation with your customers through this software. The setup of this software is simple. Utilize the workflow consultations during trouble. Training sessions are available to make your team better understand how to navigate through PhoneWagon. Automated text replies are possible. Get email summaries and maintain unlimited user accounts. Custom call tagging allows you to organize your calls based on your preferred criteria.
10. CALLSOURCE
Understand the journey of your customer using CallTrack. Adjust your advertisement according to marketing needs. Make call recordings using this software and get call details. Robust reporting of details is one of the vital features of this software. Get missed call notifications, and Increase the revenue of your marketing using Callsource. Manage your business opportunities. Understand the call volume per the advertising channel. Use dynamic call tracking to track calls from digital advertisement sources. Connect offline and online marketing through dynamic call tracking. Manage to call traffic to answer every call. Halt advertisements that do not give you revenue. Improve sales skills by reviewing past calls through recordings.