The beat is a pulse that repeats after a regular interval of time in any music. In short words, the beat is a type of rhythm. However, this beat can be related to many different elements, like pulse, tempo, meter, specific rhythms, and groove. In music, beats are divided into various parts. There are several types of beats, like upbeat, downbeat, backbeat, on-beat, off-beat, cross-beat, hyperbeat, etc. There are many software tools available that enable users to make and produce beats for any music. These software tools are specially designed for music lovers and professional musicians. The following are the top ten best beat making software tools for macOS operating systems.
1. Magix Music Maker: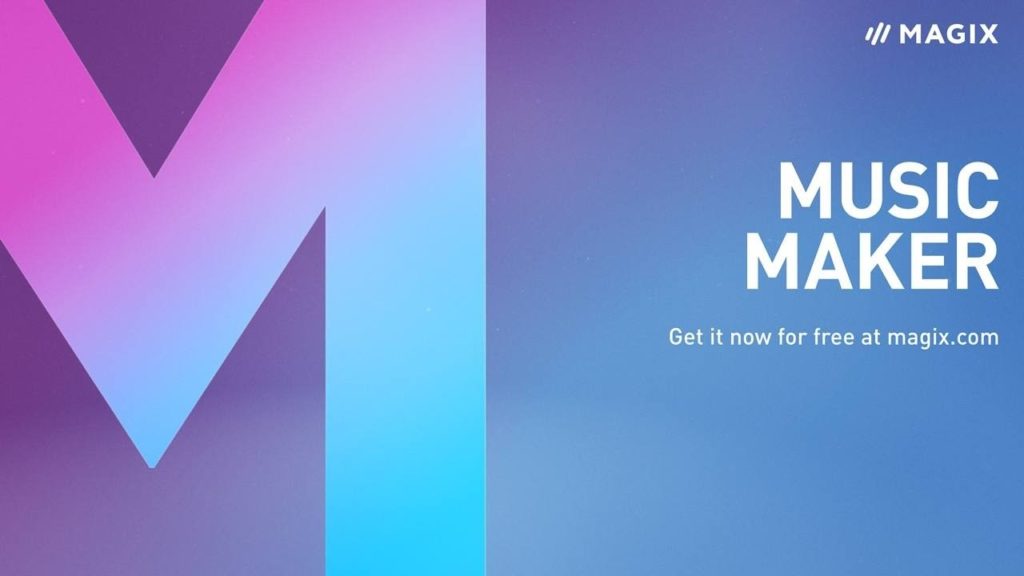 Magix Music Maker is one of the most-used software tools for making beats. This software tool is best suited for beginners as well as for hobbyists. It has an easy to use interface and streamlined workflow. The features of this software tool include a pro audio engine for high-quality sound, click-in or play MIDI keyboards to add chords, new MIDI editor, arrange window, applying effects to sounds, mixing plug-ins, and many others. There are many perks and benefits of using this software. It is an affordable software tool. The best part of this application is it has a drag and drop functionality. It also offers a free trial period. There are three different editions, Music Maker PLUS edition, Music Maker PREMIUM edition, and Music Maker Limited Special edition.
2. orDrumbox: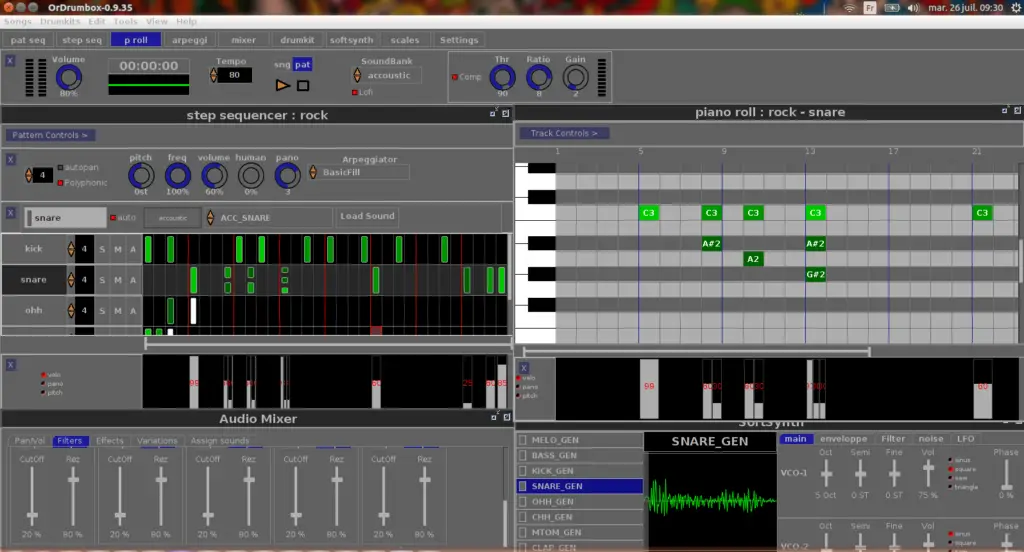 orDrumbox is another best and popular beat making software tool. This application is compatible to work with macOS, Microsoft Windows, as well as Linux operating systems. The features incorporated in this software tool are highly robust and powerful. One of the best features of this software tool is the automatic composition. The other feature is the drum kits. Users can import, create, modify, and drum kits. In other words, it is a sound library in a single file. The other features include automatic sound assignations, soft synth, sequencer, importing and exporting, MIDI importation and exportation, and Audio Mixer. orDrumbox is an open-source application.
3. MuseScore: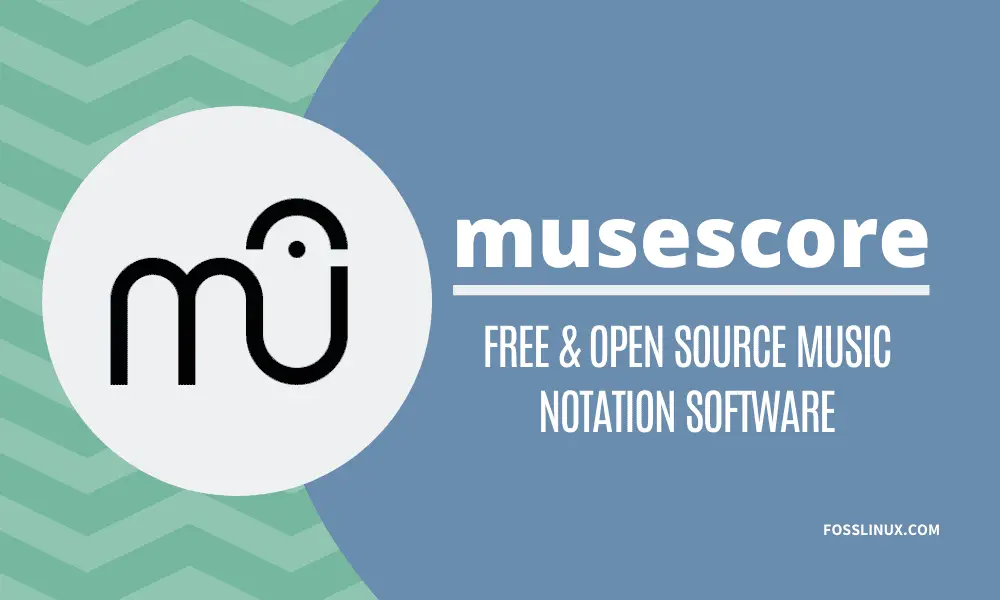 Another great and powerful software tool for beat making is the MuseScore. This software is the world's most popular notation software tool. This application is free to use as it is an open-source tool. Additionally, users get a great experience through its user-friendly interface. It has the largest sheet music collection. This software tool offers over one million free music sheets. Users can view and play sheet music, set the tempo and transpose, set the volume and visibility of each instrument, share music sheets with others, export sheets to PDF, use a metronome, etc. There is a loop tool, which loops any part of the song.
4. LMMS:

LMMS stands for Linux MultiMedia Studio. This software tool is another top and well-known for beat making. It is compatible to install on macOS, Linux, as well as Microsoft Windows operating systems. It is a multilingual application that supports a total of 20 languages. Additionally, it is an open-source software tool and is licensed under the GNU General Public License. The LMMS application enables users to produce music by arranging samples, synthesizing sounds, and combining the features of sequences and trackers. It has a large set of editors, synthesizers, and samplers. The editors present in it are song editor, beat and bassline editor, FX mixer, piano roll, and automation editor.
5. Native Instruments Maschine MK2:

One of the very popular and sturdy applications for beat making is the Native Instruments Maschine MK2. This software tool has an intuitive and faster to use interface. It is an integrated software and hardware machine. This application includes sampler, arranger, mixer, FX, and a built-in audio interface. So, it is an all-in-one software for all purposes of making music. There are more extraordinary features encompassed in it. So, it is more expensive than other software tools. The best feature of it is it has 16 ultra-responsive pads that make it easier for users to create customizable beats. Additionally, it also has high-quality samples, sliced loops, drum kits, instruments, patterns, and projects.
6. BTV Solo: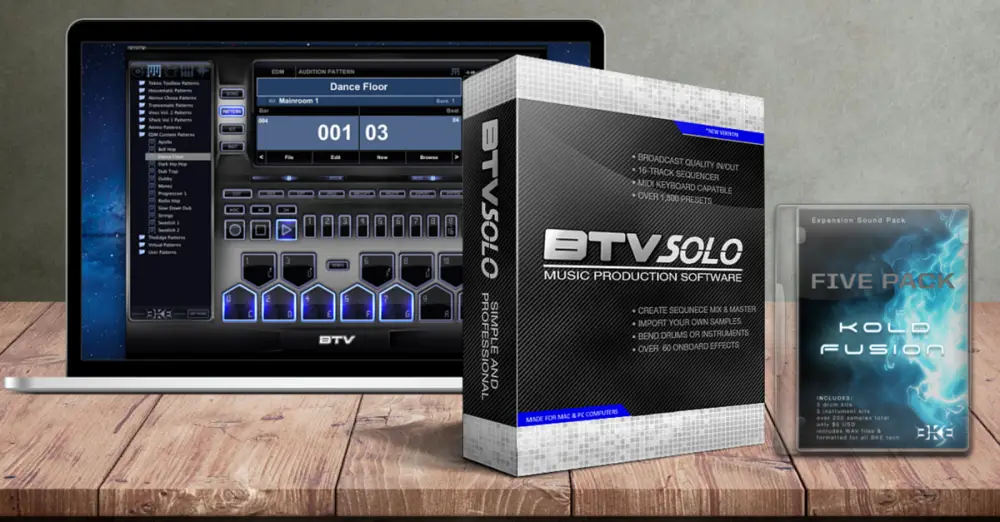 BTV Solo is another highly-featured and fully-optimized software tool for beat making. This software tool is best suited for beginners as well as intermediate users for making high-quality music. This application has a total of 1,000 samples and synths, a total of 50 drum and percussion kits, more than 50 acoustic instruments incorporated in it. Additionally, it provides more than 1,000 premade loops to users. Users are provided with a provision of exporting music efficiently with a single click. BTV solo application has more than 60 preset effects, and users can customize those presets according to their wish. It costs a one-time price of $15.
7. Dr. Drum: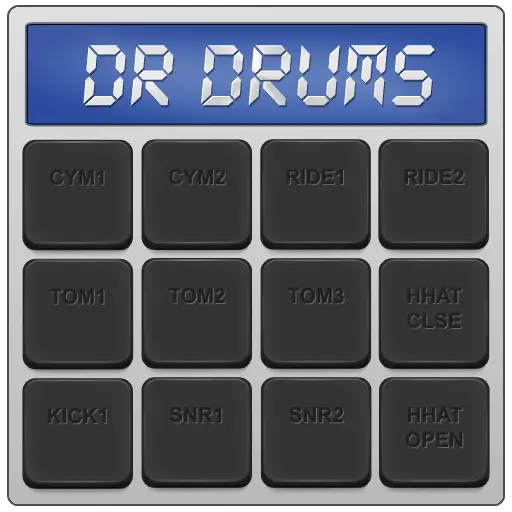 Dr.Drum is one of the well-known and fully-featured software tools for beat making. It supports Microsoft Windows as well as macOS operating systems. Dr. Drum is an affordable software tool that offers a great experience to users through its interface. It is best suited for beginners as well as for professionals. The features incorporated in it are eye-catching. This application works with anyone with no tech background. It is very simple to use and start. The full panel of this application allows total control to the users. It has a huge database of sounds, and users can import their custom sounds in it. Dr. Drum supports exporting music to DAW files.
8. Tracktion 7:

Another fully-featured and user-friendly software tool for beat making is Tracktion 7. It incorporates a blue steel user interface that makes it very powerful, and users feel comfortable due to its easy to use environment. It is free to download for personal as well as commercial use. Tracktion 7 software tool has a cross-platform that supports Mac, Windows, and GNU/Linux users. The features of this application include step sequencer, supports VST/AU/Linux plug-ins, unlimited MIDI and audio tracks, drag and drop support, clip layer effects, wrap time, LFO generators, freeze point technology, latency management, pitch fades, synchronize videos, with audios, and many others.
9. Ardour: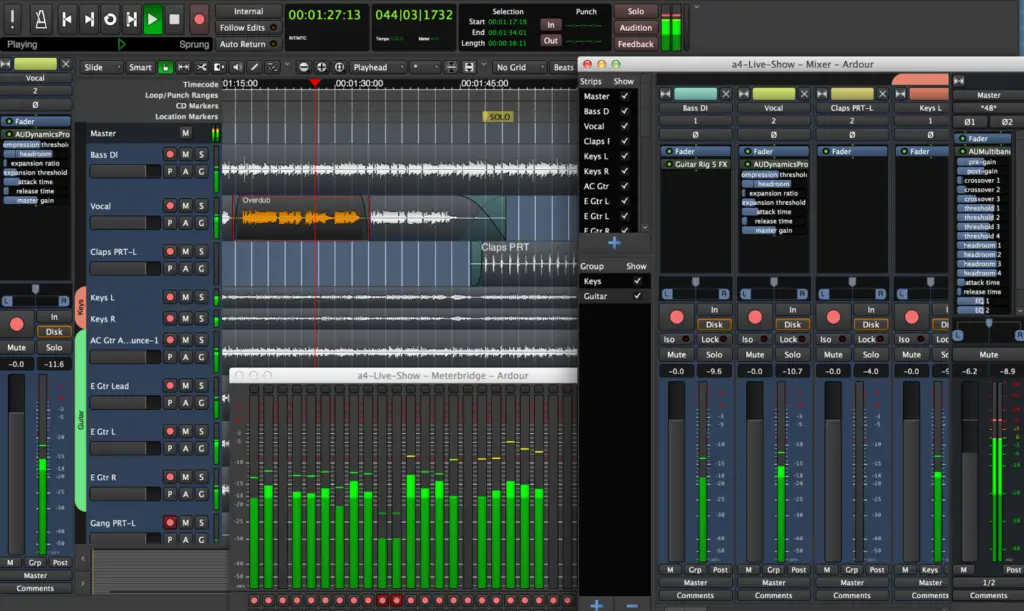 Ardour software for beat making is one of the best and useful tools. It is compatible to work with Linus, Mac, and Windows operating systems. This application is specially developed for audio engineers, musicians, soundtrack editors, composers, and people who desire to record, edit, mix, and master audio and MIDI projects. It has a large set of sounds for mixing, like mute, solo, fader, automate, EQ, post-fader, etc. The features of this software tool include non-linear editing, non-destructive recording, supports dozens of file formats, MIDI processor, FX plug-ins, display frame-by-frame, supports microphone or a keyboard plug-in, unlimited undo and redo option, and many advanced features. It is an open-source application.
10. Cubase:

Cubase is one of the highly robust and powerful software tools. It offers a wide range of features that enable users to create, produce, and mix the sounds. Using this software tool, users can do composing, sequencing, beat making, recording, audio editing, and mixing. It has advanced features incorporated in it. The features are audio alignment, channel strip, chord pads, comping, control room, drum editor, mix console history, Retrologue 2, sampler track, VariAudio, etc. Additionally, this software tool is packed with a wide range of sound effects and virtual instruments. It is best suited for beginners as well as professional composers.