Novels are a way to escape reality and  launch into a new world. But being an ardent book lover, it is not always easy to  carry books everywhere. And if you are a fan of all the genres at once, then things might even get more complicated. So here we are, presenting in front of you  the best ten apps that you can install on your device and carry your own bookshelf wherever you want to. Well, you can organize your virtual library and have access to relevant sources, which will furthermore help you in revolutionizing your reading experience.
1) Wattpad
Fell in love with a book and want to connect with the writer? Want to comment on the lines/phrases while reading a book? Wattpad will help you in achieving and fulfilling all your wishes. It's a platform for the digital age, where the readers can interact with the writers  as well as readers too. You can find new books of every genre you want.
Being a novel lover means implicates having a vast imagination. Ever thought of noting down your dream and developing it into a book? Wattpad encourages you to write your own text, no matter even if it's your first time. After all, everyone needs to start from scratch. The Wattpad community can help you in building an audience for yourself. Try to participate in writing contests, increase your fanbase and make your story turn from free to a paid one.
2) Overdrive
OverDrive is one of the leading digital reading platforms both for libraries and schools across the globe. It provides thousands of eBooks and Audiobooks  concerning every genre of fiction and non-fiction. Get your library card for free and enter the world of your dreams. The app  is open 24X7 and it gives 24-hours service to check out, return books, or place holds. There is no need to worry if you had forgotten to return the book on time as all the eBooks and Audiobooks get automatically returned on the due date.
3) Goodreads
Want to try out a new book  yet confused about the reviews? Scan the code imprinted on the book covers with the help of Goodreads and you get to  read reviews for a better experience. More than 75 million members have already added their favorite books to their virtual bookshelf. Based on your preference, the app will recommend new books from time to time. Catch up with your friends about what you guys are currently reading through status. Organize your library under different genres and names according to your choice, and have a happy time reading! Make notes and highlights of your favorite novels and easily share them with your friends.
4) Audible
Are you  a novel person  yet can't make out time for reading? Don't worry, the Audible app is here to rescue you as it will read out for you. Listen to every type of story you want, including fantasy series, mysteries, thrillers, true crime podcasts, sci-fi audiobooks, comedy podcasts and even kids books. Hear the most compelling stories told by the inspiring voices, anytime and anywhere. Download your favorite stories and listen offline whenever  you want to. Explore the Audio Plus Catalogue with fresh content uploaded every week, according to every mood and moment.
5) Kindle
 Kindle offers millions of eBooks including textbooks & comics in English and many other Indian languages on your smartphone. You can explore popular new releases, best sellers and titles across various genres like sci-fi, romance, self-development, non-fiction and many more. Apart from novels, it also provides a wide range of textbooks and exam preparation eBooks for your academic needs. Add works to your library of famous Indian and International authors like Chetan Bhagat, Amish, Dan Brown, Jeffery Archer, and others. Customize your reading style according to your preference like text size, font type, text alignment, margins, brightness, background colors, etc. Stuck at a word in between the story and can't seem to recall the meaning? Get help from the built-in dictionary, Wikipedia lookup, X-Ray and instant translations which are available there. Bookmark your favorite chapter, highlights, and make notes throughout your book.
6) Inkitt
Inkitt is a  perfect app you can find for reading fiction books that too for free on your Android. You can download your novels to read them offline. Customize your background colors and fonts according to your choice. This app is especially for the avid readers, who love exploring upcoming novels from new and talented authors, all hand-picked. Choose your favorite fiction genres to get preferable reading recommendations and get lost in another world.
7) Epic!
 Reading is a hobby which doesn't come and go with age. There are lots of 13+ apps for novels, but what about below 12? 'Epic!' is here for you little-munchkins. 'Epic!' will boost your reading confidence and fuel your curiosity with its fun, kid-safe, and interactive reading platform. Explore your interest in the Epic library which has got everything from picture books to chapter books, audiobooks, Read-To-Me books, comics, graphic novels, non-fiction and educational titles, educational videos, and many more. Learn new languages at an early age with books written in Spanish, French and Chinese-languages . Also, win badges and rewards while keeping track of your weekly process.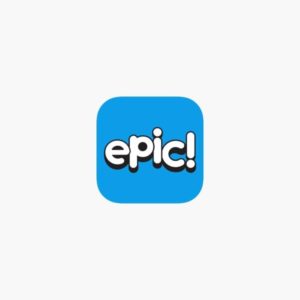 8) ComiXology
Comic lovers, here we come! With ComiXology, swim into the ocean of thousands of books ranging from manga to graphic novels and much more. Download ComiXology and buy books in-app with a free trial. This app provides you access to all types of genre and will take you into a new world of superheroes, romance, sci-fi, horror, crime noir, and possibly what not, coming from Marvel, DC, Image, and much more! Don't worry if you're running out of storage or can't read online. You can save your downloads on your SD card and enjoy them offline whenever you feel like reading.
9) SCRIBD
Get your first free trial and enjoy the digital library of SCRIBD, which has millions of books, audiobooks, magazine articles, sheet music and much more. Sync your SCRIBD account and read books from multiple devices.
Some of the unique features included in your subscription are:
– Download books to enjoy them offline.
– Customize your narration speed and add a sleep timer.
– Make notes and bookmarks.
– Set your preferred font size, type and background color.
– Print out your saved documents.
10) Blinkist 
Join the community of 18 million users and skim or hear critical insights from 4500+ bestselling non-fiction titles and podcasts in a  jiffy.
The app has been awarded the 'Apple's Best Apps of 2017', 'Google Material Design Award,' and the 'United Nations World Summit Award' in the Learning & Education category.
Want to try all the features? Get a seven day trial for FREE and explore the app to the core. Listen to the podcast's insights by the actual show makers, read books recommended by Bill Gates, highlight key ideas, and switch to offline mode whenever you want to.