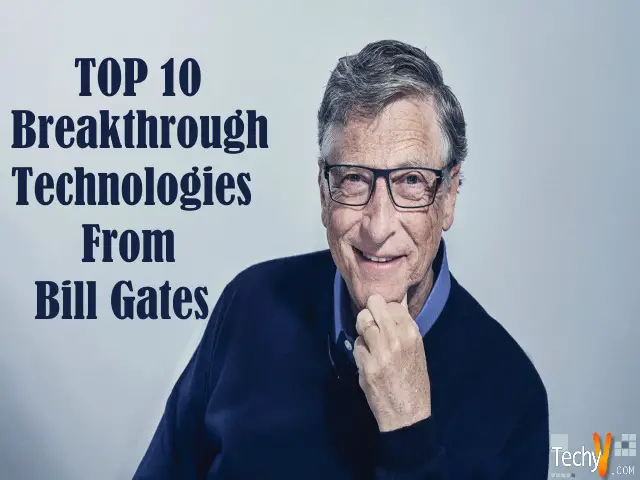 Technologies are rising at an unbelievable pace, and the upcoming technologies are also hugely going to benefit the world. Having a future worth of $96, Bill Gates, the 2nd wealthiest man had an interview with the Top ten breakthrough technologies from MIT, and the 10 chosen is below:
1. ROBOT DEXTERITY

Though Robots are handling the most physical world, industrial bots are still inflexible and clumsy. They cannot move particular objects slightly and place them in the required place. But Dactyl, a robot from San Francisco, comes with a hand with surround lights and cameras. The Open AI of this robot changes virtual images into real by adding randomness to the virtual training.
2. PREDICTING PREEMIES

By a simple blood test of a pregnant woman from her cell-free DNA and RNA, one can predict if the fetus has risks for concerns like premature delivery, tumor, or Down syndrome. Stephan Quake from Stanford finds a medicine for the intractable issues. By this free-floating DNA, we can take a biopsy of a tumor. The test can predict any genetic mutations in the DNA. The doctors can also take steps to avoid premature birth and can increase the survival rates of a child.
3. CUSTOM CANCER VACCINES

Scientists are now trying to introduce cancer vaccines. If the vaccine becomes successful, then it can trigger any cancer-affecting person's immune system and helps in avoiding genetic mutations. It may work on several forms of cancers. Unlike chemotherapies, the method will destroy only cancer cells.
4. CARBON DIOXIDE CATCHER

Capturing carbon dioxide will soak-up any excess green gas-emission. When carbon dioxide emissions are getting lower, the greenhouse warming effect will remain even for a thousand years. To avoid the rise in temperature, the UN panel was decisive in removing 11trillion carbon dioxide from the air. The climate scientist David Keith from Harvard University said that a machine could pull this for $100 per ton.
5. SANITATION WITHOUT SEWERS

Energy-efficient toilets are operational without sewers and waste on the spot. Around the world, 2.3 billion people survive without a decent bathroom. The lack of toilets spread bacteria, parasites, and virus. Due to cholera and diarrhea, 1 in 9 children die. The University of South Florida thus has designed the generator toilets that may filter the pollutants. These have pores that are smaller than the size of bacteria and virus.
6. TALKING AI

Alexa plays music into your living room, and Siri will alarm on your mobile phones. But both can reach only for a particular direction and easy for tripping due to disturbances/distractions. But in open AI technique of digital assistant, one can expand the range. The development has speech synthesis and allows conversation with every AI assistant. They will help in taking meeting notes and reading shopping online.
7. ECG ON YOUR WRIST

People who are health conscious can monitor their heart rates through the wrist ECG, which is a wearable device. The ECG smartwatches are innovative with sensor to read your pulse. This watch can also detect issues like Atrial fibrillation and blood clots.
8. THE COW FREE BURGER

The plant-based alternatives have high nutritional value and tasty without environmental devastations. By the end of 2050, approximately 9.8 billion people will enter into this food habit. Present prediction says that more than 70% of people are consuming meat. Beyond Meat and Impossible Foods are the present two major players to produce plant-based burger ingredients, tasting equivalent to that of a meat burger, but without adding any.
9. GUT PROBE IN A PILL

A swallowing device which is small in size can capture whole images of the gut even without anesthesia, for children and infants. Environmental Enteric Dysfunction (EED) is one of the costliest intestine diseases. The intestine gets leaky and will absorb nutrients poorly. It is prevalent in economically Low Countries because of malnourishment, developmental delays, and height issues. To detect these issues in children/infants, they must take an endoscope tube down to their throat. But this small capsule-like device is simpler than ever. There is a string-like tether with power and light as a console monitor. The little pill will show the doctors where the EED is present.
10. NEW-WAVE NUCLEAR POWER

The New-wave nuclear power is the safest and cheapest method for producing a source of power. There are three types of reactors present now which are generation IV fission reactors, fusion reactors, and the modular reactors. Notably, the modular reactors can produce ten times more power than the traditional reactors.