Display :
September 4th, 2014
Types of Cloud Computing:
Just as the name implies, cloud computing is a way of making use of virtual computer world wide using the same personalized experience. There are actually three different types of cloud computing, and they are pretty much dependent on the requirements of the user. Below are the clues on the three types of cloud computing services.
June 7th
After the release of Samsung Galaxy Note and Mega, which are both considerably enormous, Samsung introduces their latest 7-inch Smartphone in Korea. This is the biggest Android phone so far, which is not a flagship device in any ways. Instead, it is a tab-phab-phonblet which is capable of making cellular calls. This will be available in South Korea soon.
May 3rd
Microsoft released a security patch that will fix the crucial bug that hits most Internet Explorer builds. The fix was issued last Thursday, May 1, 2014 at 10 A.M. PDT. Users who turned their Automatic Updates on won't need to do anything, but for those who have not set this service on, will need to apply the said patch as early as possible. They just need to click on the "Check for Updates" button under the Windows Update option on the Control Panel. And even though Microsoft ended their support for Windows XP, they have decided to release a patch for Windows XP users.
April 30th
Microsoft presents some workarounds opposing the zero-day bug that leaves many users vulnerable to malware attacks. They will soon release a patch for the recent crucial zero-day flaw. However, Microsoft offers momentary solutions for the latest bug that impacted on all Internet Explorer builds. Microsoft Security Advisory 2963983 propose latest information regarding this bug. This weakness lets remote code execution and being utilized in "limited, targeted attacks". Most probably, this bug is extensive and critical; the US and UK security agencies have alarmed users on using Internet Explorer.
April 28th
The PlayStation Japan has recently launched their latest video about the forthcoming PS4 firmware Update 1.70 which will be unveiled on April 30, 2014. It's been a grueling experience for users who purchased the digital copy of PS4 and Xbox One game. And luckily, after publicizing the next firmware update and posting some details last March to April 2014, Sony will make things more expedient for its users. This update will allow the gamers to download pre-order games from Sony's Store earlier than April 30, so they can instantly prepare to play the games before the release day.
October 25th, 2013
Don't have an MSDN or Technet account? Are you one of those who want to update to Windows 8.1 on multiple machines? Here is a simple tip that you can use to avoid downloading the update on each system. With this, you can just download the update once.
This tip is to create your own installation media for Windows 8.1. This way, you will just connect the USB stick to each machine without having to re-download the same update process over and over again. Also, while you have the chance to make downloading easier for you, you can also use your Windows 8 product key to get the Windows 8.1 Update.
October 17th
This October 17, 2013, Windows 8.1 update will be available as a free update for the Windows 8 users. And then on the next day, the entire Windows 8 users will need to avail it for $120 for the regular version and $200 for the Pro version. It's quite very expensive for some but if you want to download it for free, I am sharing you some tips. Just follow the simple steps below:
To obtain a Windows 8.1 copy in legal way, download the Windows 8.1 Preview from the site below:
September 22nd
Setting Up Touch ID Fingerprint Sensor on the newest iPhone 5S
I got so excited on the latest iPhone releases especially the iPhone 5S. One of the first things I did with it is to check on the Touch ID Fingerprint Sensor. The new Home button of iPhone 5S is flat and more settled. This is one of the major feature included in iPhone 5S and Apple selected a capacitance reader powering a convenient property of your skin. If we touch on the fingerprint feature of our iPhone device, it quantifies the diminutive distinctions in conductivity because of the elevated parts of our fingerprint and then it forms an image.
August 29th
Top Tips for Email Marketing with New Gmail Tabbed Inbox
On 29th may Google announced that Gmail inbox will be introduced to a tabbed system. This system divides your emails into five categories- primary, social, promotions. These are the three main ones. Apart from these, the other two optional ones are called- updates and forums. Google explains itself by saying that through these tabs; the users can see what is new at a glance and then decide which ones they want to read.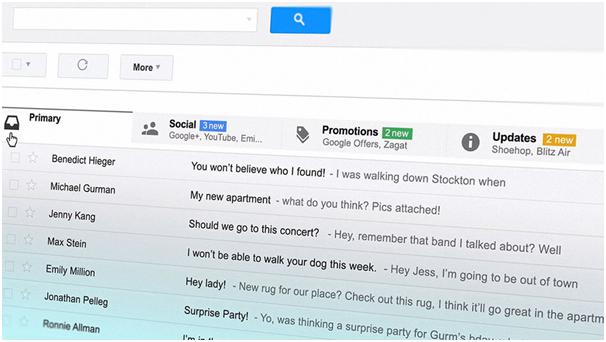 Top Tips to Secure your Data and De-Cloud Yourself
When organizations decide to implement cloud-based solutions in their operation, it is necessary they decide that how good their cloud services perform and how much secure do they want their data. It is noted that cloud performance reduces if encrypting data is stored in it. When any organization or an individual stores any information in cloud, it is crucial that security measures are taken very seriously to make sure that the data remains safe. Due to changes in Google's cloud storage service, users who have to use encryption may very soon benefit from it.
Google's Automatic Cloud Storage Data Encryption