In the age dominated by technology, the use of computers and similar devices have increased in our regular lives. Software and applications dominate our lives in almost every dimension. There has been a significant increase in software for the assistance of artists. If you are an artist and you need a software to work upon your artworks smoothly and edit the artworks with flexible tools, then you need to understand about this digital art software available for various operating systems. To avail of the most satisfying experience of the digital art software, you might be curious to know about the best software that can enhance your usage.
Here is our list of the top 10 best digital art software for the budding artist.
1. AFFINITY DESIGNER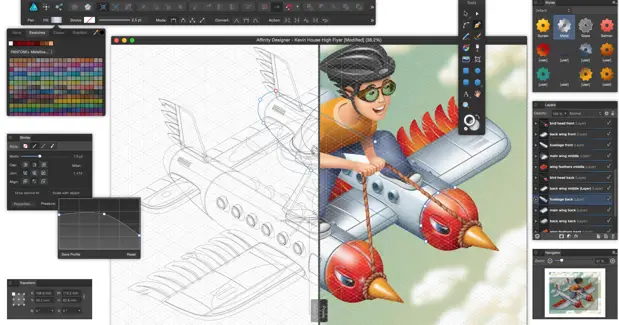 Affinity Designer software avails its users with the most valuable and useful tools for digital art performance and, this is all you need to hit your aims at the right time. The software provides its users with several stabilization tools for brushes, command over the curves, and fabulous zooming options. The software, enriched with advanced creative tools, provides its users with the best experience to professional designers who indulge in works related to vector graphics and illustrations. This software is particularly famous for its most unique zooming feature.
2. COREL PAINTER

With great tools for customization, Corel Painter software provides you the best experience at loose and messy brushwork designs. The software avails its users with several 2.5D brushes along with options for airbrush, plain knife, watercolor, or even a palette knife. The software provides its user with the best tools for the conception of illustrations, manga, photo art, and concept art.
3. PHOTOSHOP

Photoshop is the most flexible and stable digital art software with an add-on feature for creative cloud photography. There have been many improvements in the existing tools. Plus, the additions of a new feature to the software with the latest update by the company. As the software is a part of the Adobe Creative Cloud, it enables its users to share data, including brushes, styles, images, etc. on the cloud.
4. CLIP STUDIO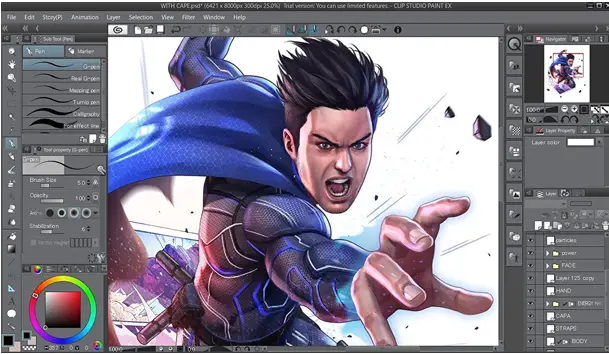 If you are interested or regularly work upon comic creation and related artworks, then all you need is the Clip Studio software. Clip Studio is a feasible and popular digital art software that provides you with all the necessary tools of manga art with an all-natural feel. The software has different versions, with premium features added to the software with higher updates. Furthermore, the software provides the best resources for a free trial for 30 days.
5. SKETCHBOOK

Most useful for a technical illustrator and digital artist, Sketchbook software provides its users with the best-operating instruments for creating canvasses extending to 64 memory protection extensions. The software avails its user with optimum full-screen experience along with the various buttons to smoothen the flow of artwork. The user can also use his fingers to apply the ruler feature in his artworks.
6. ALCHEMY

The most recommended digital art software for designers and artists will be Alchemy if their artwork is mainly about exploring different kinds of sketching ways and artworks. Separate drawing modules creation can come true with the help of people who have expertise and knowledge about programming. Along with various userfriendly options, an all-clear option for clearing canvas is best for the artists.
7. REBELLE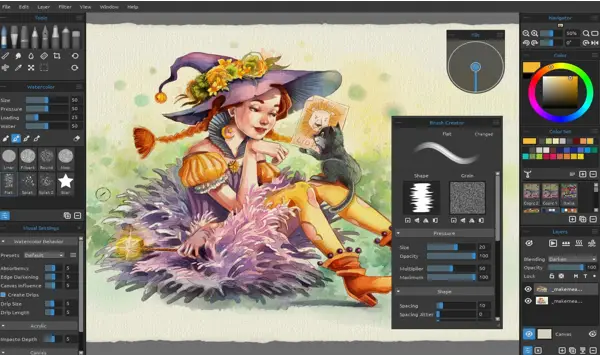 Rebelle software for digital artworks provides its users with real-life painting experience. The software is well known for its affordability and genuine painting experience. Along with availing user-friendly operating instruments, the software allows its user to take benefit of several brushes presets. In a world where most of the software is particularly to pay, this software allows its users trials for free.
8. ART RAGE

Illustrators, digital painters, and artists have always loved the Art Rage software for providing complete drawing packages. The software is available for almost all of the operating systems, vis-a-vis, Windows 7, MAC, Windows 8, iPhone, Windows 10, Android, etc. The users can make optimum texture adjustments through the available tools. The software also provides some utility instruments along with a spontaneous interface.
9. KRITA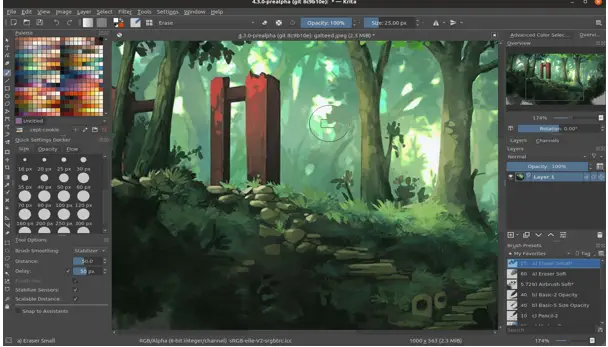 Krita software is a digital art software mainly used by painters and artists indulging in digital artworks requiring expertise in handling digital software. Krita software is available for Linux as well as Windows 10. There are many resources accessible in the software and instruments and tools to edit and to rotate the canvas for better work enhancement.
10. BLENDER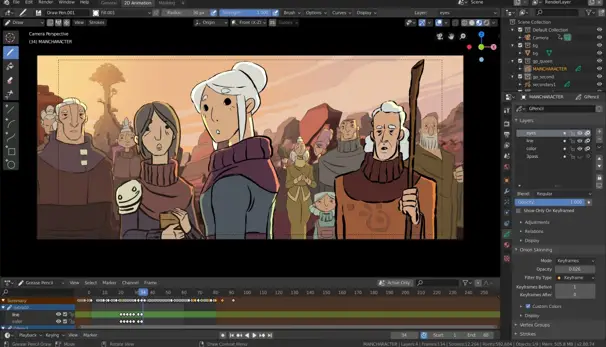 Blender software avails its users with the most helpful and beneficial instruments for digital art production. The software provides its users with all the essential digital art tools they need to hit their targets. The software enables the user with fabulous options to edit videos and managing 3D and 2D creations. The software, enriched with exceptional creative tools, is available for MAC as well as Windows operating system. It provides its users with professional designing tools to preview 3D scenes and reconstruction of the camera. This software is particularly famous for its most unique animation and compositing features.