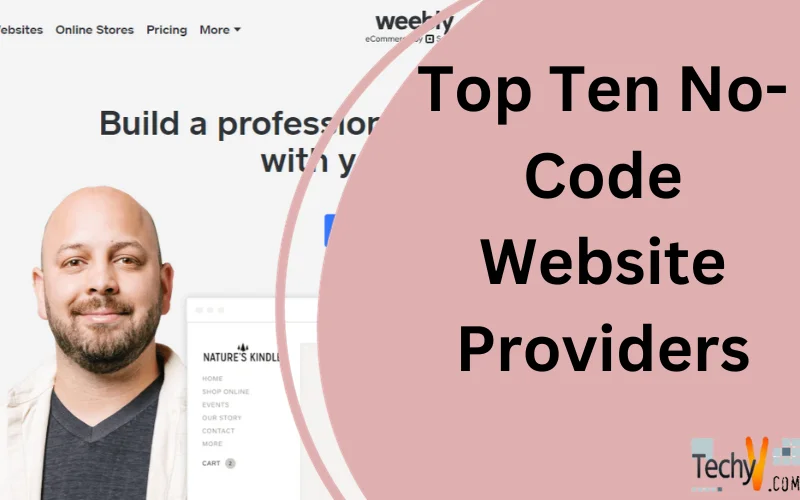 Having an online presence is very important for any business or person nowadays. It helps to establish your brand and connect with customers while also allowing more people to learn about you. However, building a website often requires technical skills like coding, which not everyone has experience with. That's why the rise of no-code website builders has been incredible. These tools let anyone make professional-looking websites without writing any computer code. They allow people without coding knowledge to create an online presence for themselves or their businesses easily. In this article, you will explore the top ten no-code website providers and seek their key features, pricing, and suitability for different user types.
1. Wix – Best For Beginners
Wix is a very well-known and beginner-friendly web service provider for those who are just starting with website building. Its interface allows you to drag and drop elements on your webpage simply. Wix has a collection of templates with over 500 designed options. You were designed for different industries, like business, e-commerce, and restaurants. These templates can be easily customized using the editor. Moreover, a Wix tool called Wix ADI utilizes AI technology to help users effortlessly create logos, colour palettes, and other branding elements in a few clicks. Regarding pricing, Wix provides four plans Combo: Unlimited, Pro, and VIP. These plans range in price from $16 to $45 per month. Each program includes storage, bandwidth, and support. The higher-tier programs offer features and customization options. In general, Wix is a choice for beginners, small businesses, and individuals seeking to create marketing websites.
2. Squarespace – Best For Portfolios
For photographers and designers to show their work through portfolios, Squarespace is a great option. It allows them to use design templates to showcase their visual works, like galleries, images, and videos. Additionally, Squarespace provides blogging tools that will enable users to easily publish articles or show their creative work to other people. Squarespace offers a range of pricing options to cater to needs. Including the starting plan, which costs $16 per month, the Business plan at $23 per month, the Basic Commerce plan at $27 per month, and the Advanced Commerce plan, which costs $49 per month. These plans come with domain privacy protection, access to a library of stock photography, and the ability to create a store. Squarespace has designed its platform with a to-use interface that provides excellent support for users of all technical skill levels.
3. Weebly – Best For Small Businesses
Weebly provides a solution for businesses seeking to build websites without coding. They offer a range of industry templates that cater to the unique needs of different companies. Thanks to Weeblys user drag and drop editor, even individuals without coding expertise can easily create their websites. Weebly offers pricing options, including a plan with limited features, a Personal plan at $10 per month, a Professional plan at $12 per month, and a Performance plan at $26 per month. All the paid plans come with storage bandwidth and the ability to use custom domains. The higher-tier programs offer features and support. Weebly also provides e-commerce capabilities for users who want to set up stores. Overall, it's a cost choice for businesses working within their budget.
4. Webflow – Best For Advanced Users
Although there are limitations to no code tools, Webflow is particularly well suited for users who desire greater flexibility. It offers a CSS/HTML editor that empowers users with powerful coding capabilities. With Webflow, you can create personalized websites, components, and pages without restrictions. Moreover, Webflow has a content management system (CMS) to handle content efficiently. Webflow offers a range of pricing plans to cater to needs. These include the Free progam, which provides features like the Basic plan, at $14/month, the CMS plan at $23/month, the Business plan at $39/month, and the Enterprise plan with custom pricing. All plans come with storage, support, and the ability to use custom domains. The higher tier plans also provide features such as team collaboration tools. While Webflow may require some knowledge, it is worth investing time if you have customization needs.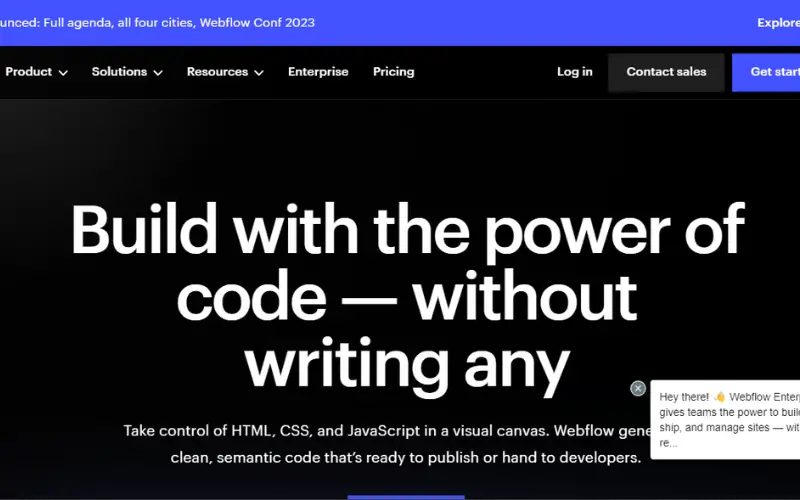 5. Shopify – Best For E-commerce
If you're a seller looking to create appealing stores but don't want to deal with coding, Shopify is a great choice. It offers a variety of designed store themes that cater to different industries. With Shopify, you can customize your store's handle, manage products and inventory, accept payments, and quickly process orders. Shopify's pricing plans include Basic Shopify ($29/month), Shopify ($79/month), Advanced Shopify ($299/month), and Shopify Plus (custom pricing for large enterprises). All plans provide core e-commerce functionality. Higher tiers offer additional features like advanced analytics, multiple users, and integrations. Shopify is straightforward to use and ideal for online sellers of all skill levels.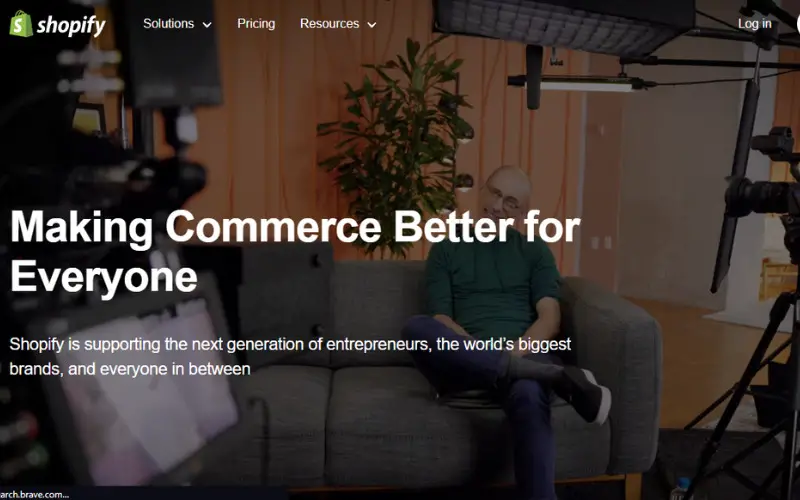 6. WordPress.org – Best For Flexibility
Although using WordPress.org may require self-hosting and expertise, it provides flexibility and customization options compared to other no-code tools. Users can use a selection of themes, plugins, and extensions to create their ideal website. Additionally, WordPress boasts a support community that offers assistance whenever needed. WordPress is free to use. You might have to spend money registering a domain and getting web hosting. The costs for these usually start at around $5 per month. There are known hosting services like Bluehost, SiteGround, and HostGator that offer WordPress installation as part of their hosting plans. In general, WordPress is most suitable for developers, agencies, and experienced users who want control over their websites.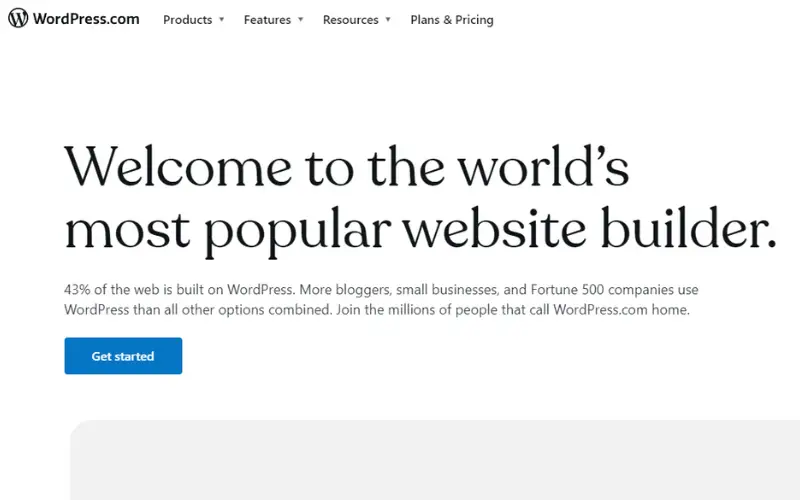 7. Bubble – Best For Landing Pages
Bubble specializes in assisting businesses and marketers in creating effective landing pages, lead generation forms, and sales pages without requiring coding knowledge. It provides over 100 design templates specifically optimized for generating leads across industries. Users can easily personalize these pages using the editor and seamlessly integrate popular tools such as MailChop, ActiveCampaign, and Hubspot. When it comes to pricing options, Bubble offers a range of plans, including Free (with features), Starter ($29 per month), Growth ($119 per month), and Team ($349 per month). Regardless of the chosen plan, users enjoy pages and storage capacity. The higher-tier programs provide functionalities like A/B testing, custom domains, and seamless team collaboration. The bubble is a choice for marketers seeking a rapid solution for building finely-tuned landing pages.
8. Carrd – Best For Single Page Websites
The carrd is a choice for creating websites, digital business cards, and other single-page sites. It offers templates that focus on text perfect for showcasing branding and creating simple about pages. Users have the flexibility to customize their pages using a user drag-and-drop builder. Additionally, Carrd provides a range of customization options, including colours, fonts, layouts, and more to suit preferences. Its pricing plans include Free (limited features), Pro Lite ($9/year), Pro Standard ($19/year), and Pro Plus ($49/year). All paid plans provide unlimited pages, domains, and storage. Higher tiers offer additional features like password protection and integrations. Overall, Carrd is best suited for freelancers, bloggers, and individuals looking to build simple single-page sites.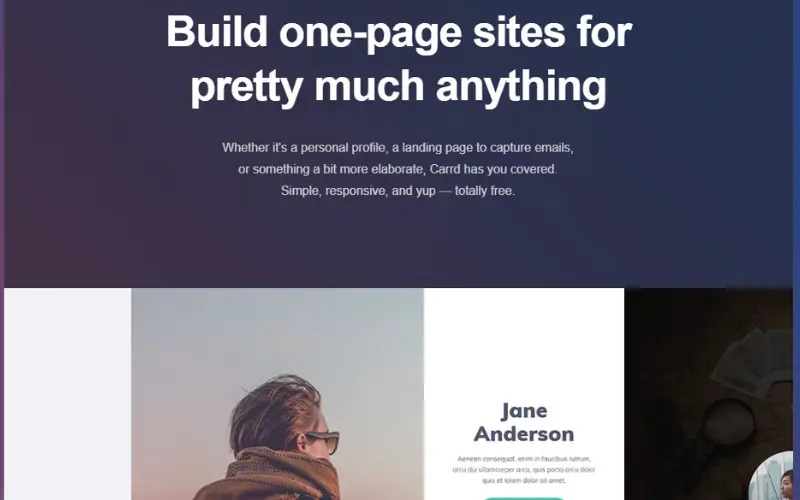 9. Duda – Best For Agencies
Duda is explicitly designed for agencies, freelancers, and teams who want to create websites for their clients. It offers a range of features such as labelling, multi-user access, collaboration tools, and client portals. With Dudas, editor users can quickly build customized websites and efficiently manage multiple client projects through its backend. Duda offers pricing plans to cater to needs like Basic ($14/month), Team ($22/month), Agency ($44/month), White Label ($149/month), and Custom (pricing tailored to individual requirements). All plans include storage, support, and the ability to use custom domains. The higher-tier programs also provide features like client subdomains and team management tools that are particularly beneficial for agencies. Duda serves as an all-in-one solution for agencies.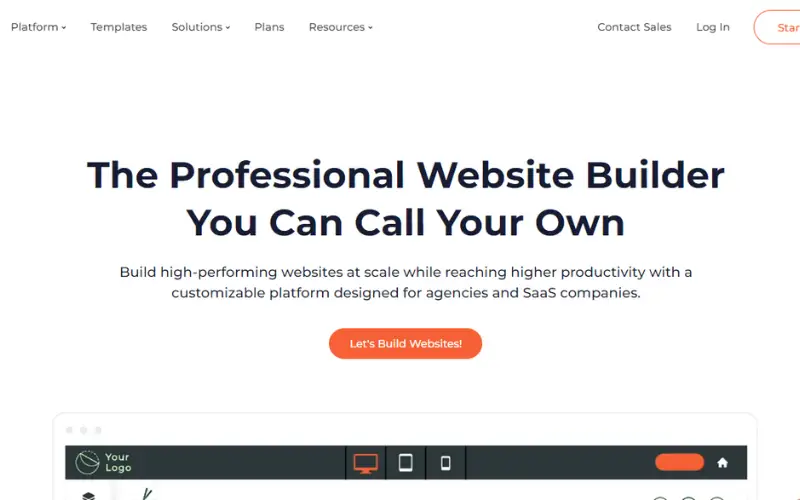 10. Tilda – Best For Creative Websites
Tilda is a tool that empowers users to create captivating websites without any coding knowledge. It offers a range of templates specifically designed for creative portfolios, studios, artists, and more. With Tilda's user drag-and-drop builder, users can easily customize their pages. Incorporate features such as galleries and sliders. When it comes to pricing, Tilda has planned. There is a plan with features, for a Personal plan priced at $10 per month and a business plan priced at $20 per month. Regardless of the chosen program, users enjoy storage, bandwidth, and support. The Business plan unlocks features particularly beneficial for creative businesses and agencies. In summary, Tilda is the platform for designers, photographers, and creatives who want to showcase their work through stunning websites.