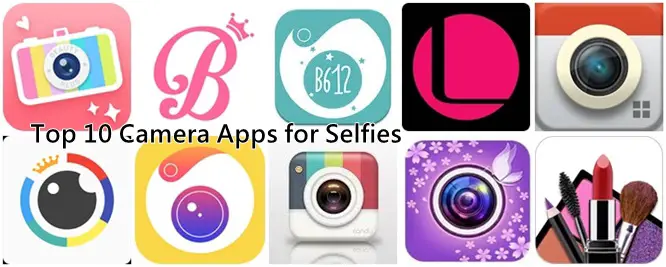 1. YouCam Makeup:

 YouCam Make Up is a one-stop destination to fulfill all your desires to look gorgeous on your selfies. It provides advanced photo-editing features like apply foundation, lipstick, eyeliner, accessories, removes blemishes, changing eye lens color, and changing hair color with different hair styles. In short, it provides you with all the beauty enhancing tools that help you look beautiful.
2. YouCam Perfect:

Have you ever wished to look tall and slim? If yes, then this app will fulfill your wish; maybe not in reality, but yes at least in photos.  It also turns your sad face into a happy one with smile feature.  It can even remove any unwanted object from the background and provides advanced features to make your face flawless and glowing.
3. Camera 360:
 Camera360 lets you take a selfie in different exquisite filters and let you take perfect selfies and photos. You can add stickers to your selfies and make collages of your photos.
4. BeautyPlus:

  BeautyPlus not just provides all the beauty enhancing tools but also a fun feature that let you transform your selfies into animated collages.  Its multiple face recognition features helps you to take group shot where everyone in the group can look beautiful.  It helps you take a perfect shot even in the darkest places as it automatically adjusts exposure.
5. BestMe Selfie Camera:

 The BestMe Selfie Camera provides 125 free and unique filters to brighten up your selfies and also, the strange and fantastic mirror filter that gives that mirror effect to your selfies. Besides providing all these features, it also let you use cute emoticons in your selfies.
6. Candy Camera for Selfie:
 Candy camera is the ultimate selfie-enhancing app that provides all the high-definition features like slimming, concealer, blush, eyeliner, whitening, etc.  It also let you take multiple photos for a collage. Its unique feature is its sticker column. It has stickers for every occasion and for every season that makes your selfies look attractive and lively.
7. B612:
 The B612 app allows you to choose the beauty effects and adjusts them live.  To make your selfies look more realistic, you can use AR background effects and facial stickers so you can relate yourself to your surroundings. It let you chat with your friends through selfies that disappear after 24-hours. B612 would be a great app to try for making your conversations more lively and real.
8. Bestie by Camera 360 Beauty Cam:
 Bestie Beauty Cam is the best camera app for portrait selfies. It's crystal clear selfie photo beautifier feature helps in removing wrinkles, acne, and other imperfections. It let you reshape your nose and face too.  It is also one of the best cameras for low light selfies.
9. Retrica: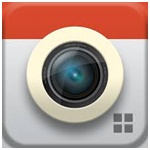 Retrica is one of the oldest selfie apps. It lets you turn your collage shots or videos into GIF with just one tap.  It also provides more than 100 stupendous filters to make your selfie more fascinating.
10. Lakme Makeup Pro:
  Lakme Makeup Pro is your personal makeup artist that let you use lakme products in your selfies; from lipsticks to blushes to eyeliners. You can use all these lakme products to have a celebrity look like Kareena Kapoor Khan and much more. It also let you know which makeup look is currently in trend.