Top 13 Printers from Brother Manufacturer
Brother is a printer manufacturer that has recently produced excellent quality and powerful printers since 2012. It has manufactured printers compatible with the latest AirPrint technology from Apple. Here are some of the topmost AirPrint printers that Brother has recently brought into the market:
1. Brother HL-2270DW – a compact monochrome printer that uses laser technology as well as supports inbuilt wireless and Ethernet network connections. These connection types make it suitable for both home and small office uses. Providing a swift print speed with automatic duplex capability, HL-2270DW prints professional looking documents easily. It's affordable to buy and operate and uses high-yield replacement cartridges for toner to reduce operational costs.
2. Brother MFC-J825DW – a compact inkjet wireless color photo all-in-one printer that saves both paper and time with its duplex printing capability. Using up to 20 pages ADF it also performs an unattended copy, scan or fax. Printing speeds are 35 ppm for black and 27 ppm for color. It uses 4 cartridge ink system that saves operational costs.
3. Brother MFC-J625W – a compact all-in-one printer that is easy to own and operate. Its small stylish design makes it suitable for both small office and home users. You save paper with duplex printing and ADF also saves you time. It prints at 27 ppm for color and 35 ppm for black and its LCD display and Touch panel allows for easy control of menu navigation.
4. Brother HL-5470DW – a cost effective monochrome printer that is reliable and excellent for use in busy offices and small workgroups. It features a print speed of 40ppm and a print resolution of 1200×1200 dpi hence producing professional printouts. It has the automatic duplex capability and wireless printing from your device.
5. Brother HL-5450DN – a compact high speed laser printer with inbuilt Ethernet network interface and an automatic duplexer for saving time and paper.  It prints at the speed of 40ppm and has an expandable 300-sheet paper tray. Additionally, it uses high-yield replaceable toner cartridges hence reducing operation cost.
6. Brother HL-6180DW – a wireless enabled printer that prints quickly at 42ppm and with the use of an automatic duplexer to save time and paper. It also has Gigabit Ethernet network connectivity option. HL-6180DWhas an expandable paper tray holding up to 550 sheets of plain paper as well as use of super high-yield replaceable toner cartridges to save operational cost.
7. Brother DCP7065DN – a monochrome laser all-in-one printer supporting Ethernet network interface and a stand-alone copying capability, requiring no PC. With its automatic duplexer it saves time and paper and its 35-page ADF also saves time.
8. Brother MFC-J5910DW – a compact professional all-in-one inkjet printer with inbuilt wireless and wired Ethernet options for networking. With its duplex printing capability you save paper and time. Additionally, it reduces operational costs by using super high-yield replacement ink cartridges. It has up to 35 pages ADF.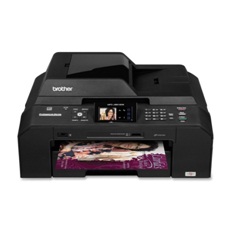 9. Brother MFC-J425W – an easy-to-use inkjet all-in-one wireless network printer with ADF. Its compactness makes it suitable for small office or home use. It offers print speeds of 33 ppm for black and 26 ppm for colored pages. You can connect several computers and enjoy Airprint printing from your iDevice.
10. Brother HL3140CW – a digital color wireless networking printer used for high-impact business printing purposes since it prints at a speed of 19ppm with 600×2400 dpi. It supports AirPrint technology to print from iDevices. It has an expandable 250-sheet paper tray.
11. Brother DCP-J140W – a compact wireless multifunction inkjet printer that is designed for excellence. It scans, photocopies and faxes quickly in addition printing quality work. It is an energy star qualified printer form Brother Manufacturer.
12. Brother MFC7860DW – a wireless monochrome multi-functional printer that prints at a fast speed of 27ppm. It can also connect via an Ethernet network and has a 35-page ADF as well as an automatic duplexer for saving time and paper. Its paper tray holds up to 250 sheets of paper.
13. Brother MFC8710DW – a wireless monochrome multi-functional printer printing at a quick speed of 40ppm. It saves time and paper with its automatic duplexer that allows for printing on both sides of a paper. It has a paper tray that holds up to 300 sheets of paper and this is expandable.