It's a common thing to stuck with softwares or junk tools on your computer not getting uninstall. We try to uninstall them but they deny. To resolve these issues we bring you the best uninstallers. So, Next time you don't need to be worry about these sticky tools, because all you need is an uninstaller. Have a look at the list below.
1. CCleaner
CCleaner also referred to as computer cleaner is an all in one computer optimization tool. It provides you with the best features to optimize a computer. With CCleaner you can uninstall any junk software packages on your computer without getting worried about its stickiness.
2. IObit Uninstaller
IObit Uninstaller is a free to use uninstaller with a powerful computer cleaner which helps in removing stubborn computer applications and other junks. It also boost your computer for better performance. It monitors your computer for unwanted tools and adware's to make your experience better and keep your computer clean from viruses.
3. Wise Program Uninstaller
Wise Program Uninstaller is also a golden utility among the list of Uninstallers. It a free to use software for removing unwanted junk from your computer. It removes any software you want from your computer. It removes broken softwares or malicious softwares which can't be uninstalled directly.
4. PC Decraplifier
PC Decraplifier is also one of the most downloaded uninstaller. It's a freeware and easy to download tool for everyone. As a freeware it's not a feature rich program like others, but it provides best services to uninstall any unwanted softwares from your computer. It's a minimal sized application that doesn't need installation. Which means you can download it from the website and run it directly.
5. Total Uninstall
As the name suggests Total Uninstall is all pampered to uninstall the fake and broken programs from the system. It also provides the additional utilities such as startup manager to manage the tasks on computer startup. You may even copy programs without setup to other computers with the help of Total Uninstall.
6. Full Uninstall
Full Uninstall is a complete software removal package by ChemTable. It not only uninstalls the unwanted programs it may even install them and keep the track of changes made to them for proper uninstallation at the time of removal. It also cleans the files left after the programs uninstalled.
7. Absolute Uninstaller
Absolute Uninstaller comes with a great user interface which is easy to use. Users can remove multiple unnecessary softwares with a single click. It lists all the softwares installed on computer and let the user select which ones to keep and which ones to uninstall.
8. Revo Uninstaller
Revo Uninstaller is a premium and feature packed uninstaller. It comes with many great features to use. Users can remove the application by just dragging the icon over it hunter window. Hunter window automatically searches for the program and gives user option to stop, delete and uninstall the program. User can even manage and check the installation and uninstallation logs on revo uninstaller.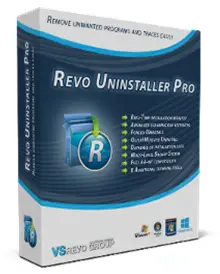 9. Ashampoo Uninstaller
Ashampoo is an established brand in the field of computer utilities. It provides a premium uninstaller with a trial package. It has many versatile features. It has numerous features like installation and uninstallation of program. It also contains intelligent application monitor to scan and monitor application on the real-time basis. It can also perfectly uninstall nested computer programs in a software setup.
10. AppRemover
AppRemover is the last uninstaller in my list. It's not that dynamic and virtuous but it can do the uninstall of software packages properly. It also removes potentially unwanted softwares from torrents and other downloaders etc.
That's all folks.