Google Drive is one of the most proficiently working groups of software that allows the user to handle and save all their high storage devices in one place, saving loads of memory on your phone. But there are few alternatives available for the same, and we are going to look at the top 10 of them.
1. DROPBOX:

DropBox is the most common cloud storage app. With DropBox, you can automatically sync your files to the cloud, or you can even use it online. Editing option is available in DropBox. The data encryption has two-face authentication. The app is perfect for business persons to share their links with their customers.
2. TRESORIT:

Tresorit is one of the safest and private cloud storage. Data are encrypted before sharing so that no one can read the stored info from their devices. Tresorit has full security about their encryption; they have even bid a challenge of $50,000 if anybody breaks it. According to them, more than 1,000 hackers have given tired and failed miserably. When you share a link to a file, a secret key is given for the user. With the key, you can check the data that you shared. Tresorit's data centres are from Europe bases.
3. MEGA:

Mega is the only storage system which offers you 50GB free. With Mega, you can transfer files by link, but it does not have any securable protection like a password. The limitation of 10GB data is the only problem for those wish to transfer large files. Mega has headquarters in New Zealand.
4. SYNC.COM: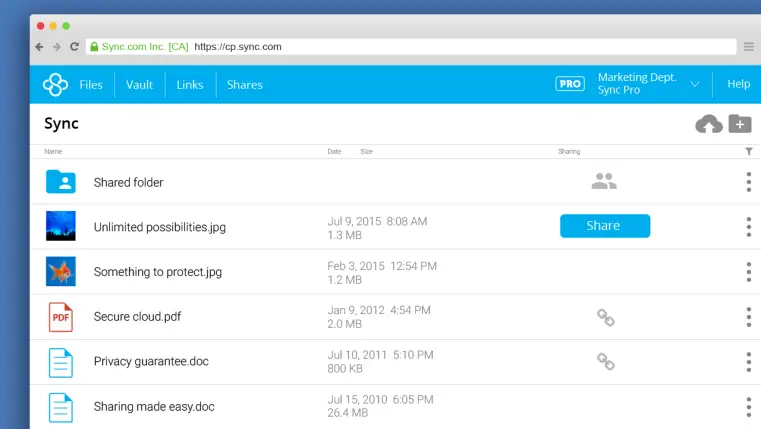 Sync.com storage provider offers a folder in which your upload will be directly into the cloud. All your files are in sync with any device. Sync.com offers 2TB of data for $8 per month. You can protect all the files with a password. You can even fix the level of access like expiry date. The user can also disconnect a device remotely if it has been lost or stolen.
5. SPIDEROAK:

Spideroak has powerful end-to-end encryption which will not allow anyone to know upload or documents. Spideroak has two other options where, 'Spider oak Share' allows sharing the encrypted files, and 'Spideroak Semaphore' has a securable message platform.
6. BOX: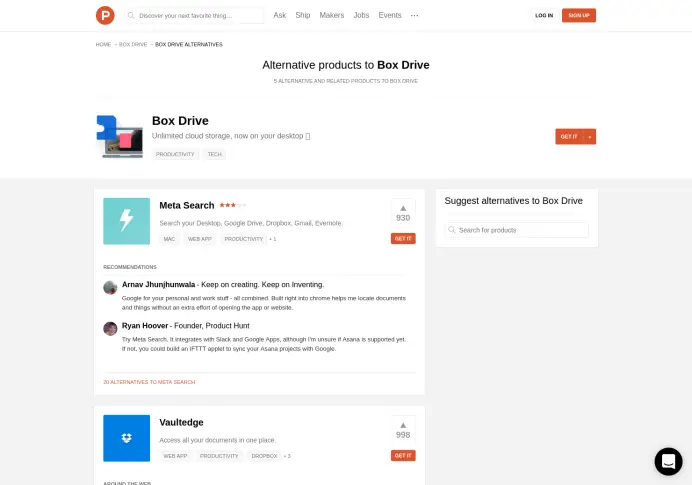 The Box is perfect for business and small team works. With Box, you can create files, edit them and share it with your colleagues. It has software providers like Office 365, Adobe sign, and Sales Force. Box offers you to set passwords for every shared file. With the cloud, you can even make tasks assignments, track progress, and give expiry dates.
7. PCLOUD: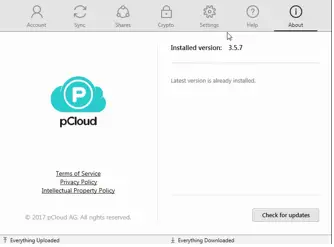 PCloud has strong encryption similar to Tresorit. Many hackers have lost in their efforts. PCloud is more cautious about your privacy. When you want to share files with your teammates, you need to consult the PCloud business first. Then, they will allow you to set the file transfer. If you want to edit a file, any of your team members with access can do it. This provider offers a one-off lifetime subscription.
8. SUGAR SYNC:

Sugar Sync provides a very flexible service. You can access all your data or anything across your PC, and also view files remotely from mobile, iPhone, Android. It offers free storage up to 5GB.
9. APPLE ICLOUD:

Apple iCloud was especially for Apple users to store their files and documents on various devices. It is easy to open the docs from any device which has run the apps. It gives free storage up to 5 GB.
10. BIT CASA:

Bit Casa is a hard drive of your cloud. It gives unlimited storage. It works on all your sync-devices like PC, laptop, phone, or tablet. You can even share large files quickly. Bit Casa offers 20 GB free storage and subscription from 1 TB for unlimited storage.