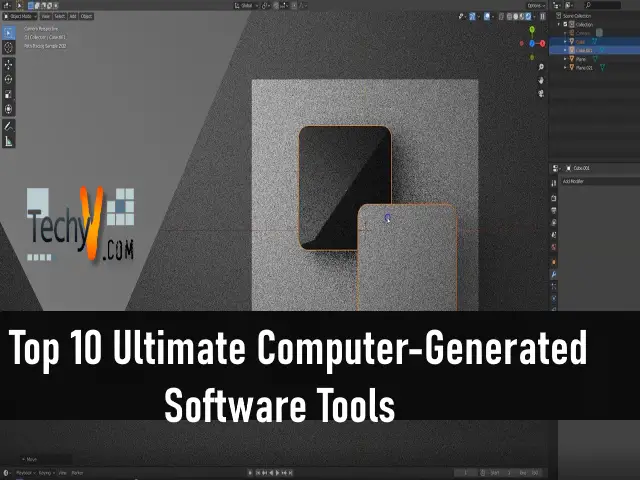 CGI is an acronym for Computer-Generated Imagery. Computer-Generated Imagery software tools are used to create animated images, videos, etc. More precisely, these tools are referred to as 3D computer graphics that are used to create or develop various distinct characters, scenes in films, and games. The technology of CGI is used widely in today's world. This technology is much cheaper than physical methods for creating characters or scenes. The CGI software tools have a wide variety of features in it. They are used in various aspects of life, like a business, education, filming, etc. The following are the top 10 ultimate CGI software tools with their features.
Bryce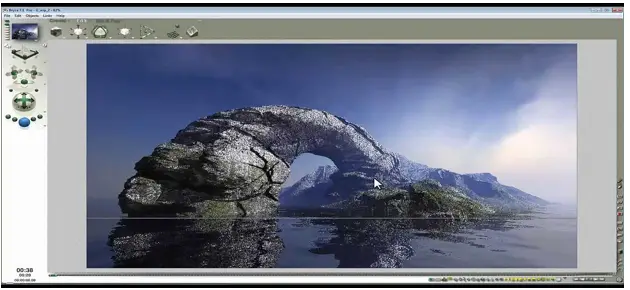 Bryce is one of the top Computer-generated Imagery software tools used widely for 3D modeling, rendering, and animation programs specializing. There are multiple versions of this tool. This software tool is compatible to work with Microsoft Windows and macOS operating systems. There are multiple features incorporated in the Bryce software, which enables users to create high-quality images or characters. These features include instancing lab, improved light lab, skylab enhancements, particle emitter, Daz Studio Bridge, and importing & exporting multiple file formats. Users need to pay an amount of $29.95 to access all features of Bryce.
LightWave 3D

LightWave 3D, as its name indicates, is the best and most-used software tool for creating 3D images. It can create animated as well as static images. This CGI software tool is used in many films, television, motion graphics, etc. to develop 3D images for the film or video. LightWave 3D CGI software can be installed on Microsoft Windows, macOS, and AmigaOS operating systems. This tool incorporates advanced features and more extraordinary features than others. They include Dynamics physics systems, Hypervoxels, Material Shaders, Nodes, Scripting, and LightWave Plug-in SDK. The price of this tool is $ 995 for Windows and macOS.
Blender

Blender CGI software tool is the most-used and popular software tool for developing 3D computer graphics. This tool is used widely by artists, scientists, students, visual effect experts, animators, game artists, etc. The best part of this tool is it is an open-source tool and can be utilized by everyone. The best feature of the Blender tool is the path-tracer engine, which assists users in developing realistic rendering. Additionally, there are all basic modeling tools, like creating, editing, transforming, etc. Another extraordinary feature offered by this tool is rigging and animation tools. These tools are specially used to create short films, advertisements, and TV serials. But, the free version allows users to access limited features.
Houdini

Houdini is yet another one of the top CGI software tools. This tool is a 3D animation software that can be installed on Windows, Linux, OSX, and macOS operating systems. This tool is specially designed for the FX department for developing visual effects in films and games. Several VFX companies, like Walt Disney Animation Studios, Pixar, Sony Pictures Imageworks, etc. for creating visual effects in films. There are various features incorporated in this software. They are modeling, animation, dynamics, lighting, particles, rendering, volumetrics, compositing, and plugin development. The price of this software is $199 per year.
Cinema 4D R17

Cinema 4D R17 is the most popular application used for 3D animation, graphics, VFX, visualization, and rendering. This software incorporates multiple advanced features in it. The best feature is the take system, which is a new system that offers flexible scene management and creates independent takes of the scene. The other features include lens distortion support, graphic view for motion tracker, new spline tools, enhanced animation workflow, sculpting, Houdini engine integration, SketchUp integration, etc. This software offers a user-friendly interface. The price of this software is $3,495.
Autodesk 3ds Max

Autodesk 3ds Max is one of the top CGI software tools. This tool is a web-based software specially used for 3D rendering and animation. Additionally, this software is also used for filming, game development, product prototyping, TV animation, etc. This tool has extraordinary features encompassed in it. They are controllers for max creation graphs, rendering in A360, motion paths, 3D animations & dynamics, particle flow effects, MAX to LMV, 3ds max fluids, 3D rendering, general animation tools, customizable workplaces, 3D effects & texturing, etc. This tool comes with five different packages. Out of five, one version is the free version that enables users to access basic features.
DrawPlus

DrawPlu CGI software tool is specially designed for 2D vector graphics. This software tool is compatible to install on Microsoft Windows XP, Vista, 7, 8, and Linux operating systems. This tool offers a wide range of object creation and editing tools. It has a pencil and paintbrush tools that can create freehand curves. There is a pen tool, which creates Beizer curves, and a line tool creates straight lines. The other tools include arc, spiral, triangle tools that create curves, and the B-Spline tool creates B-Spline curves. Additionally, it has a freeform tool, vector flood tool, eraser tool, knife tool, connector & dimension tools, shadow tool, crop tool, blend tool, snapping tools, and many more tools.
Digicel FlipBook

Like DrawPlus, Digicel Flipbook is also specially designed for 2D animations. This tool is compatible to work on Microsoft Windows and macOS operating systems. This tool also has multiple features used for animation. Digicel Flipbook enables users to scan in storyboards easily and rearrange the frames quickly. The other features include adding the soundtrack to storyboard, controlling the speed of frames, scan the background image using XSheet layers, lip-syncing, color palette, drag and fill options, multi-level painting options, AutoMatte, rim light, shadows, keyboard hotkeys, import & export render files types, etc.
TVPaint Animation

TVPaint Animation software tool is specially designed for 2D animation and is based on bitmap technology. Bitmap technology is the best part of this software that allows users to animate natural renderings. This software incorporates all necessary and essential animation and editing tools. Features include management of layers seven images, light table, rotative workspace, image library, etc. The image library feature is used to store references and model sheets. Also, there is a timeline provided for users. The extraordinary tools include color replacer, tint replacer, expand, line colorize, inlay texture or brush spreading, etc.
Toonz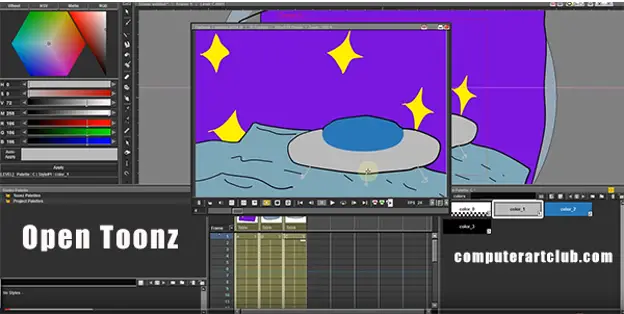 Toonz is another top CGI software tool used for 2D animation. This software tool is an open-source tool and is compatible to work with Microsoft Windows, Linux, and macOS operating systems. The other version of this tool is Toonz Premium. It has multiple features, like advanced scan and cleanup functions, drawing tools, advanced ink paint features, animation tools, a huge set of special effects, advanced compositing and rendering features, and render farm. Animation tools include Plastic to create animations, the skeleton for puppet animation, etc. Toonz CGI software tool can be used for raster and paperless productions.