The term eGPU implies External Graphics Processing Unit. This is a digital electronic hardware device that manipulates memory for the purpose of creating images and displays images on the output devices. The best part of these devices is they can be used with mobile phones, laptops, workstations, PCs, and gaming platforms. The External Graphics Processing Unit devices are developed for various distinct purposes, like for gaming, cloud gaming, video editing, cloud workstation, artificial intelligence, rendering, and many others. The following are the top ten eGPUs for Mac OS X systems.
1. Razer Core X: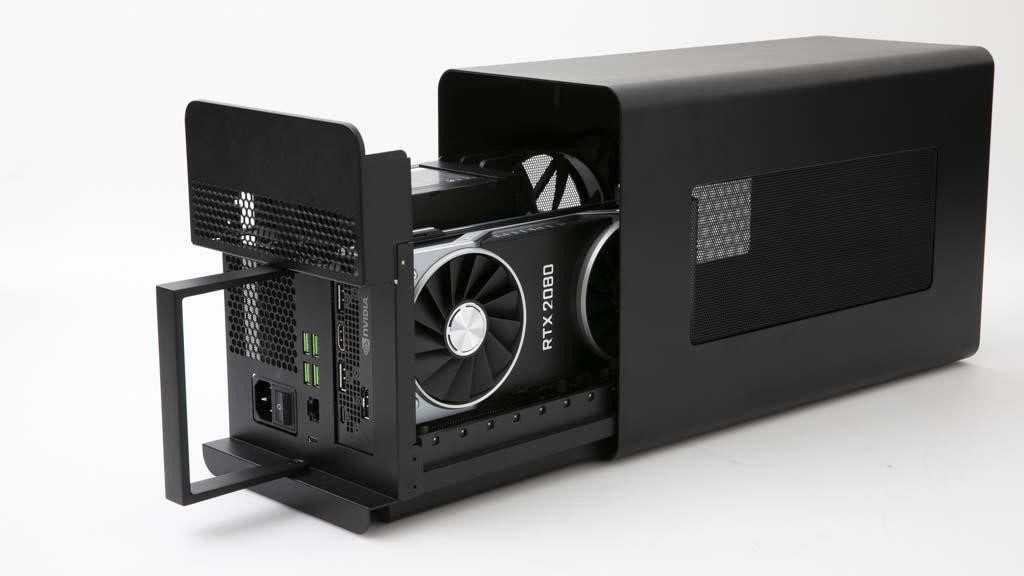 Razer Core X is one of the most popular eGUP devices used for the macOS operating systems. This hardware device is highly featured and robust. There is another version called Razor Core X Chroma. The Razer Core X GPU has up to the three-slot card. The best feature of this device is that it is very easy to operate using a plug and play feature. Additionally, users can connect this device with a laptop or PC at a very fast speed. It is also compatible with Microsoft Windows operating systems. Users can upgrade the graphics card with ease. It is available at $399.99.
2. Blackmagic eGPU Pro: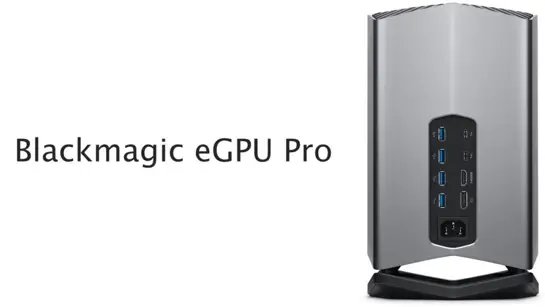 Blackmagic eGPU Pro is another fully characterized eGPU specially developed for macOS operating systems. The features incorporated in this tool are commendable and extraordinary. It has 8GB of HBM2 memory and incorporates a Radeon RX Vega 56. However, this hardware is best suited for workstations to edit videos and 3D modeling. The other specifications include two Thunderbolt 3 ports, a total of four USB 3 ports, one port of HDMI 2.0, and one port of DisplayPort 1.4. This hardware is available at $1,199.
3. Sonnet eGFX Breakaway Puck:

One of the most-used and popular GPUs for the macOS operating system is the Sonnet eGFX Breakaway Puck. It is very well-known for its portability. As it is highly portable, it measures six inches wide, and 5.1 inches deep, and the height is two inches. Additionally, it has one HDMI port, one Thunderbolt 3 port, and three DisplayPort ports. Sonnet eGFX Breakaway Puck supports 4K video and has a single Radeon incorporated in it. This hardware is best suited for gaming purposes. Users can buy this eGPU for $299.99.
4. Asus XG Station Pro:
Asus XG Station Pro is yet another external graphics processing unit for Mac OS X. This hardware is highly featured and is commonly used by MacBook users. The best part of this device is it has full-length 2.7-slot graphics cards. Users can upgrade this device very easily. The specifications of this device include connectivity with Thunderbolt 3, bulti-in 330Watt Power Supply, dual fans of 120mm, and many advanced features. The Asus XG Station Pro eGPU is certified by Thunderbolt for Mac OS X and Windows.
5. Akitio Node Titan: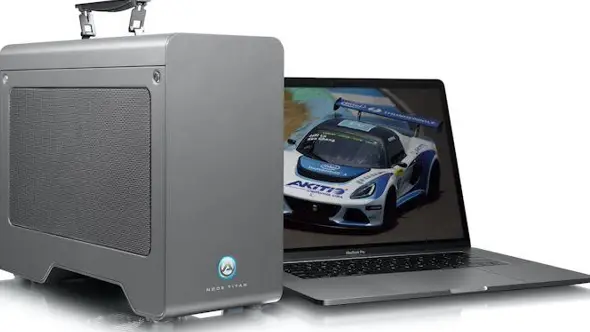 Another powerful and well-known graphics processing unit is the Akitio Node Titan. The graphics present in this hardware are very fast at a speed of 400Gb/s. This device can transfer notebooks into mobile video systems. The best advantage of using this device is it provides effective and realistic use of headsets. The power supply for Akitio Node Titan comes with 650 Watts of power. Along with the macOS system, it also supports working with Microsoft Windows operating system. This hardware can be specially used to create professional videos, audio processing, data storehouse, etc.
6. Sonnet eGFX Breakaway Box 650: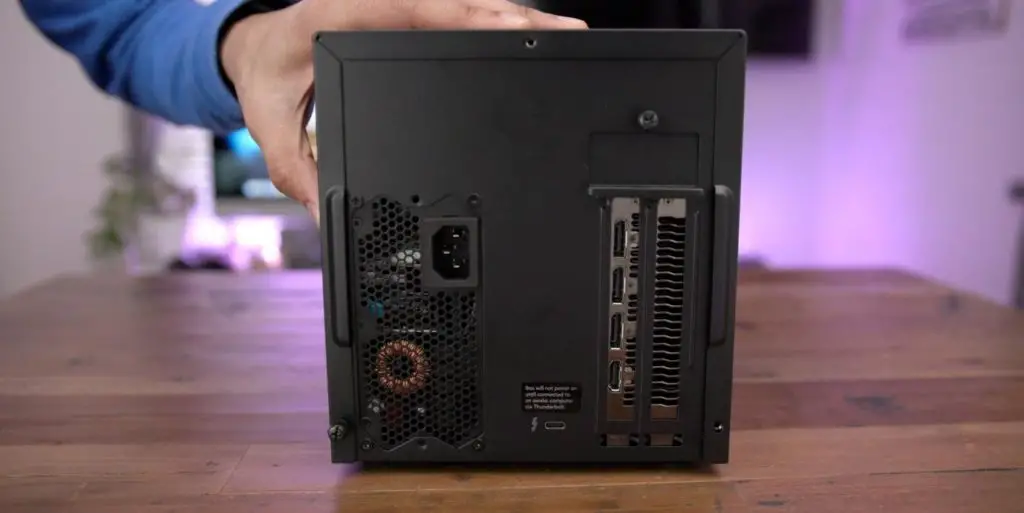 Another external graphics processing unit from the Sonnet family is the Sonnet eGFX Breakaway Box 650. Users can create high-quality professional videos with this device that offers a high-performance video card. Using this hardware, users can perform video editing, rendering, color grading, animating, and many other activities. The specifications of the Sonnet eGFX Breakaway Box 650 includes 87 W of upstream power supply, incorporates 8-pin power connectors, supports high power cards, enhances graphics performance, supports multi-eGPU acceleration, supports the latest GPU cards, etc.
7. PowerColor Mini Pro: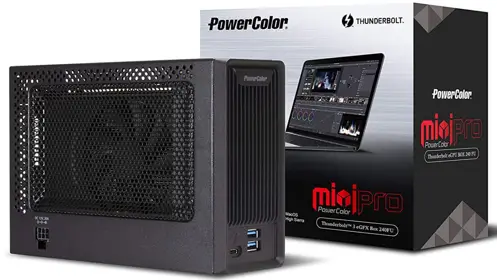 PowerColor Mini Pro is one of the best and high-performance GPUs for the macOS operating system. It is a highly portable tool that enhances the performance of graphics. It has a very fast, lightning speed connection of 40Gbps. Users feel very comfortable using this device because of its lightweight and compact design. It provides higher and reliable internet speed due to Gigabit LAN. PowerColor Mini Pro incorporates the graphics card of 8GB memory. It has a wide variety of ports, like an external adapter, USB 3.0, Gigabit Ethernet, and Thunderbolt 3.
8. Lenovo G0A10170UL: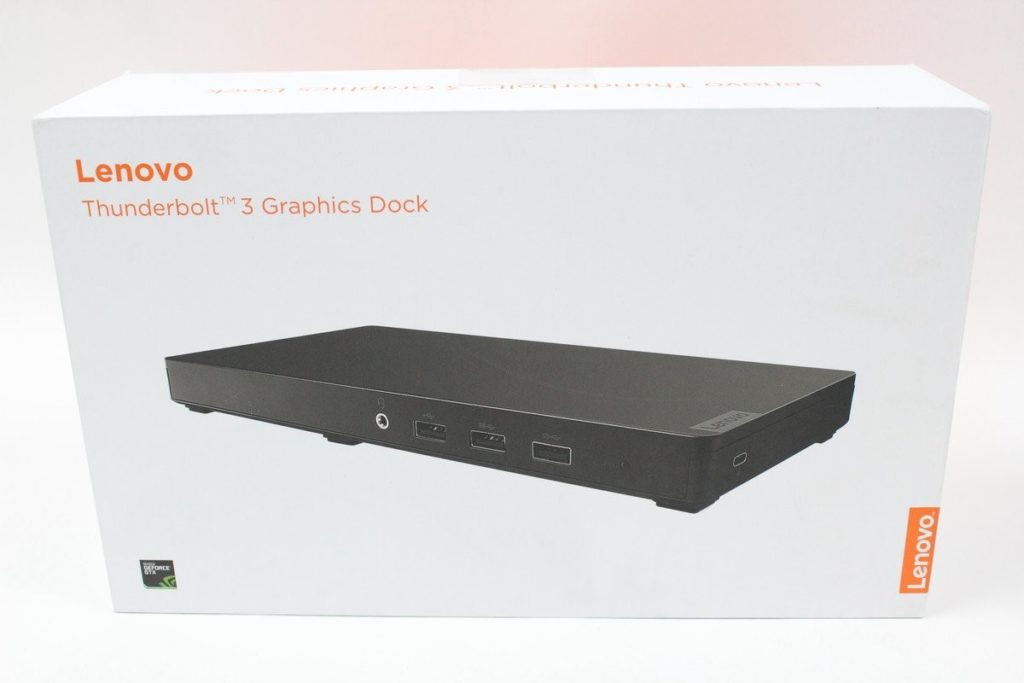 Another Thunderbolt 3's graphic processing unit is the Lenovo G0A10170UL. It is highly portable and saves space. This hardware supports up to three 4K displays. It incorporates one HDMI 2.0 port and two ports of DisplayPort 2.0. Additionally, it also has a Gigabit Ethernet port that offers high speed and a reliable internet connection to users. The data transfer speed offered by this device is 40 Gbps. Lenevo G0A10170UL has a Thunderbolt port that offers continuous power to mobile devices and notebooks.
9. Aorus RTX, 2070: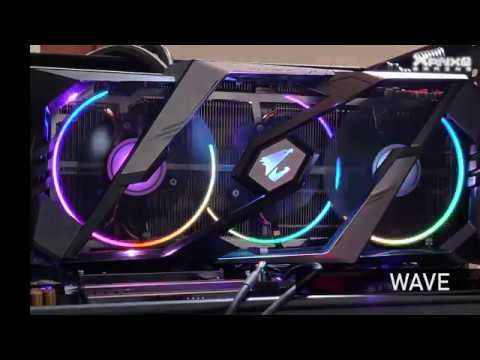 Aorus RTX 2070 is yet powerful, robust, fully-featured external graphics processing unit for macOS operating systems. The great perk of using this hardware if it has the best cooling system that cools all the elements of graphics cards. The name of this cooling system is WINDFORCE STACK 3* 100mm. The features of this device include an 8 GB GDDR6 256-bit memory interface, RGB light, seven video outputs, a black metal plate, a core clock of 1770 MHz, etc. Aorus RTX 2070 device is composed of high-quality components to boost the performance of the GPU. Users are offered with a warranty for four years.
10. Sapphire Gearbox:
One of the commonly used and most trusted GPUs for the macOS system is the Sapphire Gearbox. Like all other hardware, this device also supports 4K video displays and supports faster data transfer at the speed of 40 Gbps. It is specially developed to boost the performance of gaming. Users can upgrade this device with a simple plug and play feature. It can accommodate the graphics card of full-size, dual-slot, and a 300 Watt power. The features of this enable users to create high-quality videos with ease.