Translation software has tools and features to simplify the translation process. Get high-quality translations using this software. Brands can now deliver content to a global audience by using such software. It will reduce the overall cost of localizing the project. Translation software helps to centralize project management and delivers content to a larger number of people.
1. Lokalise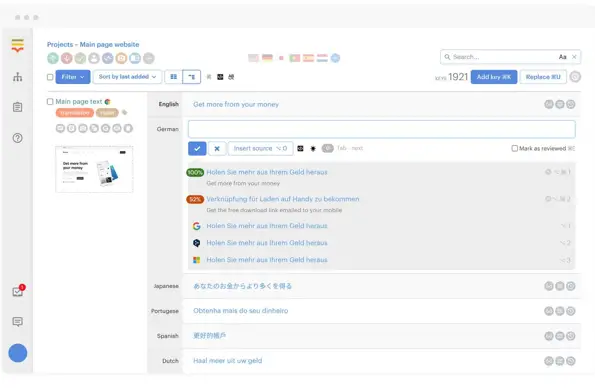 Lokalise is a translation software that allows you to translate code and deliver content globally. Get a demo on how to use this software and try it for free. This translation software delivers a project quickly. Get your product ready and use Figma or sketch plugins to translate your product. Enhance the quality and cohesion of translation using this software. This software makes work less for developers.
2. Phrase

The Phrase is a translation software that makes the translation process effective. This software translates faster and provides high-quality translation. This translation software allows you to integrate with existing systems easily. Automate administrative and repetitive tasks using this software. Try a demo of this software for free to see how it translates. Manage languages and translations effectively using this software.
3. Transifex

Transifex is a translation tool that gives the best quality translation. Access this software from any browser and translate all your work using this single software. Find a particular string using the search and filter feature in this software. This software checks each translation against some rules so that no fault occurs when you translate your application. Limit the character length of translation to make sure the layout of your application does not change.
4. Localize

Localize is a translation software that helps to translate websites and applications to a new language. Request a demo to learn how to use this software. Translate live content to make your website in any language. Use the localized dashboard available in this software to collaborate with all your team members on a single platform. This software translates directly to users and makes sure that translations are consistent throughout the project.
5. Smartcat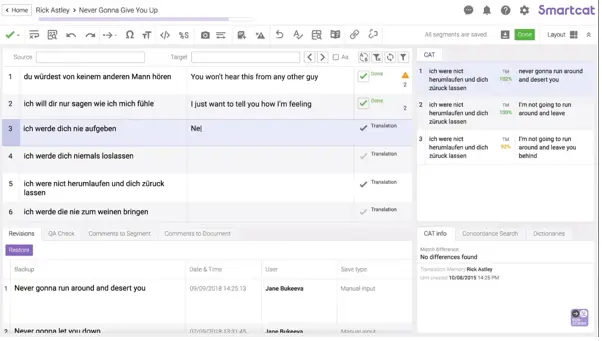 Smartcat connects unlimited users at the same time. This translation software is a user-friendly tool that automates the translation workflow. Collaborate in a user-friendly environment using this software. This software can deliver translation and send out payment at the same time. Find freelance translators easily using this software as it contains a built-in marketplace. Export files that you work within industry-standard formats.
6. MemoQ server

MemoQ server is a translation management software that allows companies to automate the localization process. Enterprises can run a multilingual localization process with the help of this software. It is a centralized software that has automates the environment. Expand your market and adapt to local culture using this software. Keep your message consistent in all languages using this software.
7. Memsource

Memsource is a translation management software that global companies use for translation. This software efficiently translates anything for you. Get a free trial of this software to learn more about it. This software reduces translation costs using Artificial Intelligence. Memsource identifies content to translate automatically before assigning translation to a human translator. Translate marketing content, applications, or websites using this software. This software works with existing technologies.
8. Crowdin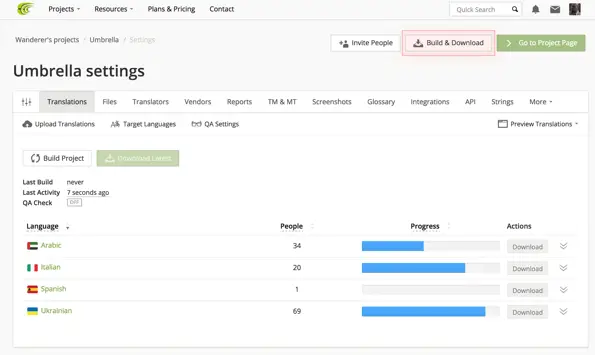 Crowdin is a translation software that allows companies to translate products like web applications and documentation. Create a project in this software and allow other members to join the project by giving them an invitation. You can upload the content you already translated into this software to start your localization process. You can even pre-translate your project using translation memory.
9. LingoHub

LingoHub is a translation tool that gives assurance for the quality of the software. Try this software for free to get up-to-date translations. This automated tool helps to minimize translation errors. Keep translations consistent using this software and translate memory easily to save time. This software has configurable rules to ensure errors do not occur in translations.
10. Text United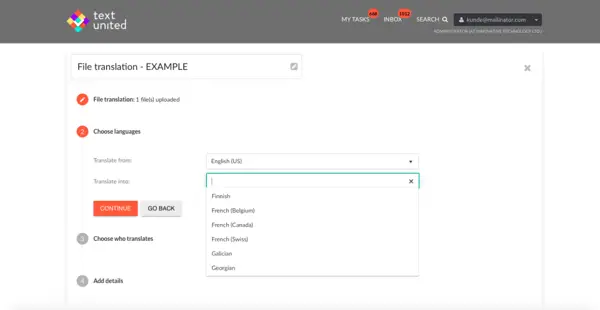 Text United is a translation software that helps to localize your digital content. It will help you to discuss anything with your international employee and clients. Bring your product to the global market using this software. Talk with clients in their language using this translation software. Try the trial version of this software for 14 days. This software has translation memory technology and terminology management features.