GST Billing or GST Invoice is a business means issued by the supplier to the buyer of the goods and services. It is a document that contains the name of the sender and the receiver, details of goods and services, etc. Additionally, it includes product or service name, description, the number of goods sold, terms of supply, date of supply, price of each good sold, discount, etc. There are different types of GST invoices. The GST Invoice is essential and important because it is proof of supply. The types of invoices in GST include tax invoice, bill of supply, recipient voucher, refund voucher, payment voucher, debit note, credit note, ISD invoice, and delivery challan. The following are the top ten GST billing software tools with their traits.
1. HDPOS Smart:

HDPOS Smart is one of the best and efficient GST billing software tools. This application is specially developed for handling inventory and financial accounting. Additionally, it also incorporates all information about the device and also handles servicing and repairing centers. The features included in this application are highly effective and robust. The features include GST, VAT, analytics and report, graphical reports, purchase, supplier, accounts, batch management, multiple companies, employee management, barcode printing, CRM, two-way SMS, service and repair, container management, label management, time token, and many other advanced features. It comes with three different plans, Single Computer at $45.00 per month, Client-Server at $70.00 per month, and Cloud Setup at $80.00 per month.
2. Vyapar: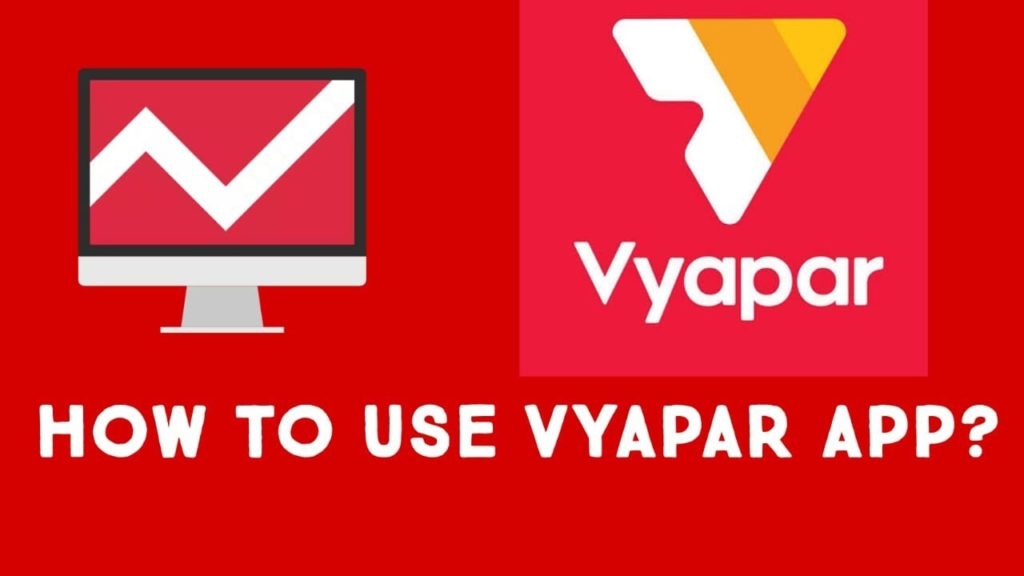 Vyapar is yet another most-used and fully-featured GST billing software tool. The main function of this software tool is GST billing, GST reports, and Stock inventory management. This application is simple and highly secure. The feature of the Stock Inventory Management is best suited for small-scale businesses. Users can make GST bills and share them with their customers with an easy to use interface of this application. Additionally, users can see stock status live and get low stock alerts. Through this software tool, users can keep track of unpaid bills and send payment reminders to customers through WhatsApp, SMS, etc. The GST filing has become more easy and simple through the Vyapar GST billing software tool. It is an open-source software tool.
3. ClearTax: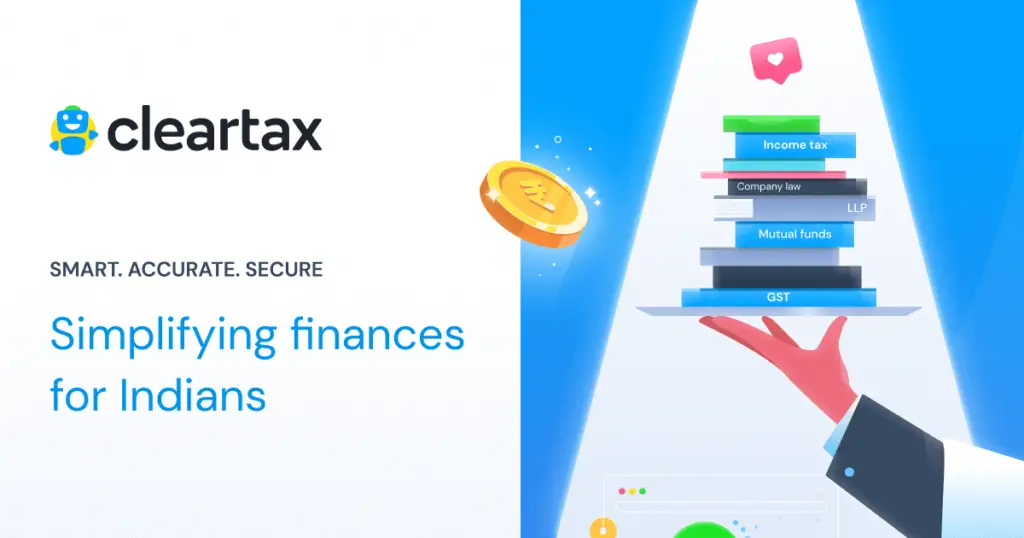 ClearTax is another GST billing software tool that has fully-featured and sturdy features incorporated in it. This application also offers taxation and financial solutions. It is used by individuals, businesses, organizations, and also by chartered accountants. This software is trusted and used by more than 2.5 million customers, more than 20,000 chartered accountants, and more than 10,000 businesses across India. This application has a large set of features. Also, it saves valuable time for customers as well as organizations. Users can know the accurate tax liability before uploading to GSTN Portal. It manages all GSTINs at a single place. The features include importing data to ClearTax, filing returns, invoicing, inviting a single as well as multiple clients, and many other features.
4. Marg ERP GST Pro: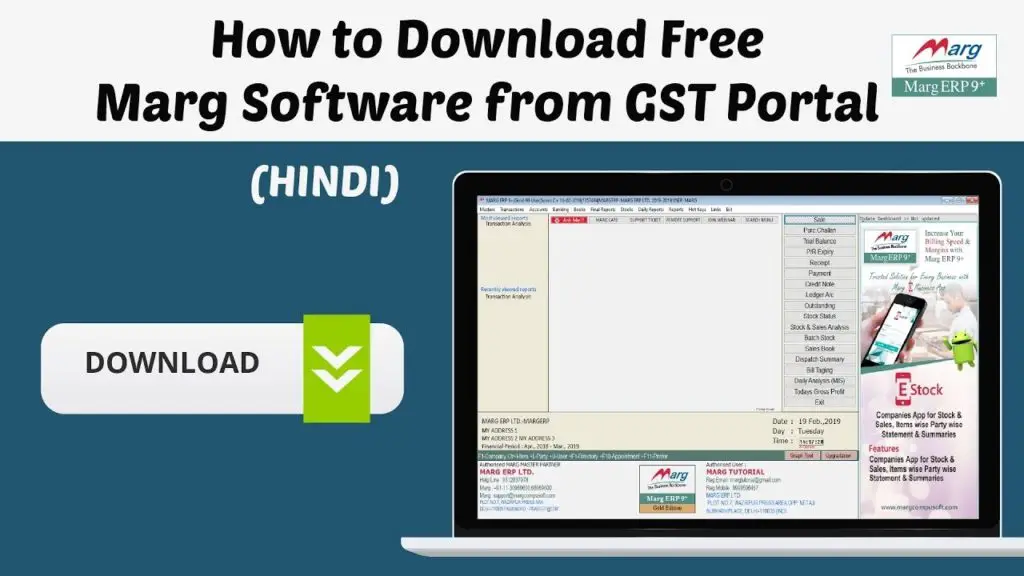 Marg ERP GST Pro is one of the powerful and efficient GST billing software tools used widely. This application is trusted by more than one million businesses across the world. It processes more than 20 billion invoices per year, more than 100 billion transactions per year, has more than 850 sales and support centers, and more than 8500 service and sales professionals. The features of the Marg ERP GST Pro software tool includes easy and fast billing, inventory management, GST filing, auto-bank reconciliation, import purchase, reporting, sales bill attraction, credit limits, rate management, etc. It comes with three editions, Basic, Silver, and Gold.
5. Go GST Bill:

Go GST Bill is another powerful and easy to use GST billing software tool. This software tool is highly secure, simple, and fast for small-sized and medium-sized businesses. It has multiple revolutionary features encompassed in it that boost daily business transactions. It has more than 19,000 users throughout the world. The features of the Go GST Bill software tool include customer management, expense management, inventory management, product database, taxation management, GST invoicing, quotation and estimates, payment handling, supplier and purchase order management, and reporting. There are several perks and advantages of using this GST billing software. It creates debit and credit notes for all types of invoices. Additionally, it also records and tracks payments, tracks all the expenses, incorporates, ready-use-templates, etc.
6. Saral GST: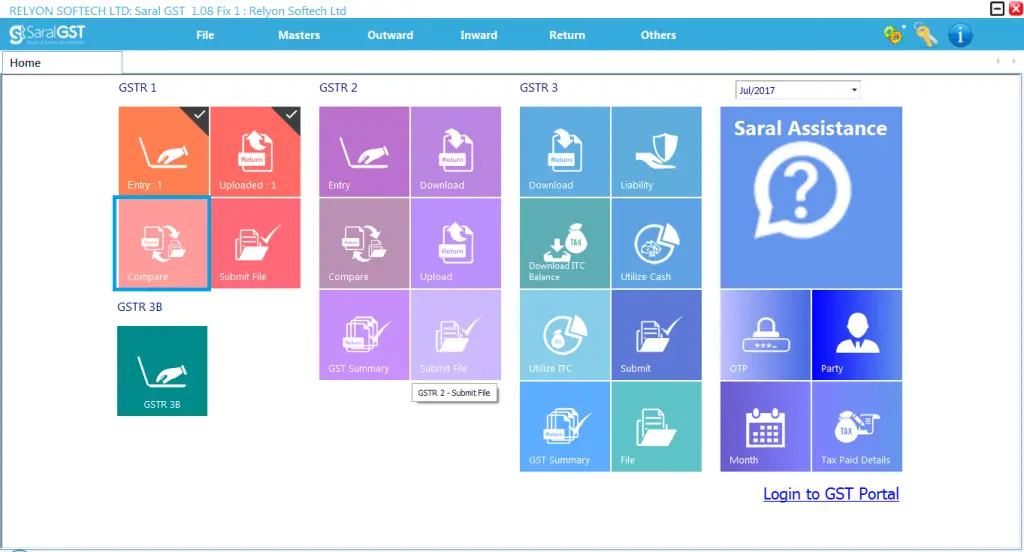 Another most-used and most trusted software for GST billing is the Saral GST software tool. This application is an all-in-one tool and provides all business solutions. It has a wide range of features encompassed in it. They include tracking and managing input Tax Credit, importing data from ERPs and accounting software, filing of GSTR accurately, managing OTP, quick and easy billing service, TDS compliant, GST compliant billing, loyalty management, etc. It also supports e-Payment through internet banking, debit card, credit card, NEFT, or RTGS. The Saral GST application has a dashboard that provides a summary of pending returns, filing status, invoices, and many other GSTN alerts.
7. Sleek Bill:

Sleek Bill software tool for GST billing is another online and easy to use software tool. This tool enables users to take their businesses to the next level of standardization. The Sleek Bill application is best suited for small businesses, freelancers, and accountants. The best part of this application is it allows multi-user access from any type of desktop or tablet. The features of this software tool include creating purchase orders, turning them into bills, keeping track of expenses, checking inventory reports, issuing GST invoices, quotes, PO's bills, creating impressive invoices, inventory tracking, issuing delivery notes, and many other features. There are two editions, Free Forever, and Premium Business. The Premium Business edition is available at Rs. 1,999 per year.
8. Hitech BillSoft:

Another open-source and free GST billing software is Hitech BillSoft. This application is compatible to work with Microsoft Windows 10, 8, 8.1, and 7 operating systems. It incorporates highly powerful and smart features in it. The smart feature of this software tool is it works offline and has a best-in-class multi-core business engine. It also supports all plug n play barcode scanners. Additional features include generating invoices with a single click, GST tax invoice, managing multiple accounts, supporting POS printers, tracking inventory, reminding about low-stocks, availability of stock, creating multi-size barcodes, detailed business reports, etc.
9. Gen-GST:

Another widely-used and popular software tool for GST billing is the Gen-GST application. This application is best suited for start-ups, agencies, freelancers, enterprises, and SMEs. The features of this software include email integration, financial management, supports multiple companies, bank reconciliation, SMS integration, reporting, data backup and restore, data security and accuracy, GST compliance, e-Payment, tax liability register, online GST portal, monthly GST report, and many robust features. This software tool is a mobile-friendly and easy to use application. It is compatible to work with Microsoft Windows as well as macOS operating systems. The Gen-GST application is highly secure and is built in Java language. It uses a Unique Client Authentication Mechanism.
10. ProfitBooks GST: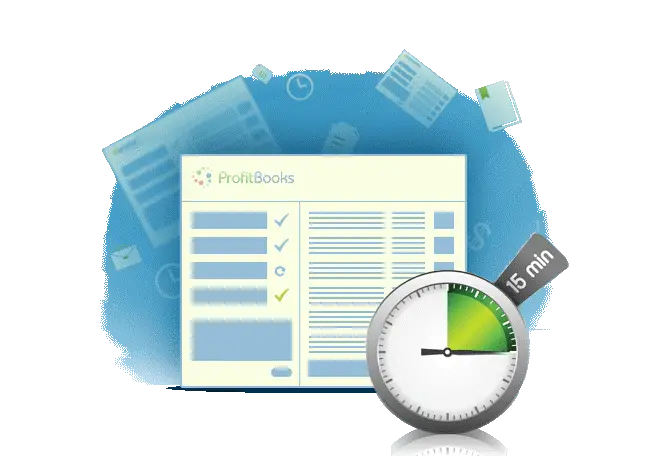 ProfitBooks GST is one of the best GST software tools in India. This application is one of the smart and popular tools that has earned the trust and faith of more than millions of people in India. It has multiple GST compliant features incorporated in it. It has a very simple and easy to use user interface and provides the best user experience. The features include GST invoicing with payment gateways integration, expenses management, inventory management, warehouse management, multi-currency support, multi-user support, payroll processing, etc. It comes with three plans, Professional, SMB, and GST Company. The Professional plan is available at Rs. 5,999 per year, the SMB at Rs. 8,999 per year, and the GST Company at Rs. 1,999 per month.