To design a building requires a lot more than just skills to visualize. 3D building software helps you to switch your idea into visual reality. With this kind of software, you can render the photorealistic design. So, in this digital world, you need digital picture to represent your ideas. Also, you get to exhibit your ideas more realistically than blueprints. It enhances your workflow, and clients get to see a quicker version of your design. Each software has unique toolset which is suitable for all, ranging from hobbyists, students, to even civil engineers.

1. ArchiCAD

Graphisoft developed this as an open BIM (Building Information Modeling) tool for architects. It works on OS: windows 7and later, macOS 10.9 and later versions. It has a user-friendly interface that allows students to use it very efficiently. It is not so hard to learn and can create 2D and 3D models. It has a capability of making a photo more realistic and high-quality rendering. Design buildings, urban areas, and interiors using this tool. It ultimately aims at automating the complicated processes. It has an inbuilt library to support stair-case, railway designs, etc. It has features like renovation mode, and room book allows you to calculate the required quantity of materials.

2. Revit

It is a BIM software that works on the sustainability principle where there is a demand for everything environmentally. Windows 7 and later versions support this software. It ultimately aims at creating projects that could reflect changes in the 3D view across the entire plan, elevation, and section views. It focuses on automation and BIM at every inch of it. It has a feature that can hook up people from every discipline to complete the project. It can create libraries for specific objects and can implement models for your project. It saves your time of editing models.
3. Sketchup

This software has a variety of roles to play, and architecture is one of them. It is capable of producing 3D models and even can make accurate 2D models at different scales. It works on OS: macOS, Windows 7, and later versions. Google purchased sketch up in the year 2006 and added features which is helps view topographic and satellite images. It is one of the trusted and capable software available for free. Also, for an architectural project at a large scale such as building walkthroughs, flyovers, etc. sketch up is your way through. This software has an interactive UI making it user-friendly. It is an ideal tool for beginners.
4. AutoCAD architecture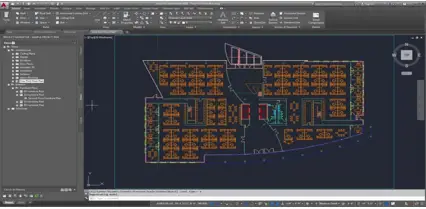 Architects since 1982 extensively use this software. It is very futuristic as it can collaborate with other software where you need to work on a project at a higher level. It works on OS: Windows 7 and later versions. This software is paid and has a lot of features, and a toolkit makes our work easier. Even it doesn't support BIM, it stays at the top. It can draw walls, doors which makes it look like a real-world entity.
5. The Architect's Desktop (TAD)

This software is available for free and is supported on following OS: windows Vista or later. Unfortunately, it is not liked by beginners due to its tool-set and senior architects prefer this. It is a BIM software; it doesn't focus much on architectural design. It has an innovative solution to redefine its design. It is a useful tool where you need not work from the baseline. It allows you to implement custom TAD scripts.
6. Dynamo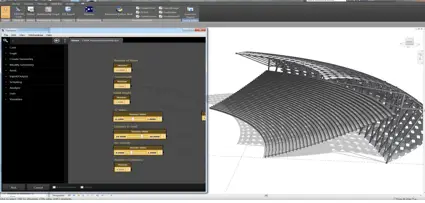 This software offers a free plugin to work alongside with Revit and is supported by OS: Windows 7 and later versions of it. It has a unique technique to create intricate facades with more than complex infrastructure. It has the best geometry engines suitable for design packages. It can be classified under BIM and is compatible with different file types. It saves your time for editing due to its compatibility. Parametric design development is possible due to its toolkit. It is available for free as well under subscription.
7. Vectorworks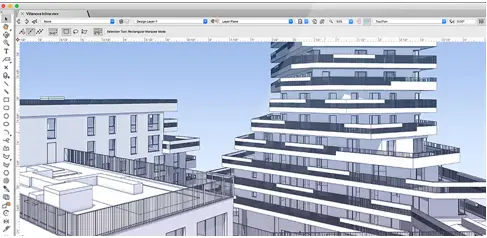 People belonging to various fields ranging from carpenters to artisans use this software. It is supported on OS: Windows 7 and later and macOS 10.10 and later versions. It comes with a price tag due to its graphic orientation. It consists of modules used for interior designs, extensions, and landscape architecture. Its BIM features to add to its credibility. Easy to handle and its cloud services to work under a team are complementing its strength. With CAM and CNC, you can make furniture too.
8. Microstation

This BIM tool has a lot of features. It allows you to perform exposure to sunlight. It can automate the generation of models. Also, it can analyze the design to make cost estimates. It is suitable for doing large projects due to its collaboration with other software tools because of built-in RealD WG support. It's a universal BIM approach allow us to make quicker decision communicating with their team. It provides a free educational license.
9. Allplan

It works using three components by making it more efficient. It works on OS: Windows 7 and later versions. This software has a library of built-in requirements and allows us to import from standard projects. With this, we can coordinate with our team. Three components are Allplan Architecture, Allplan Engineering, Allplan BIMPlus which allows you to create BIM functional components and physical forms. Also, it can do structural analysis that can calculate BIM models to generate reinforcement plans. It offers cloud services and can inspect a building with VR with exposure to sunlight.
10. BrisCAD BIM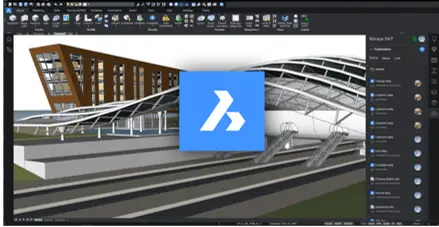 It can bring machine intelligence to identify connections. And can move BIM data for implementation of IFC format is possible. It provides a free license for students and helps in structural components for a building. It can work on large projects due to its filtering options.