Samsung is inviting the members of the media for a press conference to be held in Barcelona this coming February 26, a day before the Mobile World Congress (MWC) 2017 kicks off. The Korean tech giant is set to unveil their newest device; unfortunately, it is not the much-awaited Galaxy S8. Samsung initially announced that they will not be launching the Galaxy S8 at the MWC this year.
Android tablets were not as in demand as they once were after the release of Chromebooks, Windows laptops, and bigger phablet-style phones. Samsung releases budget tablets, which are still selling in considerable numbers. But the tech company was not done yet with premium tablets. They are coming to the MWC with their latest device, which we guess as the Galaxy Tab S3.
The launch of the Galaxy Tab S3 seems imminent. Last January, a device, which we assumed as the Tab S3 with a model number SM-T825, received Wi-Fi certification from the WFA (WiFi Alliance). It was listed under the category of "Tablet" and it will run Android's latest OS, the 7.0 Nougat. At the end of the month, it also passed through the FCC. The announcement of the said event at the MWC on February 26 contains an outline of "something". The tablet looks a little odd; it has cut-off corners similar to Motorola Xyboard. The Home button indicates that Galaxy Tab S3 will have a fingerprint sensor feature.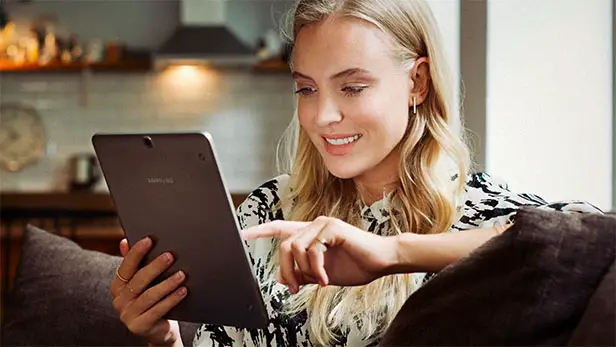 The S series tablets of Samsung are known for having superb AMOLED displays, thin frame, and faster processors. Leaks and rumors are pointing to something similar for the Galaxy Tab S3. More likely, the tablet may boast similar specs from the Samsung Galaxy S7. It is expected that this high-end tablet will feature a Qualcomm Snapdragon 820 SoC, 9.6-inch display with a pixel resolution of 2048×1536, 4GB of RAM and 32GB inbuilt storage, 12-MP rear camera, and Android 7.0 Nougat.
The price of the Tab S3 may not be available at the time of its announcement. Leaks are stating that the starting price may be more than $600, which is too costly to sell in the US. It is a known fact that in order to keep the Android-based tablets going, their price should be cheaper than the Apple's iPad.
For more than a year, Samsung has not updated their Galaxy Tab S series. The Galaxy Tab S2 was launched in 2015, so many are eagerly waiting for its successor. Rumors also claim that the Tab S3 will have two variants; an LTE and Wi-Fi models. Let's just wait for the unveiling of the Galaxy Tab S3 on the next big event of Samsung.