ZUtA Labs, a Jerusalem-based company, has released the first ever robotic printer that is only 4-inches in size and weighs only 12 ounces, which is just a bit bigger than 3-stacked hockey pucks. We don't need to wonder why the company has produced this pocket-size printer; ZUtA means "small" in ancient Aramaic. We can expect that everything the company manufactures will just be a size of something that can fit our palm.
As mentioned, the ZUtA Pocket Printer is only 10.2 centimeters in diameter and 7.5 centimeters in height. It is also very light and weighs only 350 grams, which means, we can bring it anywhere we go. What truly amazed me is that this gorgeous invention can be able to print on any size of paper through its distinctive mechanical design. Not only that, ZUtA Printer can connect to any type of device over Wi-Fi, so printing through your laptops, desktop PCs, tablets, or even your Smartphones was made easy! It is supported by Windows, OS X, Android, and iOS. The company has provided an app, which you can use for printing through your mobile device and when using your laptop or desktop PC, you can just select the printer similar to the way you are doing when printing through a wireless printer.
To print, simply switch the device on and align it on your paper's corner, and then send your docs to it. It can print one A4 size page in every 50-60 seconds. According to Tuvia Elbaum, founder, and CEO of ZUtA Labs, this pocket printer can print on any standard size of paper and any surface. The printer has Omni-wheels on its bottom, which helps it from moving in any direction. The laser sensors are also helping it to control its speed, movement, and location. If you send more than two pages to ZUtA printer, it will stop once it reaches the bottom of the first page. The device will wait until it is move to the top of your second page. You can simply tap on the ZUtA mobile app, and it will continue printing.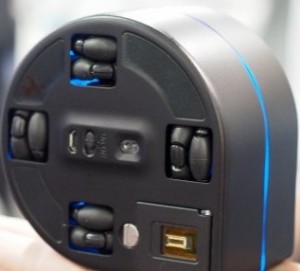 The printer is powered by a rechargeable lithium-polymer battery, which can last up to 1-hour of usage or 60 pages of printing. You can charge it through a micro-USB port; it takes 3-hours to fully charge the device. Similar to other printer, it also has ink cartridge inside. The cartridge can print more than 100 pages; however, as of this time, colored printing is not yet available, and you can only print in black color. You can replace the cartridge through a hatch on the bottom of the ZUtA printer.
This idea was started in 2013, and a Kickstarter Campaign started in 2014, to fund the device. The company aims to raise at least $400,000, but they exceeded and had raised a total of $511,662. ZUtA Labs is planning to ship the printer this coming 2017. This is something to watch out for!!!
Watch the ZUtA Pocket-Size Printer in action: