The first ever UK-based 3D-printed Braille phone which is designed specifically for blind people was launched by the OwnFone. The OwnFone company is also the first in the world to establish customizable phones which are partially made by using a 3D printer since 2012. Users will need to log on to the OwnFone official website to order and select the names and numbers which will be programmed to the 3D Printed Braille Phone's screen. The company has their own mobile network, which is the OwnFone Service that offers subscription fees of £7.50 and £15. They are also associated with Vodafone but the service is limited. Text messaging, data and roaming services are not included.
3D printing is a fast and lucrative way of making personalized Braille quick-dial buttons which will be pre-programmed for calling family, friends , co-workers and the emergency services. This is also the first phone that comprises a 3D printed keypad and OwnFone will print the texture and raised the text for blind people.
Various visually-impaired people are already using Smartphones with iOS and Android platforms. They can download apps that can read articles audibly from some websites, or they also take over with the phone's functionalities to help and make the process easier for visually-impaired people. So, obviously, mobile phones and Smartphones can be very beneficial for blind people or partially sighted people. However, the visual type of modern phones can completely prevent those with sight issues from using them. Braille, in the same way, is not an option if the modern mobile devices are concerned. Regardless of, the majority of people recommends to focus on applications and convenient settings that will enhance the standard devices for those people with sight issues.  According to Tom Sunderland, OwnFone founder, the cost of obtaining the Braille phone against the market size has been a hindrance to the entry, so they develop 3D printing for providing a fast and reasonable way to surpass that hindrance.
The 3D Braille phone is only a size of a credit card and it comes with two, four, eight or twelve buttons which can be pre-programmed to the designated numbers. When done with programming on each button, OwnFone will 3D prints the case through raised buttons and visually-impaired users will need to feel the case to be able to make a call. They can also select the color of their choice for their Braille phone. This device has no screen, but only individual buttons which can be labeled with your chosen names. There are also buttons for making and ending calls. The device's phone number is printed on the back, together with the volume rocker.  So this miniature Braille phone is truly unique and affordable.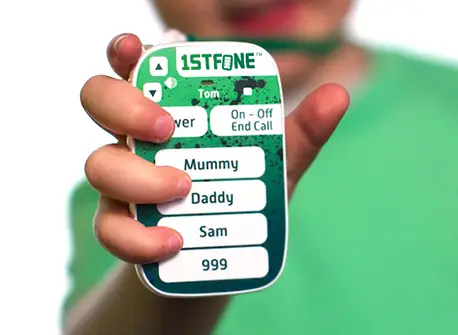 In the modern age, using this system may be disregarded, however, the procedures for modifying simplified phones with the use of 3D printing is exceptional and more contemporary. The company launched their simple devices which are designed specifically for children and elderly. The latest Braille retains the same design. There is no QWERTY keyboard or voice mail services and it's far different from the latest high technology mobile phones; it is basic and no special services are included, but it is still considered as significantly better. The charging time is up to 90 minutes and the device can stay up to three days.
The OwnFone 3D Printed Braille Phone is presently available in the UK and Northern Ireland only, which cost £60 or $101. It will be £67.50 if users want four number slots than two. There is no news if this device will come internationally.
[video:https://www.youtube.com/watch?v=YkfPTvLgTw4 autoplay:0]