Nikon is one of the most famous electronic manufacturers. It is located in Shinagawa, Tokyo, Japan and founded in the year of 1917. Some of its products are Cameras, Lenses, Measuring Instruments, Binoculars, Ophthalmic Lenses, Precision Equipment, Electric Fans, etc. It also manufactures the Electronic Flashing Units some of them are SB-R200, SB-R300, SB-400, etc. Talking about the recognitions, awards it is the world's second largest company in the field of Camera Manufacturing and also according to the chip maker's rank Nikon is the eight largest makers, it is recognized one of the most trusted brands in India. Now we are going to talk about the DSLR products by Nikon, they are called as D500 and D7500.
Firstly talking about the specification of D500, It has a 20.9 Megapixel camera with a CMOS sensor. The designers made an availability of dual slot memory cards like SD-media, XQD. It has a feature of sharing the files through an application called Nikon Snap Bridge where we can share the files instantly instead of using any physical devices like the memory card or Pen drives. It has a multi-cam of 20K autofocus capacity made this DSLR rich in features and offering a price of $1,799.96 and may vary. Some more features are EXPEED 5 image processing capacity, 4K UHD video, etc. While talking about the body of the D500, we can say that it is a Mid-size SLR and screen size of about 3.2" and the weight of the whole camera will be 860 grams.
Coming to the Technical Specifications of D7500, it has a camera capacity of 20.9 Megapixel as same compared to D500 with an APS-C sensor. Coming to the screen of this product, manufacturers made a tilting screen and compared to other product like D500; this camera has a screen touch facility making the DSLR more profession look. When compared with the D7200 in weight D7500 is less than 35 g and makes us feel light in weight. Some more features are like it supports the Bluetooth, Wi-Fi where we can share the captured photos, videos through the devices directly with the help of Nikon Snap Bridge application as like D500. Here come the prices of this beauty is approximate $ 1249 and may be changed according to the location. The body and screen size are same compared to the D500, but the weight of this D7500 is about 640 grams which are a less amount and can carry easily.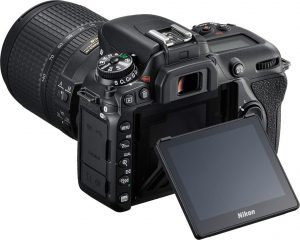 When compared this two DSLR's it is observed that some of the features like Camera Mega Pixel, Sharing files application, etc. are same in both but the prices levels are varied due to the outstanding features acquired in the D500 like 20K autofocus capacity, ISO range of 100-51 and can expandable to more, shoot cinematic 4K UHD video. It looks the Nikon tried to bring a medium range device to the market with good features enough for a middle-class person.