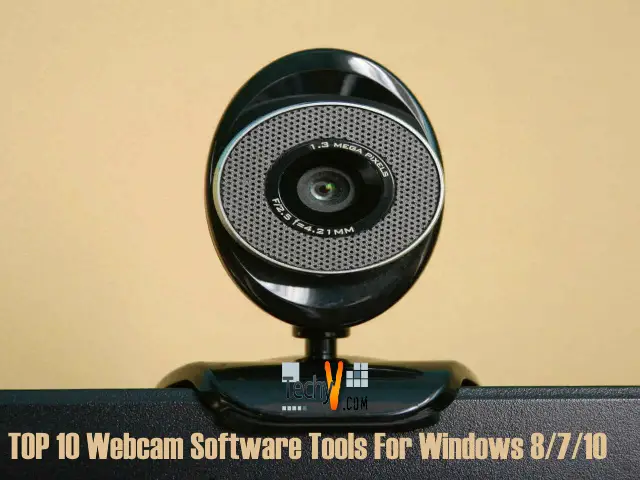 Webcam software is a tool that acts like a video camera and gives a real-time image, photo, or video to the computer network. Webcams are used for video chatting with more than to people. Additionally, webcams enable users to record the screen containing video or images. There are multiple benefits of webcams these days. Advanced technologies have developed webcams that can be useful in health care, video monitoring, commerce, video calling, video security, input control devices, astrophotography, laser beam profiling, and many other fields. Let us see the top ten webcam software tools with their characteristics for Microsoft Windows operating systems.
CyberLink YouCam 9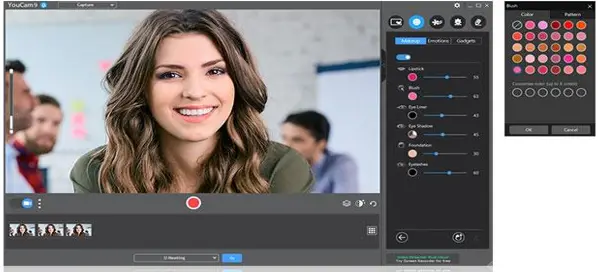 CyberLink YouCam 9 is the best webcam software for Microsoft Windows. It is specially designed for streamers, businesses, and home users. It has multiple features incorporated in it. The best part of this software is its AR technology. This technology identifies the user's facial structure and tone and applies the makeup feature. Additionally, it includes live skin smoothing, lighting, sharpening & denoise adjustments, business presentation recording, face login & face-out, etc. YouCam 9 comprises of 200 lively & exciting effects, animated emojis, filters, particles, and distortions. Users can apply real-time video effects, animated emojis, frames, scenes to the videos. All these features are available free.
ManyCam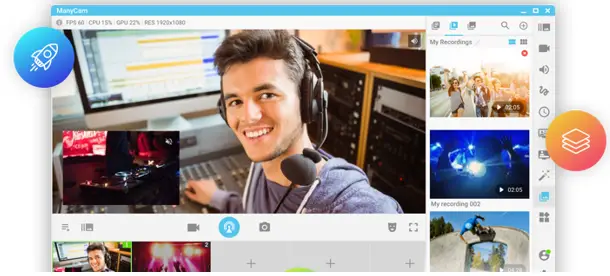 ManyCam is another top webcam software tool, which is easy to use and freely available. The best part of this software tool is users can integrate this tool with YouTube and stream the videos directly from YouTube. Apart from YouTube, ManyCam also supports various social media platforms, like Twitch, Skype, Facebook, etc. The features of this software tool include adding 3D masks, effects, face accessories, backgrounds to the videos, adding text to the live videos, etc. The limited features are accessible in the free version. The paid version gives access to all advanced features. The paid version starts from $24.
Debut Video Capture Software

debut Video Capture Software, as its name indicates, records the video from any image source on the computer or laptop. This software tool offers easy to use and a user-friendly interface to its users. The three simple buttons have made a video capturing easier. They are record, pause, and stop. Whenever the user wants to create a video, he or she needs to click on the record button. To stop the recording, the user needs to click on the stop button. Lastly, when the user wants to stop the video for some time and resume it afterward, there is a button of pause. The video recording can be done in several formats, like MP3 or MP4. This software also has two versions. The free version is available for anyone. The paid version requires an amount of $49.99.
Yawcam

Yawcam is yet another top webcam software tool for Microsoft Windows operating systems. This tool is very comfortable to use and easy to use. Features of this software tool include video streaming, image snapshots, built-in web server, motion detection, FTP upload, text & image overlays, password protection, online announcements for teams, online schedule time for collaboration, time-lapse movies, and multi-lingual. This tool supports various file formats, like PNG, JPG, MJPEG, GIF, and Javascript. Additionally, Yawcam is available freely without paying a single penny.
Logitech Webcam

Logitech Webcam offers a wide range of features to its users. So, this software tool is one of the best webcam software tools for Windows operating systems. Features of this tool include recording videos, sharing it to others through various platforms, recording from multiple sources, creating vertical video fro mobile viewing, live text overlays, studio-style controls, stream cam, etc. This software is rich in transitions & effects. Also, it supports portrait optimization for mobile devices; it captures app offers direct streaming to YouTube, and take a passport, or still images. This tool is available free.
SplitCam

SplitCam webcam software tool for Windows is the best tool to record videos with multiple effects. It incorporates multiple eye-catching characteristics. These features are adding effects in webcam video chats, video splitting to several programs, realistic 3D masks, HD video broadcast, use IP camera, zoom video feature, etc. This tool enables users to stream webcam live to Livestream, Justin.tv, TinyChat, etc. SplitCam webcam software supports popular services like Skype Windows Live Messenger, AOL, AIM, YouTube, CamZap, and many more. This tool has easy to use and user-friendly software. Users can download this software freely.
Webcam Toy

Webcam Toy is another cool webcam software tool compatible to work with Microsoft Windows operating systems. This tool serves as a multimedia web app as well as a chrome extension. This tool is designed with full of features. These features include taking fun selfies, more than 80 free photo effects, a huge set of effects, like mirrored effects, mage-trailing effects, distortion effects, soft focus & retro, animated filters, film-like vintage, and spycam. Additionally, it also has a comic book and sketches for changing the outline. Users can save their projects on google Drive or Twitter accounts.
IP Camera Viewer

IP Camera Viewer is one of the best webcam software tools available for Windows operating systems. It has multiple features incorporated in it. The best part of this software is it can record, view, control the remote network camera. Features of this tool include it supports more than 1600 devices, including NVRs and DVRs, supports broad protocol RTSP, ONVIF, MMSH, supports codec, controls pan, tilt, zoom, camera grouping, auto sequence, mass actions, import & export using an sd card, cross-platform support, and many more features. Additionally, it enables the record mode for 24/7 of all cameras.
WebcamMax

WebcamMax webcam software tool offers user friendly and easy to use interface to its users. This tool has multiple features, which make this tool stand at the top place. Its features include it adds thousands of cool effects to live video chats & video recording, enables users to download unlimited effects from the official website, records video and broadcast it on Facebook & YouTube, virtual webcam, easy to share, doodling & PinP, etc. The feature of virtual webcam enables users to share the screen with friends & family. This tool supports almost all platforms like Windows Live Messenger, Skype, Yahoo Messenger, ICQ, YouTube, etc.
Fake Webcam


Fake Webcam is yet another top webcam software tool of Windows operating systems. It includes multiple features in it. Users can add cool effects to the recorded video and broadcast it on various platforms, like Yahoo messenger, Skype, Windows Live Messenger, etc. Also, users can use multiple layouts and frames to make the video more attractive. There is a huge set of effects that can be applied to the video. These effects include blur, flip, upside down, rotate, noise, etc. This software is free to use and can play all types of videos, including MPEG, AVI, MP2, MP4, PNG, JPG, etc.