All you need to know about Intel-Ivy Bridge 3rd Generation Processors
Followed by the i-series 2nd generation processors, Intel introduced the latest 3rd generation processor with code name "Ivy Bridge". This will power the Ultrabook 2012 Devices. Ivy Bridge will be release on March 2012. The Ivy Bridge is packed with some new features including new Intel 3d transistor technology which will make Intel processor more efficient in less power consumption. This comes in 22nm process technology which means this processor will run demanding application much more efficiently than the Intel previous generation of processor.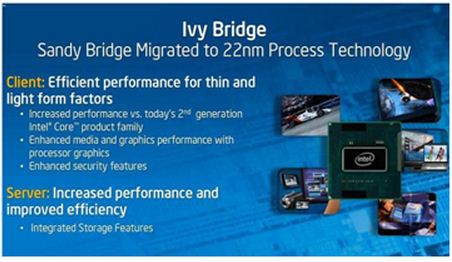 Processor Specification:
The processor specification of Ivy Bridge platform is as follows:
1. Socket LGA 1155
2. 22 nm processing technology
3. PCI Express 16X 2.0
4. Intel turbo boost technology 2.0
5. Integrate memory controller (IMC) – Dual channel DD3, 2 DIMMs per channel up to 1600 MHZ, support for SO-DIMM
6. Next Gen Intel HD graphics with DirectX 11 support or discrete graphic support (1x, 16x, 2x, 8x)
7. Next Generation Intel quick sync video technology
8. Enhance AVX acceleration.
9. Intel 7 series and Intel 6 series chipset compatible
Features of Ivy Bridge platform:
These are some features that Intel is offering in their new Ivy Bridge processors and this are:
New introduce Tri-gate Transistors:
For the first time in the history of the world, Intel introduces Tri-gate Transistor for desktop, mobile and laptops. It replaces the conventional 2D transistor by adding an additional planer to the transistor. This provides a current flow from 3-sides of the fins providing better flow of current.
Automatic configurable TDP:
TDP stands for Thermal Design Point. It is a maximum amount of power required by a cooling system for dissipation of heat. In Ivy bridge processor, Intel uses three types of TDP states. These are the "TDP Up", "TDP Down" and "TDP Nominal". The processor will automatically change its state according to the workload. This means processor will take less energy and release less heat also.
More powerful Graphics:
This time Intel embeds DirectX 11 class graphics GPU with the processor.  The next generation Intel HD graphics gives Intel the power to handle tessellation and compute shader features as a part of DirectX 11 hardware. This is all due to 22nm processing technology which enables Intel to put more transistors in the same form factor providing more processing power.
Intel Turbo Boost Technology 2.0:
Intel Turbo Boost Technology 2.0 works with other Intel innovations to deliver more performance when and where you needed it. When the processor detects that it is below its power, temperature and current limits, it will increase the clock frequency to boost performance for active processor core for PC that is running the application. Multi-threaded Intel Turbo Boost 2.0 can increase the clock frequency even further and Intel Turbo Boost Technology 2.0 goes into turbo mode more often  and remains there for longer period than the previous generation technology even when all core are active resulting to more performance whenever you need it.
Conclusion:
Intel Ivy Bridge has some nice features. The most important thing about Ivy Bridge is that, it comes in the micro-architecture of 22nm which means, more performance with less energy consumption. Let's not forget Intel's opponent which is the AMD. It has already thrown its APU in the market. These are already equipped with DirectX 11 graphic at a much cheaper cost than Intel 2nd generation Sandy Bridge processor. We will see what AMD unfold next till the release of Ivy Bridge.