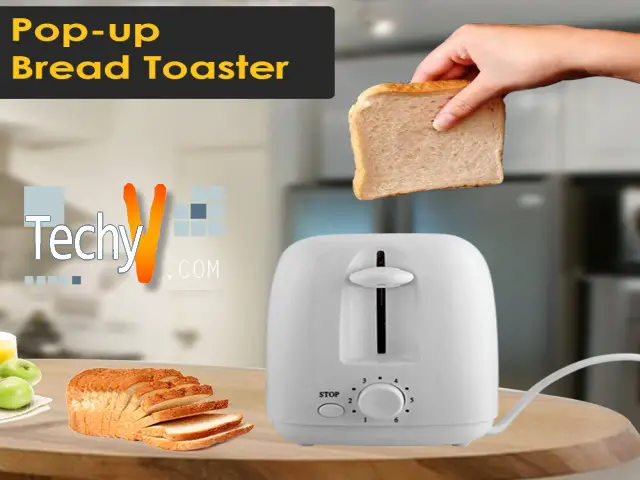 One of the best staple food products that we all eat and love regularly is bread. No matter how bad your day goes, enjoying a tasty chocolate sandwich can turn you cool. From vegetable dishes to yummy recipes, bread toast is the prerequisite for any snack. Having the right toaster can help you save time and energy spent on toasting. To this end, let us know about the top 10 must-have pop-up bread toaster for a healthy and tasty quick snack.
1. PHILIPS DAILY COLLECTION:

Philips Daily Collection is the most desirable, bright white, and user-friendly slot pop-up bread toaster. Philips toasters are from good quality plastic. The product has an adjustable browning level, stop button to prevent excess browning, and top and bottom cover for cleaning. You can also see two wide slots for inserting the bread slices. There are seven levels of browning and one crumb tray for cleaning. Philips Daily Toaster works efficiently for years.
2. MORPHY RICHARDS :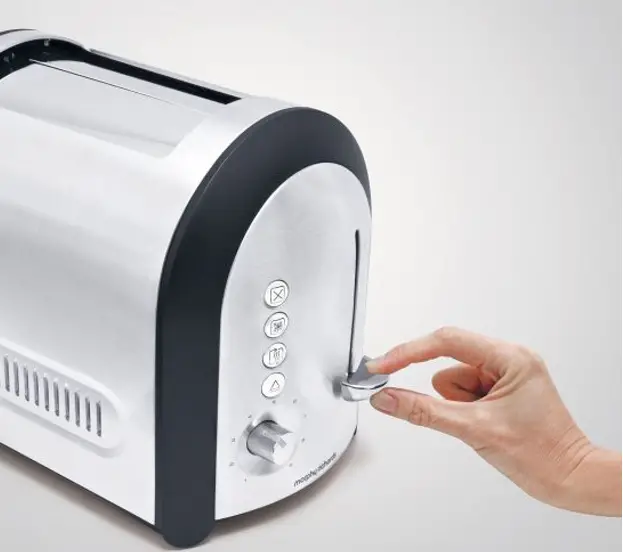 The affordable Morphy Richards is a two-slice pop-up toaster with a heat-resistant body. A high-lift lever prevents your fingers from burning, and an anti-skid base keeps the bread in place. The removable crumb tray is available for easy cleaning.
3. BAJAJ ATX: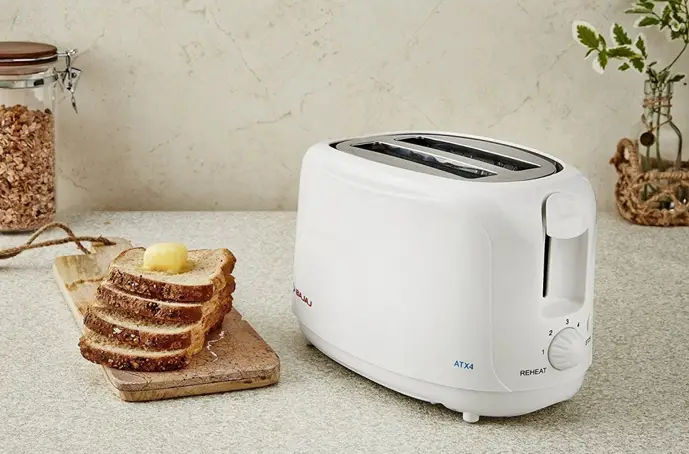 Bajaj ATX is 750-watts power-consuming auto pop-up bread toaster. The two-sliced toaster comes with five adjustable browning settings, a mid-cycle cancel feature, and a cord winder at the base.
4. PRESTIGE PPTPKB: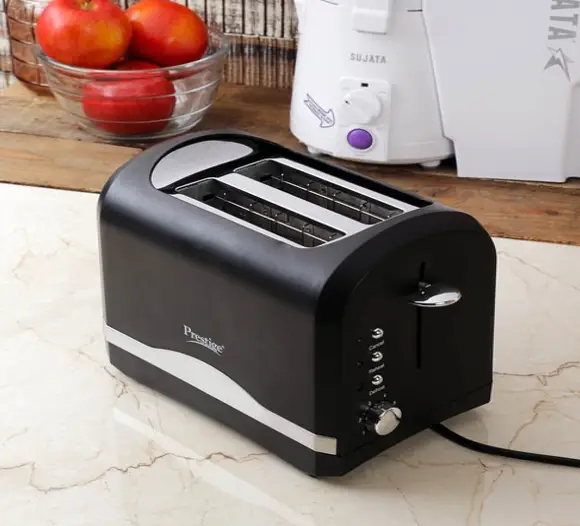 Prestige is one of the trending brands and trusted by many for home appliances. The device is an energy-efficient model where it uses only 800 watts power. The body of the product is from shock-proof high-quality plastic, which provides grip to the machine while working. The heating element inside the toaster ensures a perfect browning without getting the bread burnt.
5. DUALIT NEWGEN:

The heavy-duty Dualit Newgen has many useful controls with four slots. You can toast four bread slices simultaneously. Every part of the Newgen is replaceable and serviceable. The 2200-watts machine has different browning settings for frozen bread. This toaster is available in 5 different stainless steel models.
6. PIGEON:

The simple, classic, and efficient automatic pop-up toaster 'Pigeon' is ideal for small families and bachelors to prepare crispy bread toasts in a few minutes. The device functions with 700-watts power. The 2-slice toaster has six browning settings for cooking the toast, depending on your taste.
7. KENT: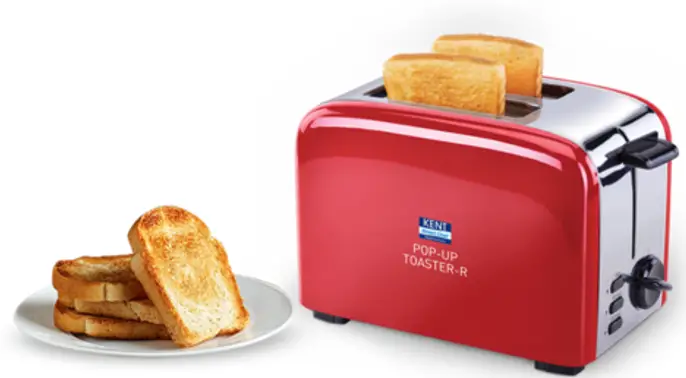 The bright white-colored Kent pop-up toaster has four slots to prepare four slices of crispy toasts simultaneously. Kent not only makes crunchy toasts but also has the option to reheat. Kent additionally has features such as five browning modes, wide-slots, removable crump tray, stop function, and the high-lift option to remove small pieces from the slots.
8. BOROSIL: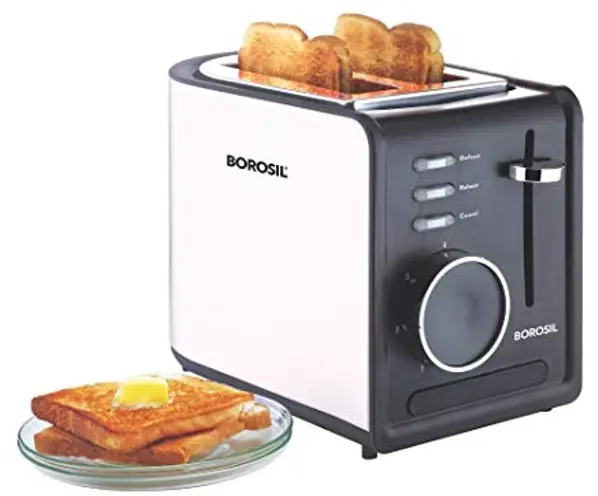 The attractive and affordable Borosil pop-up toasters are available in a compact size with an individual button for different functions. The browning regulator helps the user to set the desired temperature and comes with an indicator light to display the action of the toaster. The 850-watts toaster has an anti-skid base and a side crump tray.
9. BLACK AND DECKER: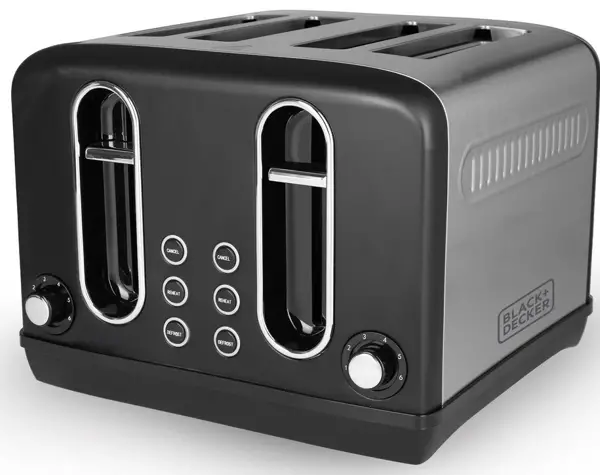 The four-slice Black and Decker pop-up toasters are out of durable stainless steel. You have six browning settings with defrosting and reheating options. The 2300-watts Black and Decker has a cancel button and comes with a removable crump tray.
10. KELVINATOR KPT-601: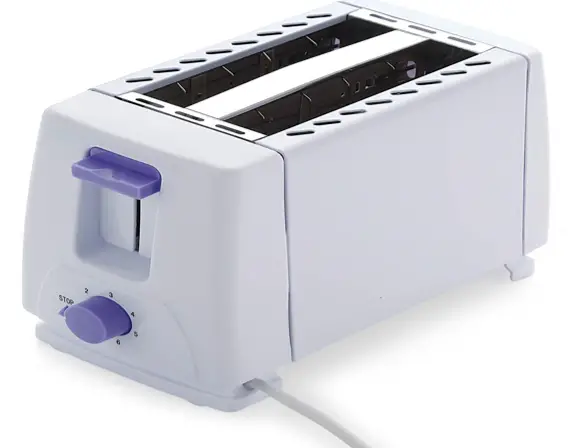 The 600-watts Kelvinator KPT-601 has two slots to keep two different bread slices at one go. After completing its toasting, the bread pops-up to some height, so that you can take it out quickly. The compact KPT has a browning regulator and a cancel option.