As 5G is around the corner and 4G cultures dwindle, no one yet is aware of the facts and feature s of the 5th Generation Wireless Technologies. The next era of mobile experience will bring up 5G connections that are three times faster than 4G services. The use of 4G LTE technology has already come into light which will be surpassed by 5G services and hence said to reach a number of people by 2020.
Let's know more about the requirements for a connection to establish as a 5G connection,
According to GSMA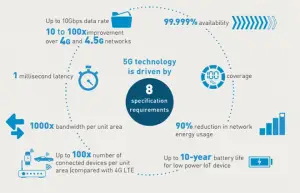 1. 1000x bandwidth per unit area.
2. 10 to 100x number of connected devices.
3. (Perception of) 99.999 percent availability.
4. (Perception of) 100 percent coverage.
5. 90 percent reduction in network energy usage.
6. Ten-year battery life for machine-type devices.
Architecture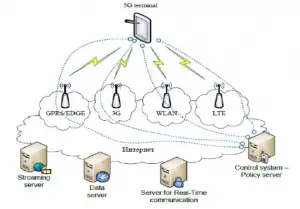 It is an IP related model for all kinds of wireless networks. Main user terminal and different radio technologies are the components system comprise of. These radio technologies act as a link to the internet world. It also has an IP technology which is sole to control the routing of packets. 5G has a master core technology which is more efficient to regulate all technologies of RAN. It can also add up new services to it.
5G Phones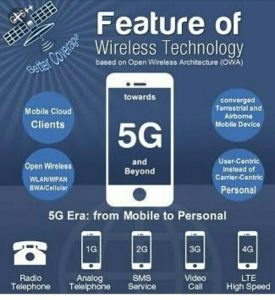 According to the reports, the trial versions of 5G phones will be available in mid 2018s. Though a lot of obstacles have to be taken into consideration like issues related to battery, connectivity, etc. In the initial years, these phones will be limitedly available in Korea and Japan, later widespread to all other countries .5G modem built by Qualcomm is most likely to launch its product in these 5G devices to trigger the speed.
5G devices will be more advanced in every field whether it be to capture a photograph or to map the world, it will produce clear and seamless images unconditionally. Streaming of VR content will be made more defined and laidback.
Benefits
• Increase in capacity and speed rate.
• Provides larger bandwidth.
• Low consumption of the battery.
• No interruption in connectivity.
• High resolution.
• Parallel multiple device accessing.
• High-frequency band than 4G.
• Uses OFDM modulation.
• Provide HD streaming.
Drawbacks
• When 5G comes into existence, the uses of older devices will diminish.
• High speed may not be available in few areas.
• There may be a security issue.
• Developing infrastructure will be costly.
• As it is regarding radio technologies, radio frequency may be an issue to be solved first.
• More the bandwidth, less the coverage.
Investments
To provide the first 5G radio system, Ericsson created the platform for it. Superior companies like Samsung have promised to release their 5G prevailing phones soon. 16 million dollars are invested by the government to create a 5D hub for users all around. Samsung has planned to sell 10 trillion worth equipment for 5G networks. 600 million dollars to handle higher data volumes and speeds.
Conclusion
Lots of drastic changes can be observed in the upcoming years with the use of 5G networks. More advancement in every definite field can be seen showing us pretty much great wonders to astonish on.