We are well acquainted with the computer or video games that use virtual reality platform to make the user feel like they are physically present in a surreal environment. With the latest announcement by Facebook CEO, Mark Zuckerberg, Virtual reality may soon dominate the social media.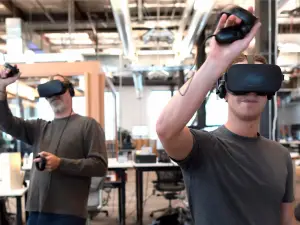 In the Oculus Connect 3 Conference, Zuckerberg introduced the Oculus Rift headset, using which one can chat with another person on a virtual platform. He also demonstrated Oculus Touch which allows the virtual avatar of people express emotions and various facial expressions like shock, anger or happiness.
The demonstration performed on stage showed several features that Zuckerberg wishes to introduce in Facebook. It included changing backgrounds to locations like Zuckerberg's office or Facebook campus.
The avatars in virtual reality could interact with each other and even had personalized dresses and could express multiple emotions. The world has never seen any other virtual representation from Facebook before this demo at Oculus Connect Conference.
So far Facebook has been a popular media where we can post photos and statuses for our friends to see. With the intervention of Virtual Reality, the experience of Facebook users may be elevated when they will get to hang out with their friends in a virtual world. It has been known earlier that Mark Zuckerberg does rear a dream to transform the existing social media platform to a place where humans can interact with each other via Virtual Reality. Conversing with each other in a virtual platform will make the user think that they are having a one on one chat together.
The basic social sandbox for Virtual Reality is Toybox, where the user and another person can play games like ping pong, pair up as a team or shoot at targets. But the avatar that represents the user in the Toybox program is just a blue humanoid figure, which doesn't have any distinctive feature. Unlike the aforementioned program, Facebook intends to come with that advanced version of Virtual Reality where a special avatar resembling the user will be assigned, and customized outfits will be available too to establish a distinct identity.
What can be done using the new Virtual Reality Technology?
The Virtual Reality experience can take scenes from the real world in 360 photos format and merge the scenes with an avatar of the user, making it feel like the user is actually visiting the place. The user can also play fun games like chess or sword fight with their friends, or watch their favorite show on a giant TV screen. The technology will even allow the user to attend Messenger calls and take a Virtual reality selfie for sharing it on Facebook.
Oculus Touch controllers take gestural commands and voice recognition from the user as inputs to express emotions.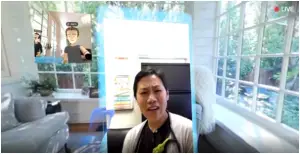 There is no denying the fact that the demo by Facebook showed potential areas for human interaction with Virtual Reality, thereby attracting developers to Oculus. Games are definitely more enjoyable while someone is competing with a friend.
Mark Zuckerberg believes that developing the Virtual Reality platform will fulfill the mission of Facebook that is to bring people closer to their friends. By feeling really present the user will be able to share unbound space and experiences with their friends. While we share only a few pictures or thoughts via Facebook now, maybe a few years later we will be able to share a full experience or adventure with them, by living the Virtual world.