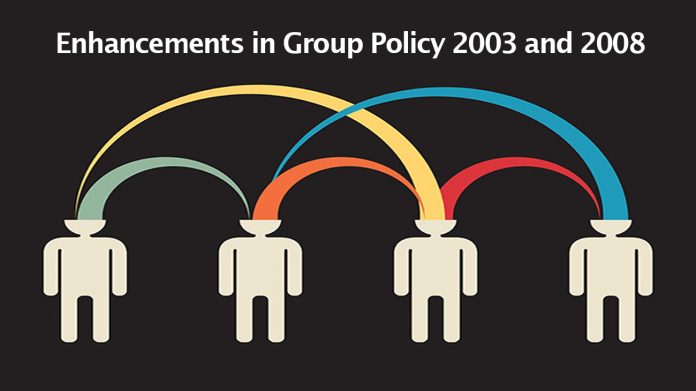 Enhancements in group policy 2003 and 2008
Group Policy offers a stable structure for central arrangement of the OS in addition to applications that jog on the OS. Group Policy is intended to assist the IT professionals such as dedicated Group Policy administrators, IT generalists, and personnel support who need to manage users and computers in a domain environment.
Windows Server 2003 consists of more than 200 new policy settings. Windows Server 2003 policy settings included the following ranges:
Control panel.
DNS and net logon.
Networking such as SNMP and dial up connections.
Roaming user profiles and Group Policy.
Software restriction policy.
System restore, error reporting and PC Health.
Terminal server.
Windows Media Player.
Wireless configuration.
Quality of Service and personal firewall.
In Windows Server 2008, Group Policy settings have enlarged from about 1,700 in Windows Server 2003 to something like 2,400 in Windows Server 2008. Area of Group Policy Setting:
Antivirus manages behavior of high-risk attachments.
Background Intelligent Transfer Service (BITS) applies peer-to-peer file transfer within a domain.
Client Help settle on where to access Help systems that may comprise distrusted content.
Deployed Printer Connections is helpful when the computer is communal in locked-down surroundings and needs a printer to connect automatically.
Device Installation permits or rejects a device installation, based upon the device class/ ID.
Disk Failure Diagnostic controls the level of information displayed.
DVD Video Burning modifies the video disc authoring practice.
Enterprise Quality of Service ease network congestion issues by enabling central management network traffic.
Hybrid Hard Disk applies the hybrid hard disk (with non-volatile cache) properties. Thus, allowing to manage:
Power savings mode.
Solid state mode.
Startup and resume optimizations.
Use of non-volatile cache.
Quarantine Networking manages three components:
Health Registration Authority (HRA)
Internet Authentication Service (IAS)
Network Access Protection (NAP)
Wired Wireless Networking applies a generic architecture for centrally managing existing and future media types.
Power Options organize any power option in Control Panel.
Removable Storage allows administrators to protect corporate data by limiting the data that can be read from and written to removable storage devices.
Security Protection merges the administration of both the Windows Firewall and IPSec technologies to decrease the option of creating contradictory rules.
Shell Application Management manages the right to use the toolbar, taskbar, Start menu, and icon displays.
Shell First Experience, Logon, and Privileges applies the logon skill to include:
Logon dialog screens.
Redirected folders.
Roaming User Profiles.
Shell Sharing, Sync, and Roaming modify:
Auto-run for devices as well as media.
Creation along with exclusion of partnerships.
Creation along with way into workspaces.
Synchronization timetable and manners.
Troubleshooting and Diagnostics controls the diagnostic level that assist resolution available for:
Application topics.
Leak exposure.
Resource distribution.
User Account Protection Applies the properties of user accounts to:
Determine behavior for the elevation prompt.
Elevate the user account during application installs
Identify the least-privileged user accounts.
Windows Error Reporting disables Windows Feedback.