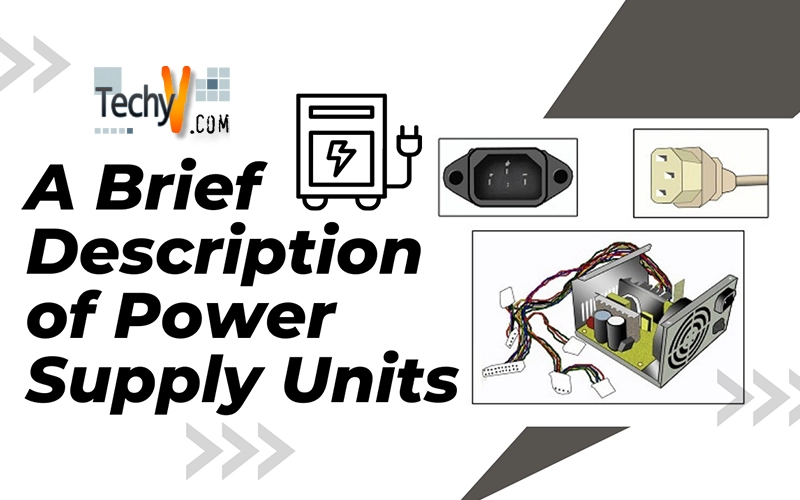 Power supply units
This is a computer component responsible for supplying power to other components in the entire system. Power supply units do this, typically, by converting the general-purpose alternating power; which originates from the mains into a low voltage direct current power which can be used by other components in the computer.
There are some power supply units which contain a switch that controls voltage ranging from 150V to 230V, but other power supply units has built-in sensors that automatically switch voltages; accepting voltages between the limits.
Majority of the power supply units are usually made to conform to the ATX form factor, and this allows interchanging with a variety of components within the computer. ATX power supply units are made in a way that a signal from the motherboard can trigger them to either turn off or on, allowing modern functions including standby mode in computers. Version 2.31 is the most recent ATX specification. The rating of computer power supply units is based on maximum power of output, which usually ranges from as high as 500W to value less than 330W for systems with small form factors. These computers are usually home-based, to perform functions like playing and burning DVD's as well as web surfing. Those computers which are used for gaming purposes require power supplies with high power ranging from 450W to 1400W; however, typical gaming computers require power supply units which range from 500W to 800W, but higher-end computers requires 800W to 1400W.
Highest-end computers are as strong as 2 kilowatt and are commonly used as servers or very high performance computer with several processors, graphic cards or even hard disk. Each manufacturer can claim the rating of his power supply unit because the ratings are usually not certified. When power is added on each rail, it automatically increases the power on the power supply units, although this will not be termed as the true power figure. This is because a power supply unit can be overloaded using one rail with no use of maximum rated power. This is true if there is a peak power supply rating of 550W, at temperatures of 250C, or 450W at temperatures of 400C with 25 amps on 12 volt line, and with 33 amps and 12 volt line, respectively.
Power supply units would be considered superior units if their ratings are accurate, despite other power ratings which are quite low. This behavior has resulted to power supplies recommendations being over-specified leading to shortage of good and quality power supply units of reasonable capacities. The common computers for general operation, ranges between 300W to 350W. Gaming computers and servers are the only ones which may require more power. However, video cards for watching high definition media may require more power and this has led to computers consuming 400W to 500W. Majority of power supply units have a square appearance and they are usually made of metal for protection. They contain bundle of wires which emerge from one end to another. On one side of the wires there is an air vent for cooling and also IEC 60320 C14 which connects to AC power supply. In conclusion, when you think of power for your computer, think of power supply units.