The Amazing features of HP Z210 Workstations
Last April 12, 2011, Hewlett Packard (HP) extended its family of workstations with the inclusion of HP Z2010 Workstation of Z Workstation series. The key factor and the main purpose of its release is to provide a new workstation that can deliver the highest level of power, reliability and performance on a minimal budget.
HP Z210 workstations offer advanced level of performance and productivity at a low price that is comparable to traditional desktop computer systems and delivers improved performance of up to 20 to 67 percent depending on the application being used, over the previous HP Z Workstation family's generation of systems.
These systems have been built on the next–generation Intel ® micro-architecture, code name Sandy Bridge, which provides improved performance, fast data processing, enhanced data sharing and better graphics.
General Manager of Workstation Unit at Intel Corporation, Anthony C, describes HP-Z210 Workstation as it is built for computer professionals, and with the inclusion of new Intel Xeon Processor E3 1200 family, changed its definition of entry-level workstation.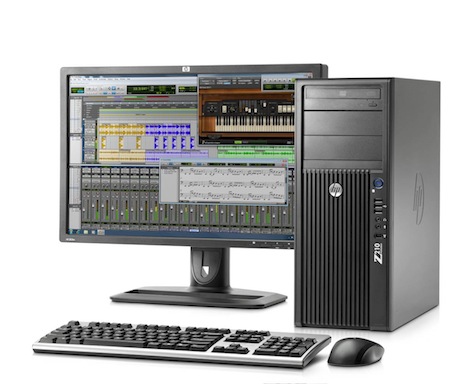 HP Z210 Workstation
These workstations come with variety of dual and quad core processors, containing the E3Intel ® Xeon®, Core™ i3/i5/i7 processors of Intel® and the Intel Xeon processors featuring Intel® vPro™ Technology. For the intention of providing greater manageability, security and storage capacity of a workstation, a 4.5TB is built-in, and can be upgraded up to 480GB of solid-state drive space.
Graphics Support in HPZ210 Workstations:
The new micro-architecture features in these workstations present a more powerful and advanced graphics engine that speeds up the 3D and video processing. One can choose from the new Intel® HD Graphics P3000/2000, along with 2D and 3D graphics options from AMD or NVIDIA, which enable it to provide best performance in design and visualization work.
Simpler and Compact Design:
HPZ210 design is like the EliteBooks design. It has a single door design that provides access to interior rather than removing a bunch of screws. The interior design of Z210 is amazingly organized. There are many touch points and each point shows the area from where a part can be removed or can be replaced.
Variants of Z210 Workstations:
Z210 workstation actually has two variations, which provide several options in the selection of specification as the maximum amount of memory and storage capacity, number of USB 2.0 and 3.0 ports, graphics and even audio power among many other things.
Small Form Factor (SFF)
Convertible Mini-Tower(CMT)
The SFF version's price start from the $569 and CMT price starts from $659. One thing to be noted is that SFF model is 65% smaller as compared to CMT edition.
A Desktop based HP Z210 Workstation
The new HP Z210 has many features including enterprise-class memory technology, with the choice of ECC memory configurations, which provide data integrity and higher system uptime. And as per the traditions, these workstations are certified and tested for proficiently running of  the Autodesk® applications on which user depends.
Energy Efficient Workstations:
In the context of making IT Green, these ENERGY STAR® workstations are the highest energy –efficient systems and are also the first HP workstations that feature 90% efficient power supply and use HP Watt-Saver technology and HP Power Assistant to reduce energy consumptions.
These workstations are available in an exchangeable mini tower design and small form factor which are ideal to use if you are facing space constraint.