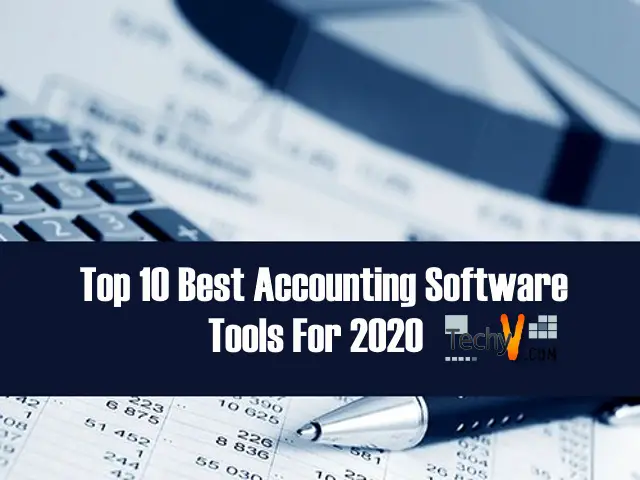 Accounting software is a powerful application that stores all transaction information, like accounts payable, accounts receivable, journal, payroll, and much other accounting information. There are numerous accounting software available today that have made it easier for accountants to store all the transactional information of a particular account. Also, these accounting software tools are online-based. The online-based software tools enable users to access it anywhere from any location at any time. Accounting software tools are available according to the types of business or market. The following are the top ten best accounting software tools with their features.
FreshBooks:


FreshBooks is one of the most effective and efficient accounting software tools. This tool is a cloud-based software. So, users can access the data stored in it anywhere and anytime, just logging in to it. This software has got a large number of extraordinary features. All work of accounting is carried out online and paperless. The features of this software tool include creating and sending professional invoices, snap or screenshot pictures of receipts, managing expenses on the go, enables users to stay on the top of important updates, chatting with clients, and data is synchronized on all the devices that users use. Users get a free trial of 30 days. There are three packages, namely, Lite Plus, and Premium. The price of each package varies.
Sage:

Sage is another best and popular cloud-based accounting software tool. This tool also has multiple advanced features incorporated in it. The Sage software is easy to use and has a user-friendly interface. This software has various advanced tools that enable users to save much time and also money. The other best feature is it is integrated with Microsoft Office 365*, which is called a hybrid accounting tool. This hybrid tool enables users to carry out various tasks, like cash flow management, inventory tracking, automated bank feeds, and cloud backup. Additionally, it offers a 60-day risk-free guarantee. This tool also comes with three editions, like Start, Standard, and Plus editions.
Tally:
Tally is the most used and trusted application used for accounting. This tool is used widely, and it offers a user-friendly interface. This tool has a large set of revolutionary features that have vanished all hurdles coming in the path of accounting. This software tool is used by all types of businesses and enterprises. The features of the Tally software include voucher entry, interest calculation, integration of leaders, individual bill tracking, replacing accounting codes, control, audit, and budgeting, billing information, multiple currency support, and many other features. This tool comes with two versions, silver and gold.
SAP:
SAP is another one of the most used accounting software tools. More than 70,000 companies across the globe trust this software due to its commendable features. The industries served by this software tool are manufacturing industries, retail, construction industries, food & beverages, etc. The features of this software tool include accounts payable automation, payment processing, purchase orders, inventory ordering, inventory tracking, financial statements, custom reporting, dashboards, data import & export tools, audit trail, workflow capability, high performance & reliability, output document generation, and many other outstanding features. There is a free trial period offered by this software.
QuickBooks:
QuickBooks is the most used and leading software for accounting used by many top corporations and organizations. All financial transactions are managed easily, and it offers a highly accurate analysis of taxes, challan, and many other financial documents. The interface of this software is easy to use and user-friendly. As it is a user-friendly software, it uses a seamlessly unifying system. This tool is also best suited for small businesses to enhance their financial transactions. The other features involve billing & invoicing, online banking integration, accounting report, time tracking, GST invoicing, tax management, etc. The price of this tool is Rs. 2966 per annum.
Wave:

Another most efficient and popular accounting software tool is Wave. There are more enhanced and advanced accounting features incorporated in it. In this software, there is an account reconciliation, which is a key element. This element enables users to ensure that bookkeeping is up to date. This software tool is specially designed for small-sized businesses. The features of Wave include billing & invoicing, investment tracking, financial reporting, multi-currency, professional reports, seamless invoicing & payroll, personal finance tracking, personal budgeting tools, customizable sales taxes, automatic reports, collaboration tools, etc. This is an open-source model. But, only accounting, invoicing, and receipt management are free.
ZohoBooks:

ZohoBooks is a fully-featured and more efficient accounting software tool. There is a large set of features incorporated in it. Due to its features, account management has become easier for all businesses and enterprises. The features of ZohoBooks comprise invoicing, estimates, client portal, expenses, bills, banking, projects, inventory, sales orders, purchase orders, GST liability, online payments, etc. Users can save their valuable time by automating business workflows. Also, they can store all documents at the place and can attach documents to transactions. This software is compatible to install on Windows operating systems as well as on Android & iOS devices. There are five versions of ZohoBooks, Standard, Professional, Premium, Elite, and Ultimate.
Microsoft Dynamics GP:
Microsoft Dynamics GP is a great solution for finance and inventory for all types of businesses. There are revolutionary features encompassed in this accounting software. Users can manage their financial transactions, like cash, assets, and banking. Also, they can track and handle production, inventory, orders returns, etc. The other feature of this tool is human resources and payroll. This feature enables users to hire, train, and pay the team with the help of employee profiles and evaluation tools. Users can get real-time visibility and analytics to track performance and act with insight and also can manage contacts, sales opportunities, and service contracts efficiently. This tool comes with a large set of editions or packages.
Busy:

Busy is a GST accounting software, which is more popular and efficient. This software is developed in three different modules. The first module accepts data from users, processes it, and generates reports. The second module involves the business logic for the processing of data. Lastly, the third module stores the data for future reconciliation and cross-checking purposes. This software tool comes with three packages, Basic, Standard, and Enterprise. The Basic package is available at INR, 7,200, the Standard at INR, 12,600, and the Enterprise at INR, 18,000. There are multiple revolutionary features, like multi-currency, multi-location, customer management, TDS/TCS management, accounting, security, return filing, etc.
Deltek:


The other one of the top and fully-featured accounting software tools is Deltek. The most crucial features of the Deltek software are client management that enables users to track and win more businesses, resource planning to engage every single client, and talent management that allows users to find and retain the best talent. The features of this tool include capturing and allocating costs to the correct projects, producing accurate invoices every time, automating the approval of vendor invoices with electronic approval, and many other advanced features.