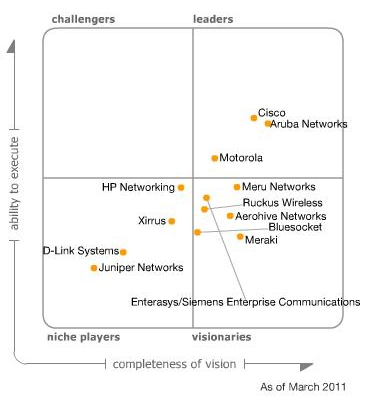 Magic Quadrant for wireless infrastructure
Currently competing among the LAN and Wireless LAN infrastructure getting tighter. Although the incumbent as we know Cisco still leading the market. But with other vendor has improved their feature, most competitive in price and make cooperation with many partners to distribute make the competitive landscape has changed and push the incumbent to keep watch about the progress of this challenger. Vendor that is recognize that is a challenger to incumbent are Juniper, HP Network, Aruba, Huawei Extreme network, Tellabs.
Infrastructure vendor must see and can predict what will the consumer intention and preferable for each of their products whether its Standalone access point, Access point controller or wireless outer. This trend. We saw that some of the product that using 802.11 G has seen the shifting trends and prepared this as bridging strategy to the newer, faster and more functional feature in 802.11n. Besides that they must set the strategy in the price aspect cause we see some of the access points with controller enabled under 802.11n for less than $300 and this is how the vendor positioning themselves in the market.
WLAN vendors continue to improve their functionality in aspects of security, reliability, control access and one of the most important aspect is a user friendly configuration so the consumer is able to commissioning the device easily.
That for residential use, but different case for Enterprise user cause each of the company has their own policy and usage of their wireless LAN needs to support their business process.
Some of the points that become the concern of the enterprise segment are:
Identifying potential issues and resolving them.
Provide better quality in Voice, video and data communication with some case bandwidth limitation as constrained.
Have complete network management that an administrator can take control.
Identify overlaps coverage, dual home access points and mesh network capabilities.
Ensure the owner/enterprise about security aspect of this wireless infrastructure.
In this case there is a tool to map the market situation based on their specific characteristic that is call "magic Quadrant for Wireless infrastructure". Its a quadrant consists of 4 sections that map the vendor for wireless infrastructure. And this is consist as challenger, niche player, leader or visionaries.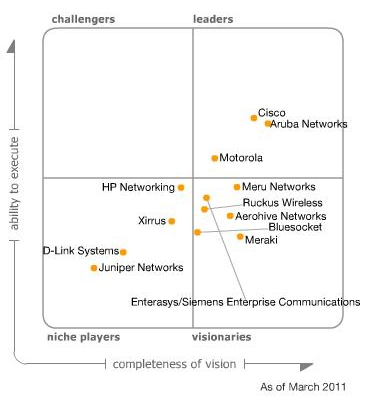 They measure the vendor based on many aspects that put it into the quadrant.
Some of the aspect that is evaluated:
Product/ Service: In here the WLAN infrastructure is evaluated based on the type of the product whether it's for Access Point standalone, Wireless router and Mesh network.
Sales strategy/Pricing: Vendor is seen in how their position their price compared by another competitor in this side like Cisco has set their position as a premium price player that the price can't be compared with Huawei, Dlink or even TPLink.
Marketing Responsiveness: How their way to communicate their product into the consumer mind and able to maintain the relation with the end users.
Customer experience: It's the cross check view that how customers and partners view about this vendor cause they will give an objective view about how this product are based on their experience.
And after that it's mapped in the quadrant below that overall market can know another player's position.