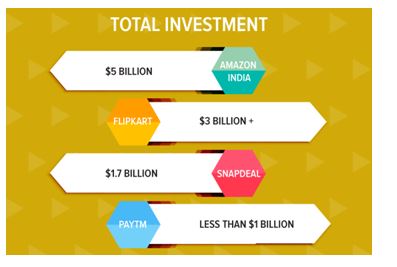 It's long back ago when you had limited options, nearby shops with sparse stocks and pocket pinching prices of branded clothes. It's an era of quality products at affordable prices, of a wide range of choices, discounts and high rate of competition. It's the time for e-commerce resilience. India in recent years has witnessed a massive rise of e-market and it is only going strong.
People are finding it easier to select, to wear, to buy via online sites. Who would like to brave the rush when everything comes by the doorstep? A retail revolution is taking place that's transforming and modernizing India. By the end of 2020, India alone is expected to generate $100 billion online retail revenue. Amidst this vast network, the platforms that have emerged in India, are- Amazon, Flipkart and Snapdeal. A bruising battle is being fought between them.
The questions are many- who will last in the long run? Who will earn profits despite fulfilling the entire customer's demand? Will new Giants overtake the existing ones? Answer only one- Proper strategies, customer loyalty and large amount of funds can come to the rescue.
E-commerce growth in India is one of the major landmarks in its enterprise history. Hitting all dubiousness, this decade-old industry has established itself way beyond metro cities. And initiatives like Digital India are only taking the internet to a wider audience, giving e-commerce a big boost.
Online retailers surpassed all sales expectations in October 2016. The 2016 festive season sales proved that the online retailers are thinking way beyond their most eye-catching and exclusive USP – discounts for customer acquirement. Young players are promising to mature gracefully. It seems that the companies are taking customer experience seriously. Online retailers are providing high-quality products and reliable customer experience through handy customer support, easy return policies, and faster delivery services.
Figure 1 TOP 4 INVESTMENTS BY E-COMMERCE COS.
A struggle for dominance among Flipkart, Snapdeal and Amazon has made Morgan Stanley expect that the e-market will explode to $137 billion more than ten-fold of what it stands today by 2020. In the chaotic cities of India, companies are doing everything they can to deliver packages to customers be it by foot, bicycle or even boat. During the Diwali shopping rush, Flipkart alone employed over 20,000 delivery men to carry around 800,000 packages a day. They are already spending heavily on discounts and are setting up warehousing and payments infrastructure.

Just to keep up with the festive spirit, e-commerce websites offered cracking presents for everyone. Big Billion Days by Flipkart, Great Indian Festival of Amazon and Unbox Zindagi with Snapdeal contributed to the total GMV for October 2016 to around Rs 13,500 crore; in total approximately 65 million units were bought online. After the 'big sale days', Flipkart announced that it sold 15.5 million units, Amazon reported that it sold 15 million and Snapdeal lagging behind them at 11 million.
Figure 2 During the festive season Flipkart reported record sales.
The RedSeer study's trends show that more than 50–55% of the GMV were dominated by the mobiles and tablets, while large appliances accounted for about 10%. Strong growth in FMCG and home categories this festive season proves a greater diversification of GMV will pave in the future. The credit for the growth of online selling should also go to heavy advertising.
TAM Media Research reported that Amazon spent Rs 224 crore while ShopClues spent 40%, Flipkart announced it spent only 70 crores. Companies also gave interest-free EMIs for products worth Rs 5,000 and above. Amazon offered extra discounts on credit cards. There were cash back offers as well.

Figure 3 Amazon's one-day delivery service PRIME
Amazon has launched its annual subscription service Prime in India. It has also inked deals with many Indian movie studios to launch its video service and has acquired digital rights of the IPL. Forrester Research concluded that the US-based giant beats the entire home-grown online marketplace regarding customer experience. Flipkart meanwhile is facing the heat after its top executives are leaving the firm. Mausam Bhatt and Peeyush Ranjan are two top executives who have quit the company. This year, as many as seven Flipkart executives have left.
snapdeal's COO Vijay Ghadge has also stepped down from his post. Ghadge's exit comes at a time when Snapdeal is strengthening delivery capabilities across the board. Amazon has decided to retain its India's chief Amit Agarwal at the helm.

Figure 4 Snapdeal is trailing behind both the cos.
To put it correctly, right now only Amazon and Flipkart can tick all the boxes. While Amazon is relentlessly making itself bigger and better in India, Flipkart is focusing on optimizing the cost structure. Acquisitions of Myntra and Jabong have gone well. On the one hand, Amazon is becoming better on selection and service while on the other Flipkart is playing the price game.
Looking at the recent trends, Flipkart is in great need to boost its cash positions; in the absence of profits to show old investors will find it hard to continue also the reshuffling of executives is losing their confidence.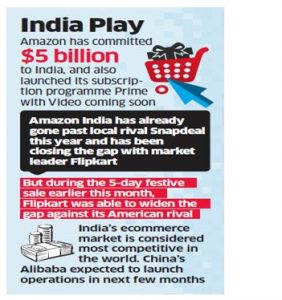 Figure 5 Who will win?
In India, cash is still the most well-liked way of settling a bill and payments through cards remain limited. Most customers have not yet signed up for digital payments. It will be a challenge for the sites of how they continue.
In the end, it will be a tough call of who will win India but one thing is for sure, these Titans are out there for some serious business and won't leave until even their last soldier is standing to fight!
-SIDDHARTH ALOK