Advancements in Online selling and buying
Selling of products and services is an aim of every organization whether they are selling products or services. Looking back in the past when Yankee peddlers used to sell products by direct visiting houses and then with times advancements in selling products take place and new methods introduced by the traders to sell products effectively and quickly at the desired price.
Selling of products or services which required a lot of personal efforts and intentions to sell the company products where sales personnel visits houses to houses, persuade customers and introduced company products has changed and introduction of marketing techniques take place. Organizations started focuses on marketing strategies and four P's to sell their products or services quickly.
Online selling of products or services is one of the most modernized technique and spreading very quickly all over the world. Organizations now focuses more on online selling through their well designed sites where a lot of information assembled together for an easy access of customers or general public to acquire the desired information of specific company.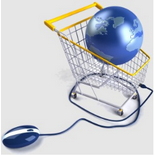 Personal selling where a lot of communication skills were required has now changed in the form of online selling where less communication but well organized skills required. Online selling required a lot of work on certain products and services. Like other selling target market, online selling also required a specific target market.
However, success of companies depends almost on hard working and regularly or even daily works on their platform of site. Started from the range of smaller to larger products and then type of products it almost depends on the company dealings. Few companies sell mobiles, few computers, laptops, provides repairing computer services, metals, commodities etc.
Moving away from organizations, common people are also eligible for selling their personal products or services online. People can auctions their products on auction sites and on their desired price can sell their products and sites only charges few percentage for their selling of buying of products or services.
Famous sites like ebay, amazon, shoponline, macys, shopusa and thousands of similar sites provides an opportunity for people and organizations to sell their products directly to customers and on the other side customers having a lot of choice for selection of products, quality, prices etc.
Organizations now advertise their products or services on the famous sites like social sites where millions of people daily active to easily target their customers and introduce their products to people all over the world.
Online buying and selling provides the best opportunity to take advantage of whole world market, better prices, quick service, lots of varieties, really ease to buy or sell with fewer expenses and there is no such crowd online to indulged with them.