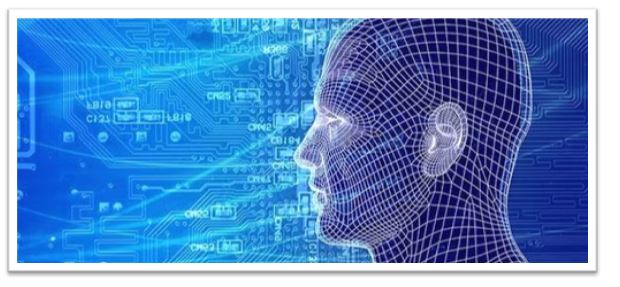 It is a technology which used in different types of applications that identifies or recognise human face with the help of digital images. Face Detection is also known to be as the physiological process by which human identify their face in a visual scene. It is a computer technology which identifies human faces without their presence.
In Face Detection Technology, it requires no physical interaction of the user it can be done even if he or she is not present. It is accurate and it allows high verification rates. All identification or authentication is done by following the four stages i.e. Capture, Extraction, Comparison, Match or not match.
1. Capture: In this we capture a physical or behavioural sample of the user by the system. It also comes under the detection process.
2. Extraction: In extraction a unique or different data is extracted from the sample of the user and a new template is created.
3. Comparison: Now, we compared the old template with the new template which is created in the above stage.
4. Match or not match: In this, system decides about the results whether it will match or not match the sample of that particular user.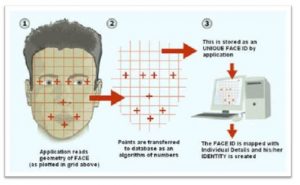 Facial Detection technology is based on the ability of identifying the first face of recognition, which is a technological feat. If we see at the mirror, we come to know that we have distinguishable landmark. The landmark makes a different facial feature.
There are 80 nodal points which are found on a human face. Here are some nodal points which are measured by the technology. For example: distance between the nose, cheek bones, jaw line, chin, etc.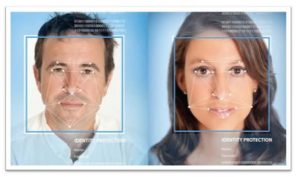 These nodal points are measured so that we are able to create a code i.e. numerical code. This code is also known to be as face print. There are at least 14 to 22 nodal points are needed to know or recognise the face of the user.
We have some fewer advantages of Face Detection Technology as well as disadvantages of Face Detection Technology.
• Face Detection Technology can't tell the difference among the twins.
• It is the most inexpensive biometric in the market.
• There are many benefits to face detection such as convenient you just need a picture for the identification.
Biometric, is a measurable characteristic of a human being, it can be used automatically to recognise an individual face or identity. Biometric can measure physical or behavioural characteristics.
The natural use of Face Detection Technology is to reduce or replace the use of PIN. It is commonly used for security but it is increasingly used as a other application. It is a larger group of technologies.It is easy to use or convenient to perform as it not requires a person.Today, Face Detection Technology is evolved and it creates a cost of equipment increasing. Now, certain applications of Face Detection Technology are very effective, reliable, and highly accurate. This the best technology which is used to identify a human