After Apple Siri, Amazon Alexa and Microsoft Cortana Google had also launched their Virtual Assistant with Google Pixel and Pixel XL in the month of May 2016. This feature is ready to take over market soon.


So, now people are going haywire as this is a most awaited feature on Android devices and now it is out. Many of us know how they can completely lay back to it for their ease, but there is some novice out there who didn't know a thing or two about Google Assistant.
So, here I am listing Top Basic Features Of Google Assistant one could use to save their time.
1} Unlock Your Phone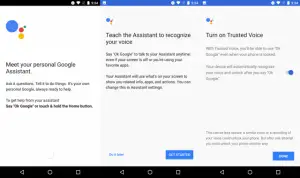 Suppose you have to use your phone, but your hands are dirty or not functioning. So, you can just unlock your phone by saying 'OK GOOGLE.' You can enable this by just going to your Google Assistant settings and when you are in that setting page just select OK Google detection followed by the Trusted Voice tab. So, this is how you can enable the unlocking feature on Google Assistant.
2} Open Apps using voice commands


Suppose, while driving you are stuck in traffic and need to make an urgent call to your boss. You just have to give the voice command to your phone "OK Google call boss." Now, Google will fill find the entry by the same name in your contact diary and call your boss. Now, you can inform him that you will be late because of the traffic. This feature is more like your little pet; it will do whatever you say. You can even send a WhatsApp message over your voice command isn't it like a genie which fulfills everything his master needs.
3} Google Assistant or Virtual Friend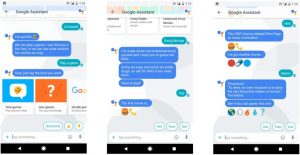 Suppose you are lonely and don't have friends. Don't worry just tell Google to play with you or make you laugh it will be at your service always. It has some great games jokes, and fun facts lined up just for you.
4} Personal Guide
If you are confused in making decisions like where to eat, drink or shop don't worry because your guide is in your pocket just say, "OK Google show me interesting things to do nearby." It will suggest you some mind-blowing things you can do with top website reviews and ratings, isn't it great?
5} Personal News Reporter and Weather Forecaster
Just wish your Virtual Assistant 'Good Morning' or 'Good Evening' and here it is the News and Weather forecast of that time will dock up on your finger tips and not only text but a voice which read your news for you, isn't it comely to hear?
6} Set Important Reminders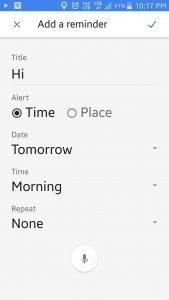 Don't you have a dream that your phone can do anything and everything possible to make your life easy? I guess we all have that wish and Google hear us. Google Assistant have a feature that will remind you of your important days and dates.
7} Maintain a To-Do list


Suppose your wife or mother wants you to fetch grocery and there is a long list which you will sure to forgot. You just have to save your grocery list to Google Keep. Now you need to go into your Google Assistant Settings, then select Shopping List beneath Pixel. The Assistant will enter into Google Keep and retrieve your list. Is it not fun to hire a personal shopper who is free of cost?
8} Alarm Clock


Don't you think that waking up with Google is cool? So, here it is you just have to say "Wake me up at 8:00 am." You don't have to go all over to your alarm app to set the alarm now. Just your voice is enough.
9} Messenger
Suppose, you don't know where you are and struggling with your location app? Just say "OK Google send my location to Sam."
10} Turn ON and OFF your TV


Just say, "OK Google, turn off the TV," and it will turn off your system and vice versa From now you won't even have to search the couch cushions for the remote. To enable this feature just link IFTTT to Google Assistant online.
These are some basic, but coolest features of Google Assistant one should know also you can talk to your Google Assistant to learn more just say "OK Google, what you can do for me?" and there is a list of what all things your Personal Virtual Assistant will do for you.
So, this is my list for Top features of Google Assistant one could use to save their time and energy. What do you think? Did I miss any, sure I did? Mention it in the comment section below.