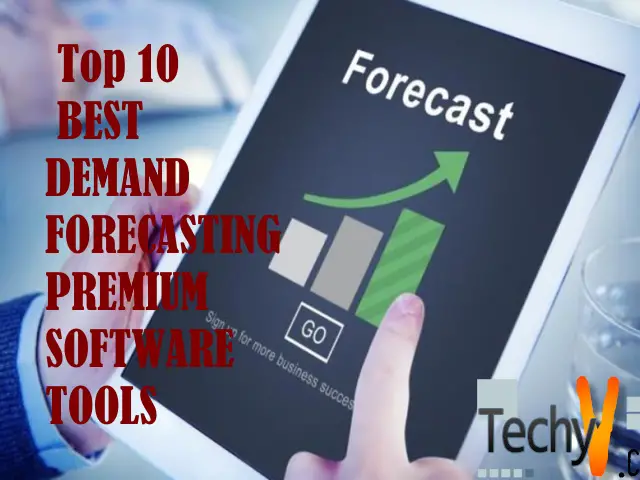 Demand Planning Software, also called inventory forecasting planning, is used to predict the upcoming demand for the product of an organization so that it can plan the production of that particular product. This software tool is very beneficial for businesses to enhance the productivity and growth of an organization. Businesses can fastly produce highly demandable products and can become aware of low demand products. Demand forecasting or planning is very much essential in every field of business. This aids businesses to grow efficiently. The following are the top ten demand planning or forecasting software tools with their features.
CyberPlan:

CyberPlan demand forecasting software tool is the most powerful tool used widely. This tool incorporates a complete set of advanced planning tools used for predicting the highly demanded products. There are various features present in this tool. They are bottleneck optimization, capacity planning, MRP, planned tracking, priority-based scheduling, quality management, supply forecasting, what-if analysis, replenishment management, product introduction planning, and many other features. This tool is designed for all sizes of businesses. The subscription amount for this tool starts from $1500 per month. Additionally, businesses can optimize the phasing-in and phasing-out of products efficiently.
Hive9:
Hive9 is a fully-featured demand forecasting software tool specially designed for all sizes of enterprises. This software tool has a large set of advanced features in it, which makes it more powerful and effective. The features include revenue modeling, outlook & G-Cal synchronization, user-defined automation model, multiple budgets, real-time Martech stack, importing actual financial data, campaign ROI, etc. Additionally, this software tool can connect to CRM, MAP, Workflow, Content, Analytics, Data Warehouse, Purchasing, and finance systems. There are nine simultaneous attribution models in this tool. Additionally, this tool also has brand management, budgeting, calendar management, conversion tracking, data visualization, etc. This tool requires an amount of $25000 per year.
ForecastX: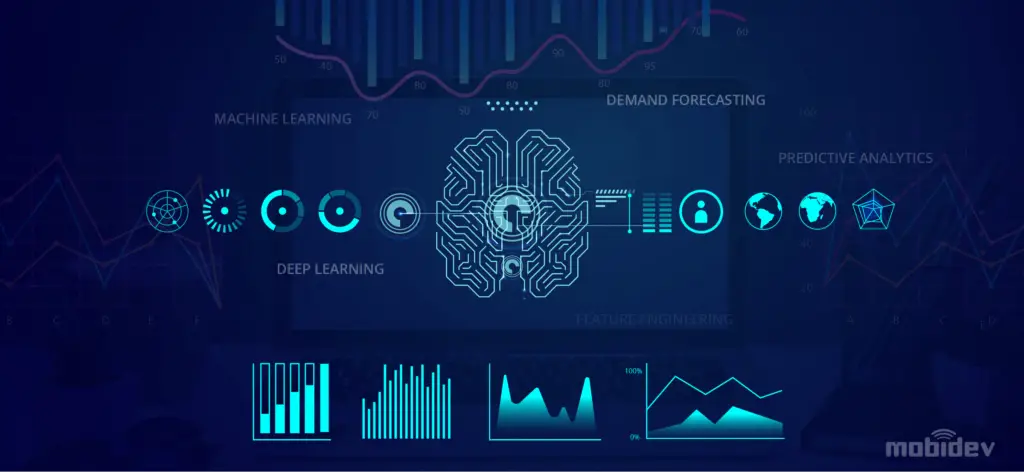 ForecastX is a demand forecasting or planning software tool that is used by almost all types of businesses throughout the world. This software tool is compatible to work with Microsoft Windows operating systems. Also, it works on Cloud, Saas, and Web. The ForecastX software tool comes with a training suite. New users can train themselves through webinars, documentation, or through live online service. The characteristics of this tool include correlation analysis, dynamic modeling, exception reporting, graphical data representation, performance metrics, sales trend analysis, and statistical analysis. Users can experience this tool is user-friendly and easy to use. This tool has a subscription plan of $99.00 per month.
GMDH Streamline:


GMDH Streamline is the best demand forecasting software tool developed by the GHMD LLC organization. This tool is also used for inventory optimization solutions for manufacturers. This software tool can prevent overstocks, avoid stockouts, optimize investment in inventory, and aids in boosting profits. GMDH Streamline software is compatible to install on Windows operating systems. New users can learn to operate this tool through webinars, live online assistance, and documentation. The best part of this tool is it uses a robust time-series decomposition approach for the prediction of high demand products. This tool offers a free period for some specific days. Later, users need to subscribe to the monthly plan.
Plannuh:

Plannuh software is the first AI-driven platform for demand forecasting and operational marketing excellence. This tool has a large set of advanced features in it. Users can validate their marketing plan and track their performance anytime. Additionally, users can also modify their plans as well as budget plans. There are spreadsheets and slide decks incorporated in it that are designed for accountants. This tool is not only best suited for CMO but also for the entire marketing team. Plannuh demand forecasting tool ensures ROI, visibility, efficiency, accuracy, and collaboration. Users feel easy to use, and it has a user-friendly interface.
INTUENDI:


INTUENDI is also the demand forecasting and inventory optimization software tool. This tool has extraordinary features that make it more efficient and powerful. This tool has omnichannel demand planning. This omnichannel planning enables users to manage inventory optimization efficiently across the globe. Another great advantage of this tool is it prevents lost sales with a real-time purchase order. The other advanced features include maximizing the ROI of purchase orders, world-class predictive analysis, inventory optimizations, budget optimization, etc. Users can try this software for free as it offers a free trial period for some days. The price of this tool is $699 per month.
Peak DSP: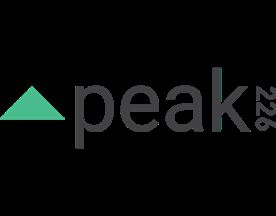 Like Plannuh software, Peak DSP is also an AI-driven demand forecasting or planning software tool. This tool is best suited for all sizes of businesses. Along with an AI-driven tool, it is also a performance-driven tool that enables users to predict highly demandable products. Additionally, it also offers a large number of AI-driven optimizing and predicting algorithms and events, like registrations, subscriptions, purchases, etc. The other features include direct integrations, supports gaming, shopping & sports utilities, multiple creative types, etc. This tool has various cost models. They are CPM, CPV, CPI, CPM/CPI, and CPLV.
StockTrim:
StockTrim is yet another one of the best and effective demand forecasting and inventory optimization software tools. There is a large set of features incorporated in this tool. The features include an intuitive order plan, detailed demand analysis, manufacturing features, variable lead times, multiple locations, ability to forecast new products, and any more features. These features make StockTrim demand forecasting one of the leading software tools. This tool is designed for all sizes of businesses. Users can use this tool for inventory optimization, inventory planning, inventory forecasting, demand planning, and demand forecasting. This tool is available in small, medium, large, and unlimited packs.
Planilog:

Planilog demand forecasting software tool is another efficient and more popular software tool. This demand forecasting software supports Cloud as well. However, new users can train themselves through documentation, live online assistance, webinars, and in-person sessions. The features incorporated in this software tool are what-if analysis, automated scheduling, bottleneck optimization, capacity planning, priority-based scheduling, etc. Users get the benefit of using this software freely for some specific days because of its free trial period. Once the free trial period ends, users need to pay an amount of $900 per year.
RapidResponse: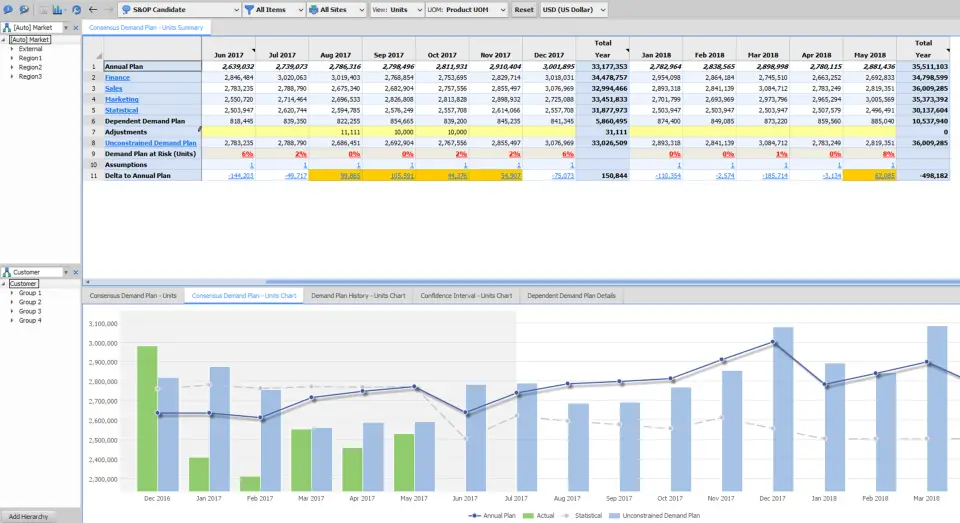 RapidResponse demand forecasting or planning software tool is the cloud-based software tool. This tool is mostly used in high-tech electronics, aerospace & defense, CPG, automotive, and life sciences industries. This tool comes with training features that involve in-person training, webinars, live online assistance, and documentation. The features include demand planning, inventory management, order fulfillment, sales & operations planning, capacity planning, data visualization, inventory optimization, etc. This tool also incorporates a what-if analysis that enables business managers to compute financial impact. It also supports multiple product launch scenarios and risk mitigation strategies.