In this digital era, everyone carries their crucial data either on a laptop or on a smartphone. As everyone keeps a smartphone, it is easy to store data on it so that you can use it whenever required. Many of us store our photos, documents, videos, music, etc. on our smartphones and use them whenever you want. You do a lot of things with your smartphone but leave the most crucial task to do, taking a backup. A lot of us don't even take a backup of the files and photos stored on the smartphone. As Android is very much vulnerable to viruses and malware, you can lose data, and even worst can happen. To prevent data loss due to any kind of disaster, there is a wide range of apps available on the play store that can help you to take a backup of your data and prevent data loss. You can take a backup of your photos, videos, documents, games, etc.
Here is the list of the top 10 best backup apps for Android –
1. Super Backup & Restore

Super Backup & Restore is a simple and easy to use a tool developed by MobileIdea Studio. You can take a backup of individual files, Apps, SMS, contacts, call logs, calendars, etc. Users can also backup conversations and share APK files with friends and family. You can save the backup file either on Google Drive or Gmail, or you can also save it on the internal storage. You can even take the backup of apps on the SD card and restore it from there. But to do so, you need to root your smartphone. You can schedule the automatic backup and select the location where you want to save it. You can even change the default location from the settings. The app is not free to use; you have to pay for some features and costs Rs.180 per item.
2. App Backup & Restore – Easiest Backup tool

It is a backup and restores app developed by Trustlook Apps. You can take a backup of your apps and files either on the SD card or on the internal memory. You can also back up your documents to cloud storage like Google Drive, one drive, etc. The app is sponsored and authorized by Apex Apps. The app provides various features like bulk backup and restore, automatic backup, customizable backup, and restore. The app also has some tools like APK Extractor, APK editor, APK installer, APK assistant, APK list refresher, and APK sharer. These tools and features come in handy when you want to customize the backup and restore process. Another important thing is that App Backup & Restore app cannot take backup and restore data or settings of the Apps; it can only take a backup of APK files. This app is free to use; you don't need to pay for features.
3. Apps and Backup Restore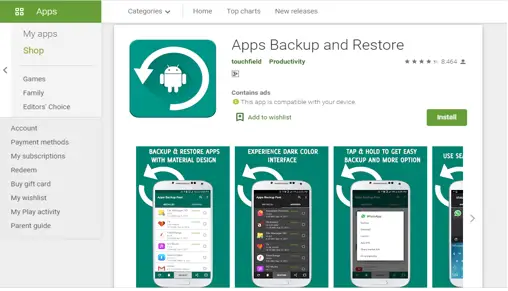 Apps and Backup Restore is a backup and restore app for android developed by touch-field. You can backup and restore apps to SD cards and even to the internal storage. You can restore and re-install apps from the SD card and internal storage. Schedule an automatic backup to save time. You can also share the apps with your friends. Install and uninstall the apps with the Backup and restore the app. The app is free to use, and you don't have to pay for any feature, but there is a premium version with more features.
4. Helium App Sync and Backup

It is another app for taking backup, syncing, and restoring apps. Helium takes backup of data and apps to the SD card and the cloud storage. You can sync app data from other android devices. You can set up a schedule for automatic backup. Helium is free to use with limited features and ads. With the free version, you can backup and restore to SD card and from PC. The premium version comes with no ads, automatic backups, android to android sync, cloud backup, and restore. The premium version costs Rs.268.76.
5. EasyBackup – Contact Transfer And Restore

It is an app for taking backup of your contacts. This app is developed by Simpler Apps Inc. You can take a backup of your contacts and upload them to the cloud to keep them safe. You can also export the .vcf file of the contact list and email it yourself. It also provides a feature to send the contact list to anyone through WhatsApp, Gmail, SMS, etc. This app is free to use and can be downloaded directly from the play store. Backup, transfer, and restore process is very easy and fast.
6. Backup And Restore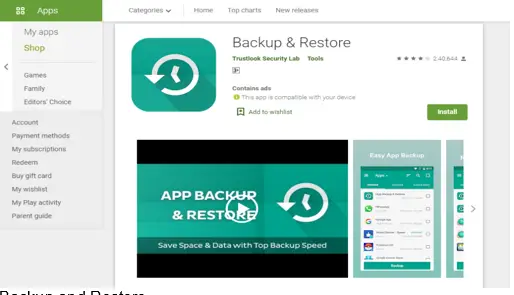 It is an app for taking backup and restore apps developed by Trustlook Security lab. You can backup and restore apps and personal data. You can also transfer the data for free. The app is free to use, and you don't require payment for any feature. You can back up the files that you don't use frequently and save space for other files and apps. You cannot backup and restore app data; you can only backup and restore the APK file. You can store the backup files to local storage like SD card and internal storage or, you can save the backup file on the cloud. You can share APK files and calls logs. There are various features provided by the App like batch backup and restore a batch backup and restore to internal storage, extract and retrieve APK, transfer and share files, scan for APK on your phone, and many more features.
7. Google Drive

Google Drive is one of the best ways to take a backup of your data. It is a cloud storage app where you can store your photos, documents, videos, and many more. Google Drive provides 15GB of free storage space. You can create a backup from the google drive app; you just have to turn on the backup from the system settings. You can automatically generate a backup of device data like app settings, call history, wi-fi passwords, and many more. You can safely store your files on the google drive and access it anywhere you want. You can also access the data on the PC. Google Drive comes pre-installed on Android devices and is mostly free to use. If you want more storage capacity, then you have to pay for that.
8. G Cloud Backup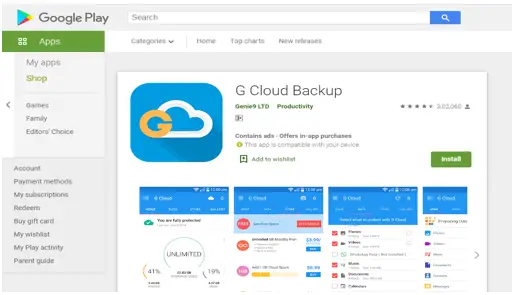 G Cloud is a backup app developed by Genie9 LTD. You can backup videos, photos, music, documents, etc. G cloud backup provides you 1GB storage space for creating backups. You just have to register on the app, and then you can begin taking backup. The app creates backups automatically and can also backup WhatsApp images. If you want more storage space, you have to pay for it. If you want to share your contacts, messages, music, videos, etc. you can share it from the website of the app. You can protect your files by adding a password to it so that only you want to access the files. There are more features available in the app, you can check them on the play store. The last thing is that you don't require to root your device to take backup and restore your data.
9. Resilio Sync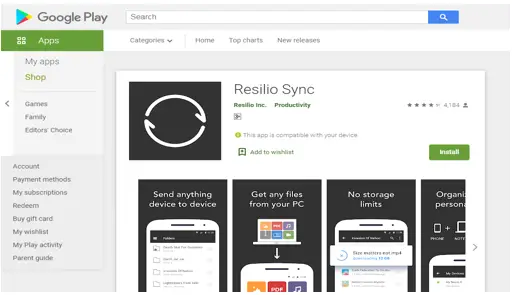 Resilio Sync is a file transfer and photo backup app developed by Resilio Inc. Resilio sync lets you transfer files, photos, videos from one device to another device without storage limit. With Resilio sync, you can create your cloud storage. Connect your devices like Mac, PC, or another android device and make the secure transfer of your files and photos. You can access the data that you store on the computer on your mobile. Resilio Sync is an exciting app to create a backup. Your data is never stored on a cloud server; this means that your data is safe from any threat. Resilio Sync provides features like no storage limit, automatic camera backup, one-time send, direct data transfer, supports all types of files.
10. Titanium Backup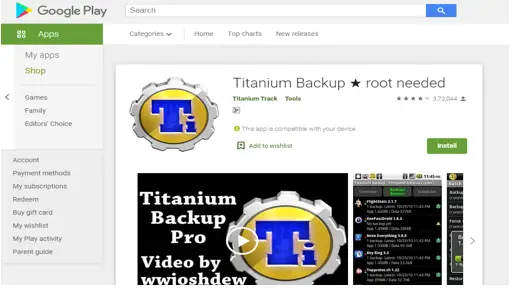 Titanium Backup is a powerful backup tool which is developed by Titanium Track. To use the app, you have rooted your device. It is a very stable app for root users and also receives frequent updates. You can take a backup of your app, app data, documents, etc. easily, and store it on the SD card. Titanium backup provides features like 0-click batch restore, multiple backups of each app, backup and restore SMS, MMS, calls, bookmarks, Wi-Fi AP, apps freezer, manual and scheduled sync to cloud storage, backups without closing the app, system logs cleaner, and many more. Titanium Backup provides a wide variety of features with the free version, but with the paid version, you get even more features. The premium version costs Rs.400.