Top 5 Best Security Camera
There is always a time when we cannot do things all at the same time. We will need to go out and leave the house unattended, cook while the baby is sleeping or go for a vacation and leave our pets alone in the house. Whether you feel that you need an eye for the possible intruders, watch out for the baby while you are doing other chores or go for a vacation without your pets, Cloud Security Camera will be a big help.
These cameras provides more flexibility than a regular webcam since they commonly use web portal instead of a desktop PC or a laptop, and make it as a monitoring control hub that you can access anytime and anywhere with your Smartphone. The downside is, it can be awful sometimes when streamed through a home Wi-Fi, a public Internet or through your mobile data network.
We have listed below the Top 5 Best Cloud Security Camera from different manufacturers that offers a number of features:
1. D-Link Cloud Camera 1100, Day and Night Network Cloud Camera / DCS-932L:
The DCS-932L is smaller than the typical wallet so it is perfect for your home or even your small office. It has built-in IR LEDs that is perfect for a shady environment and night vision that allows you to see for up to 15-feet in total darkness. Its solid design has an integrated antenna, allowing you to position your cloud camera virtually anywhere even in the smallest portion of your home. You can set up your DCS-932L near your portal or in any place to monitor what is happening in your house day and night.
It is the first IP camera that supports the mydlink service of D-Link. This camera allows the user to view its feed from the Internet without having to play with the settings of the router or think about the Dynamic DNS. Also, the DCS-932L supports night vision and wireless networking (802.11n).
The setup is very simple with the easy and clear illustration from the CD; it will assist you from plugging the camera to connecting over Wi-Fi or Ethernet. Wireless connection is easy if your router is WPS-supported, since you just need to press a button at the back of the camera and router and a connection will be made. But if it doesn't have WPS, you will need to plug the camera through an Ethernet cable and then scan for available wireless networks, enter the password, restart the camera and unplug the cable. Once setup is done, you will be prompted for your mydlink account which links your camera with that account. If you log in mydlink website, select your camera from the list and you can view the live feed outside your home network.
The live feed can be viewed through an iPhone or Android device over a secure Wi-Fi, 3G or even 4G connection. You can monitor what's happening inside your house remotely and select the video quality of 640×480 at 20fps, 160×120 at 30fps or 320×240. The DCS-932L also comes with a motion sensing technology which can trigger an instantaneous alerts on your e-mail and the auto-recording function according to the changes made from the camera's environment. You can customize the settings of your camera so you can have full control on when do you want to be alerted. The camera cost a reasonably $69.99.
Click here for more of the product's specifications.
2. Dropcam HD Wi-Fi:
The Dropcam HD Wi-Fi is a high-resolution video monitoring camera. It is small but it comprises with an interesting look and immense features. The camera is removable from its stand so you can connect it to your computer or other corner of your house or office; or you can also mount it in your wall. You can also manually twist or rotate the camera into any position. The lens are fixed so it doesn't have an optical zoom. However, Dropcam now offers a digital zoom feature.
The first Dropcam cameras were made by Axis and they uses the Dropcam's firmware. The new camera was designed by Dropcam itself and they featured an integrated mic and speaker; so literally, it works like a typical webcam where you can hear and speak with anyone through the camera. In addition, the camera has an expanded angle lens and it is sharper than of Axis cameras. The high-resolution feature is certainly a welcome improvement since it offers a more depth and wider image, so everything in the background was highlighted when focused. The Dropcam HD Wi-Fi camera is about 4.5-inches high and 3.15-inches width, comprising of a hinge for setting the angle or the view. It has 2.4GHz 802.11b, g and n Wi-Fi radio inside supporting almost all types of security protocols. It also has a night vision feature, a microphone and speaker for the two-way audio function. Recorded videos are also safe from the intruders since it is transmitted using the SSL connections and AES 256-bit encryption.
You can view the live video feed through the Internet or using your iOS or Android devices. The basic 24/7 live viewing is free while the DVR functionality can be avail on their paid plan, while the recorded videos were stored in the cloud. New clients will get a 14-day trial that allows them to save their videos online for seven days. This DVR feature is for watching what was recorded. When the trial is over, stored videos for seven days will cost $9.95/month and additional $4.95 for extra camera or $99.95 per year and $49.95 for extra camera.
It is also easy to set up; just plug the cloud security camera to your PC via micro USB that is included in the package. Run the setup software to create a Dropcam account and put the camera under a reliable and secure Wi-Fi network. Unplug it from your PC and position it where you want and then plug its AC power, which of course, limit placement of the camera. A firm blue LED light shows that the Dropcam HD is connected to the WI-Fi properly. You can also set to disable the light through the software settings.
The Dropcam HD Wi-Fi has a $149 price tag.
3. Alert 750n™ Indoor Master System:
The Logitech Alert 750n Master System is best for indoor use since it is not weather-proof. It cost $299.99 and $50 less than the Alert 750e Outdoor Master System, but both are compatible on the software so you can mix the two and add up to six cameras under one network.
The new Logitech Alert 750n™ Indoor Master System is another cloud security camera that offers easy installation. It is composed of a stand-alone camera that we need to connect to our Windows PC or Mac and let it function on its own. Also, this one is micro-SD supported and included in the package is a 2GB SD card which is capable of recording videos for a week if we enabled the motion-detection option. It also has a mounting accessory hardware and a suction cup, so putting your camera anywhere is possible. But this security camera uses HomePlug in accessing the home network, so you will need to place it near an open AC outlet. Plugging it into a power strip or UPS is also not possible because it will stop the network signals from entering the interior wiring.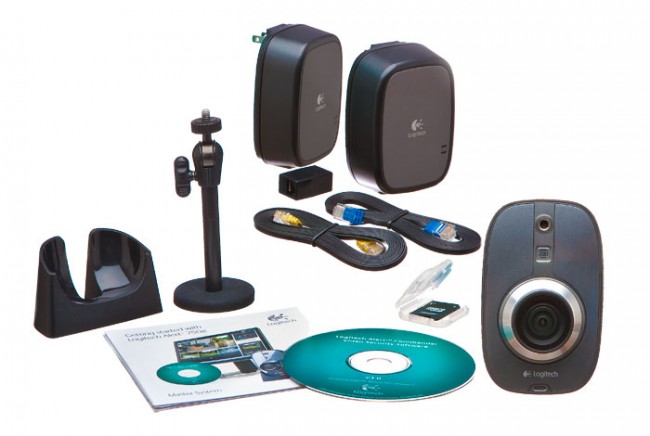 The Alert 750n Indoor Master system measures 2.8×4.4×1.8 inches. If you will not mount or suction it, the camera will sit on the cradle that won't allow any adjustment on its position. But there is nothing to worry since the wide-angle lens of the camera can encompass the width of the whole room. Logitech also claims a Dropbox account with free 2GB online storage that is also capable of recording videos for a week. The client can also use their own PC hard drive to get additional storage. DVR recordings is free; if you are using an iOS, Android or even a BlackBerry device, you can view real-time for free. But Logitech offers an optional Logitech Web and Mobile Commander service which is payable for $80 per year, so you can view recorded video on your Smartphone or remote PC.
The Logitech Alert Commander software only runs on Window-based PC and there is no version available for Mac PC. You can connect up to six Logitech Alert cameras simultaneously. The video recorded is stored on the camera or hard drive. The playback is excellent with no issues on buffering. But it is only 960×720 pixel video that runs at 15fps, which is not a total motion but it is still sufficient and tolerable. Email alerts will be sent by the software when there is a motion detected. You can also control the sensitivity and timing, so you will not be flooded with messages. You can also customize the view that will monitor the motion so you will not receive an alert just because your fan is spinning. Only the motion video will be captured and this also saves disk space.
Similar to the Dropcam HD, the Alert 750n works fine in the dark. Also, the camera has a microphone so listening on what you see is possible, but it doesn't have a speaker so you cannot speak to the other end. This is a unique feature of Dropcam HD. With Alert 750n, you cannot watch the stored video on your mobile phone. That is for Windows PC under a network only; you will need to upgrade the Alert Web and Mobile Commander service to watch the recorded video anywhere.
4. Netgear VueZone Remote Video Monitoring System:
VueZone's Remote Video Monitoring System is a wire free cloud security camera. It fits anywhere and viewable using your Smartphone, Windows and Mac. This camera makes monitoring simple and easy through the Personal Video Network feature. And since it is wire-free, you can place it anywhere on your house or office and start viewing in an instant on different angles.
The camera is battery-powered that provides a base station to connect to a home network through the Ethernet port. The base station can support live streaming views with up to two cameras. But users can upgrade their plans to support up to 15 cameras and record data to be stored in the cloud. All the VueZone camera systems comes with the Basic service; users can also pay to upgrade to Premier (a fee of $49.99/year or $4.99/month) and Elite services (a fee of $99.99/year or $9.99/month) for added functionalities. The Basic service allows viewing of live streaming remotely for up to two camera feeds. For Premier users, they can view up to 5 cameras; digital pan, e-mail alerts and zoom functions are also supported. The Elite service offers the most powerful features. It offers the same service as the Premier and support up to 15 users and three base stations. Paid services also allows users to record and store their data over the cloud with 250MB and 500MB of storage space.
Since it is wire-free, Netgear uses batteries that can last up to 6-months of standard usage, which is equivalent to a daily 5-minutes recording content and view streams. The camera is comprises of wireless capabilities that is the same as the other wireless devices with 802.11 standard; ranging around 300 feet and covers 2,500 square feet homes but it still depends on the environmental factors. When a motion is detected by the VueZone camera, an alert will be sent to your Smartphone with a short video clip to keep you informed. Users can view their cameras through their Smartphone, Windows PC or Mac. It also supports iPhone and Android devices.
Click here for prices and other details.
5. Samsung SNH-1011N IP SmartCam:
Samsung SNH-1011N IP SmartCam is a combination of a trendsetting technology, innovative vision and instinctive looks that offers security, suitability and simplicity bundled into one. Setting it up is so much easy; you just need to connect your router, register your camera, launch your browser and begin monitoring. Your camera is viewable through your Windows PC, Mac and Smartphone. There is no need to download or install any software, just register your camera to www.samsungsmartcam.com and it's as simple as that.
You can monitor your house or office anytime and anywhere you are. Download the app on your iOS and Android devices and start monitoring online. With few simple steps, you can also record on your SNH-1011N camera and store the content to your personal YouTube account, where you can also share with your family and friends.
SNH-1011N has a price tag of $149. It lacks with some functions that Dropcam HD and Alert 750n offers, including the DVR recording function and on-board video storage. The camera is a smooth-looking device measuring 3.5-inches high and 2.1-inches wide. It comes with all the required hardware that can be use for mounting the camera. The SmartCam is also not weather-proof and it doesn't support batteries so you have to place it near an AC power outlet.
The SmartCam has an integrated 2.4GHz 802.11n Wi-Fi standard which is more advantageous than the HomePlug of the Alert 740N. It also supports Ethernet connections and 640×480 max resolution at 30fps, motion detection and it also works well in dark environment with the help of the built-in IR LED lamps. It lacks on wide angle lens and zoom options. It also has built-in microphones for two-way talk.
In order to view the video feed on your browser, you need to have the Samsung WebViewer; this is an application that installs plug-in on your browser. Overall, the SmartCam is reasonably good for basic users.
Conclusion:
As for the saying, nothing is perfect. One thing that lacks on a specific device, one thing that the other device offers. The five security camera listed above are considerably useful depending on the situations and as for now, we considered them as the best since they offer functionalities that a customary surveillance camera has with extra features. The five mentioned above can be used to monitor our home or other facilities and viewable anywhere through our Smartphone, iOS and Android devices. These of course are the core reasons why we are buying these products. Apart from that, other functionalities are just a better addition in customizing our security camera for better performance.