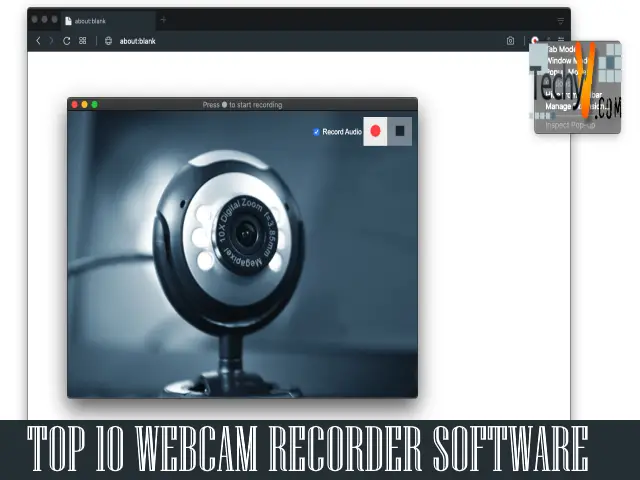 The Webcam Recorder is a software tool that enables users to record high-quality webcam videos as well as audio seamlessly. Additionally, these webcam recorder software tools can record any screen. Some software tools have advanced features of resuming and pausing the video any time, editing, trimming, inserting video clips into original video, etc. There are multiple uses of webcam recorder. They can be used for commercial as well as non-commercial uses. Let us have a glance at the top ten webcam recorder software tools with their features.
Logitech Capture

Logitech Capture is one of the most-used and powerful webcam recorder tools. The primary feature of this tool is its recording from multiple sources. It enables users to record from two webcams or an application window. Additionally, it allows users to switch between six different scenes. Logitech Capture software tool allows us to create a vertical video for mobile viewing. Users can also broadcast themselves on their favorite streaming platforms like YouTube, Facebook, etc. It includes features like live text overlays, studio-style controls, customizable camera, etc. This software is free to download.
CamDesk

CamDesk is an open-source software tool used as a webcam recorder. This is the most-used software tool. The best part of this software is it includes Chrome key. This feature enables faster and quick access to all other features of Camdesk software. Its features include pin & unpin options, snapshots, full screen, opacity slider, etc. The outstanding features include changing webcam dimensions as per user's convenience and changing webcam capacity. This software is capable of running on win32, Web-based, GTK+ interfaces. The whole software is designed by using Python, Visual Basic .Net, and Javascript programming language.
ManyCam

ManyCam is the most popular and powerful software for webcam recording. This software is available for only Microsoft Windows and macOS operating systems. It has a wide variety of features incorporated in it. Features include multi-camera support, video recordings, and images from the user's device, IP cameras, live streaming on Facebook, YouTube, and many other social media platforms, a huge set of filters and distortions, more than 30 object effects, video recording and snapshots, and video calls. Additional features included are it supports ten languages, camera source, app locking, etc.
Free2X Webcam Recorder

Free2X Webcam Recorder is used widely to record webcam videos. This tool can record videos and take screenshots from any webcam. This software tool is free to use and offers a user-friendly interface. The best part of this webcam recorder is it saves the recorded files in MP4, WMV, and AVI file formats. Additionally, it allows users to pause the video or webcam recording at any time and edit it according to the requirements. The other features include keyboard custom shortcuts, scheduling tabs, edit watermarks, etc.
BandiCam


The BandiCam software tool is one of the most-used software to record the screen. This software is specially designed to work on Microsoft Windows operating systems. This tool enables users to record a certain area on PC, capture a game that uses graphics technologies, etc. Its features include screen recording, game recording, device recording, real-time drawing, adding webcam overlay, scheduling recording, mix the user's voice, mouse effects, change the key for Webcam overlay, etc. But, this tool is not an open-source tool. Users need to purchase it by paying a specific amount.
AZ Screen Recorder

AZ screen recorder is an open-source tool available to record any screen. This software is specially designed to use it on Android devices. The best part of this tool is it does not require to root your device. The free version of this software provides all recording features. The premium version of this tool incorporates multiple features like GIF conversion, screen drawing, trimming & cutting, magic button, etc. The free version also offers a huge set of features like recording internal sound, recording gameplay, pause & resume screen recording, enable front camera, shake the device to stop recording, draw on the screen while recording gameplay, transfer recorded files to the computer through WiFi, and many others.
ScreenCam Screen Recorder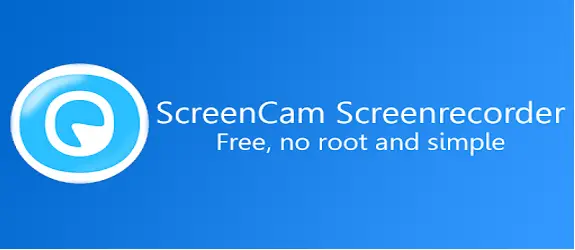 ScreenCam Screen Recorder is the lightweight application for webcam recording. This software is available freely for anyone. ScreenCam Screen Recorder is designed to install and use on Android devices. The main feature of this application is users can record audio with the screen recording. The other features include recording audio from the mic, customizable storage folder, floating controls, clean & light UI, resume & pause recording from floating controls, built-in video trimmer, internal audio recording, camera overlay, and SystemUI demo mode. This application does not require users to root their mobile phone and, it is freely downloadable on Android devices.
QuickTime

Quicktime webcam recorder is specially designed to install and use on macOS, iPhones, iPods, or Pod touch devices. This tool can easily record videos or screens. Users just need to choose the microphone to record audio or video along with a screenshot. Additionally, this software attaches date with the filename whenever the users save the recording. The best part of this software is users can play audios or videos on QuickTime Player. The features of QuickTime are splitting recording into clips, rotate or flip the trimmed clips, synchronized graphics in the form of sound, videos, texts & music, etc.
OBS Studio

OBS Studio is an open-source software tool specially designed for recording games and live streaming. This software is lightweight, easy to use, and has a user-friendly interface. It includes multiple features in it. These features are intuitive audio mixers, multiple video resources filters, powerful configuration options, streamlined setting panels, multiple themes, real-time audio or video capturing & mixing, etc. OBS Studio is compatible to work with Microsoft Windows, Linus, macOS, and Web-based operating systems. This tool can be used for small and medium businesses and also by freelancers.
FlashBack Express
FlashBack Recorder is a powerful editing and recording tool. This software has easy to use interface. It includes features like recording scree, webcam, sounds, trim footage, making clips, enhancing recordings with captions, arrows, images, add commentary & music, etc. Additionally, it also includes webcam footage, recoding movies without watermarks, easy sharing and uploading to YouTube, higher performance, fast processing, clip editing, customization of videos with multiple stickers, FX, GIFs, and sounds, scheduling time, multiple screens, etc. This tool also incorporates multiple sets of editing tools, and it allows capturing multiple devices at a time.