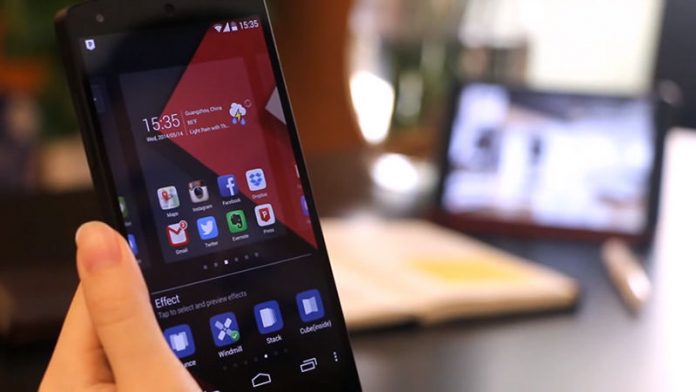 1. Smart Launcher
It is a circle of the most used application by you on the go. The launcher comes in a free version and a paid one where the latter comes with more features. It contains a search bar and an app drawer, the drawer is well organized and split into various categories. It is a smart launcher and places the apps where it should be accurate. It is very user-friendly with a lot of customizable options.
2. Buzz Launcher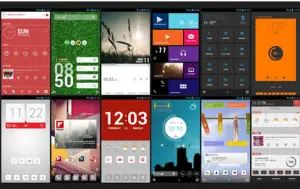 The launcher is free and occupies only 13MB of your storage. The extent to which the phone lookout can be changed is unbelievable as if every time you change it, you operate a new phone. The application contains a built-in store and numerous features are always updated in it. It is fast and sorts all the other apps and keeps them in different sub-folders.
3. Nano Launcher
This is one of the smallest apps present in the store for you; it only occupies a mere 2.2MB of your storage. It is very simple, clean and sharp. It places all the apps in a grid and can be easily accessed by the user. It is quite good but is difficult to customize.
4. Apus Launcher
This application is of 6.3MB and is available in play store for free. It comes with tons of customizable features and beautiful fluid 3D animations. It consists of a custom news bar and a page dedicated to users so that they never run out of something to read. It slows the phone apps and once you download it, there are a number of apps that automatically get downloaded to your phone along with it.
5. Lens Launcher

The launcher for them who need every app on their homepage. It is not definitely practical but is a cool idea and is favored by some people. It places every single application on your phone in one giant grid and that is the whole launcher for you, it offers nothing else to the user. It uses a fisheye so that you can select the application you require from the giant web of all the apps present. It is 2.1 MB and is worth trying. There is no widget and no real customization present in the app but the idea seems to be pretty cool and once we get used to it, it doesn't really look that bad.
6. Yandex Launcher
A hell lot of customization in this launcher along with sorting of the apps based on color is the best feature that is present in the launcher, it is a huge time-saver. The problem with Yandex is that it shows a lot of recommended apps that are not actually required. Yandex is pretty good and user-friendly and deserves a hands-on.
7. Hexy Launcher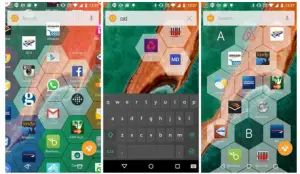 This launcher keeps everything on one screen but separates them by color; all your red applications will be in one color and all the other in yellow or any other color. It doesn't support any icon pack and customization but is unique and consists of a separate page for widgets that gets integrated with the front page. The search bar integrated searches for apps which help to find the app in a less time.
8. Nova Launcher
The most popular launcher till date, it is fast, stable and is easy to work on. The application is immensely user-friendly and everything from the desktop grid to app drawer can be easily customized. The launcher is compatible with any theme or icon pack. One can change the look that the app provides anytime to get a new fresh look making it immensely favored for the one who easily gets bored.
9. ASAP Launcher
ASAP is a bit different from the usual launchers instead of supporting widgets and icon pack, it comes with a set of pages with each page having different for different things that remind us about the most required apps. It is updated with Google's material design. Swipe left and you get all the apps and right swipe gives you the toggle. It lacks a bit of customization.
10. Solo Launcher
Solo uses only 7.5MB of your storage and is easily customizable. It supports every theme and widget pack and consists of a handy notification bar. The animations are all fast and fluid and come with a well-organized app-drawer. The only problem with the launcher is that it pushes unnecessary apps into your phone which slows down the performance and also takes up storage.