Sound equalizers help to balance the loudness of audio frequencies. It allows you to enhance the sound qualities. There are various audio equalizers available in the market. According to your audio needs, go and download it. Here is a list of top 10 Sound equalizers for Windows 10 platform:
1. Equalizer APO:
"Equalizer APO," The complete sound equalizer software had developed for Windows 10 platform. It is a freely and openly available graphic equalizer. The application has known as a system-wide parametric equalizer. It helps to optimize the sound quality of your audio files. While accessing this application, you cannot use APIs like ASIO or WASAPI. It has a pack of features that includes multi-channel use, unlimited filters, connectors, Minimum CPU consumption, and a list of channels, low CPU usage, and many more. It has a customizable user interface. It works with Voicemeeter. Also, it supports the VST plugin.
2. Viper4Windows:
The software is an openly accessible audio equalizer for Windows 10. It is also available for Windows Vista, 7, and 8.1. You can make your customized profiles. It helps to enhance the quality of your audio files. It provides so many features, such as 18 bands, room size, bass boost, reverberation settings, distortion control, surrounds option, and presets like super bass, rock music, jazz music, etc. It has tools that include ViPER XBass, ViPER XClarity, and reverberation settings. It allows you to control noise disturbance. According to your surroundings, you can even adjust the sound settings.
3. Equalizer Pro:
Equalizer Pro is a user-friendly audio enhancer. It allows you to make your presets. It also provides more than 20 presets. It offers built-in tools, such as a system-wide bass boost feature, a preamp volume control, ten band equalizers, and more. You can even boost the low tones. The application is best in the bass, mid, treble parts. It gives a free trial for a week. The product costs $29.95.
4. Boom3D:
The equalizer application has first made for those who are using headphones while listening to audios from the PC. Along with headphones, it works on streaming services or players. The software has 31 bands and various types of presets. It is available for both Mac OS and Windows 10 platform. It works as an advanced audio player and a powerful volume booster. It offers audio effects, an Application Volume Controller feature, surround option, recalibration, customer support, and the 3D surround sound tool. You can tweak the LFE gain. You can even make the playlists of your songs. It provides a free trial for a month. It costs $39.99.
5. FXSound: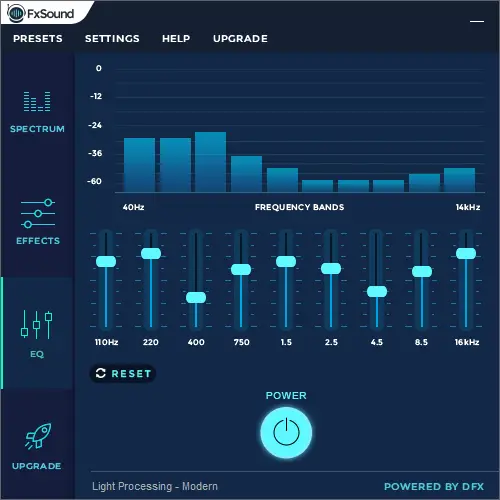 The software is a combination of an equalizer and a real-time audio processing feature. It will give hi-resolution results from any devices. It has a collection of features, such as crystal clear audio, high fidelity, and customizing tools, booming bass, sliders, surround sound, dynamic, bass boost, ambiance, and many more. It has ten bands and lots of presets like Country, Techno, Alternative Rock, Dialog Boost, Rap, and countless. You can delete audio compression. It provides a one-week free trial. It cost $39.99.
6. Voicemeeter Banana:
The Virtual audio device helps to edit your voice. The software has eight channels, six cells, and a fully parametric EQ on the busses. With the help of virtual I/O tools, it controls the audio sources. It runs on Windows 10 platform. While accessing this application, you can use a multi-channel EQ. You can erase your vocal distortions. It includes a voice editing feature, a built-in Tape Deck, an advanced audio mixer, and more. It helps you to record or play your audio files in formats like WAV, M4A, MOV, AIFF, BWF, MP3 + MP4, etc. Its price is free.
7. RealTime Equalizer:
The application helps to alter the audio signals. You can use up to three hundred channels. The software can tweak the frequency spectrum. It allows you to edit audio formats like WAV, MP3, and more. The user-friendly tool helps to make audio scenarios. Its two versions are independent installations and a Winamp plugin. It offers special resurrection, amplification levels from -INF to +90 dB, presets, adjustments, and many more.
8. Breakaway Audio Enhancer:
The Equalizer is available for the Windows platform. It gives free trial for thirty days. Its price is $29.95. The user-friendly software helps to edit your music tones. The best tool is for musicians. It provides volume controls, presets, configuration options, Reference Classical, and Easy Listening. It has a Reference Movie that alters the dialogues of a movie. You can enhance the qualities of your audios. It gives a proper guide on the Setup Wizard.
9. Bass Treble Booster: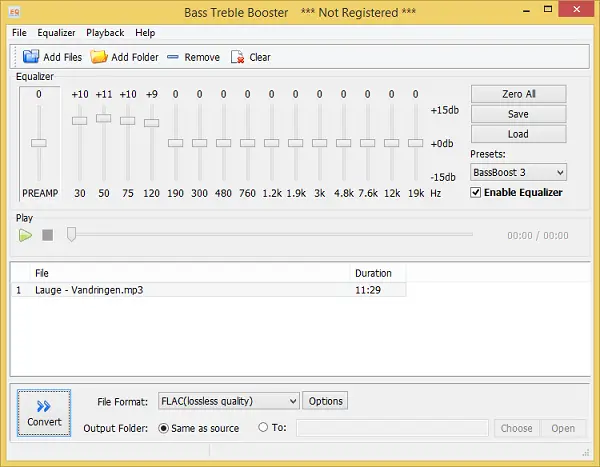 The software helps to edit your songs and audio files. It provides fifteen frequency settings, equalizer bands, file conversion abilities, various sound frequencies, presets, and formats like AAC, WV, AIFF, M4A, MP3, FLAC, WAV, OGG, WMA, and APE. It is a Treble Frequency editor. It gives a free trial available. The application doesn't have complex UI. It supports frequency from 30 to 19K Hz.
10. Graphic Equalizer Studio:
The software helps to correct the audio stream. The application can run Windows audio applications and DVD players. It has built-in tools, such as a compressor, a limiter, an MP3 player, Correlations Meter, AutoCorrect feature, enhancer, refresher, RMS Level Meter, and many more. You can make the lower signals louder. When you work on the WAV file or MP3 file, you can hear the change in effects provides by the tool.